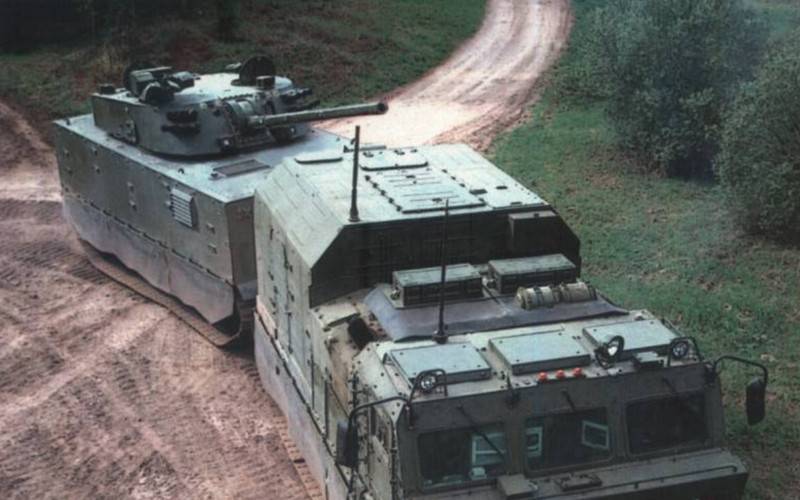 State tests of the newest Magnolia self-propelled artillery gun will end in 2022, and the gun is currently undergoing preliminary tests. Reported by
TASS
with reference to the press service of "Uralvagonzavod".
The self-propelled artillery gun (SAO) "Magnolia" based on the DT-30PM has been developed, its state tests are planned to be completed in 2022
- said the company, adding that prototypes of self-propelled guns are currently undergoing a cycle of preliminary tests.
The self-propelled artillery gun was developed by the Central Research Institute "Burevestnik" (Nizhny Novgorod, part of the "NPK" Uralvagonzavod "JSC). For the first time, the characteristics of the" Magnolia "CJSC were revealed at the international forum" Army-2019 ".
SAO is placed on the chassis of the crawler armored transporter DT-30ПМ of the Vityaz family. On the back case of the Magnolia there is a fighting compartment - with an 120-mm 2A80 gun, combining the fighting qualities of a gun, howitzer and mortar. The design of the tower provides horizontal horizontal guidance and the rise of the barrel from -5 ° to + 80 °. The gun fires high-explosive shells at a range of up to 8,5 km, guided shells - at 10 km, high-explosive shells - at 7 km. Gun rate - 10 rounds per minute, the ammunition consists of 80 shells.
The main purpose - fire destruction of armored vehicles, manpower and fortifications.
It is assumed that the self-propelled gun will go into service with artillery units deployed in hard-to-reach areas, wetlands, in the Far North.