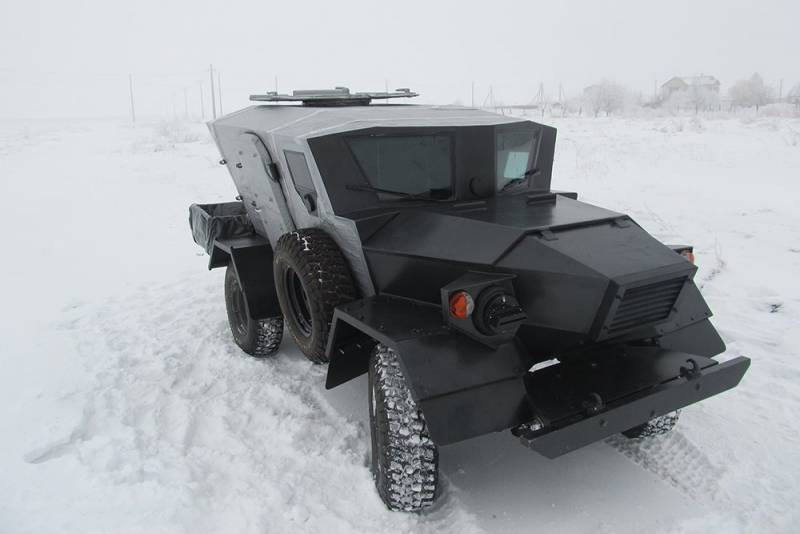 Lasok 4-P: the final look of the car has not yet been formed
The Russian developer PCC "Innovative Chassis" presented its new creation - a small-sized armored car "Lasok 4-P". It is expected that this buggy will become a universal platform for solving a wide range of tasks for special forces, advanced and reconnaissance groups.
Adequate load for the Mi-8
As the developer explains, the main "workhorse" of the army
aviation
The RF Armed Forces - the Mi-8 helicopter - will now be able to transport not only the Niva or UAZ-469, but also the Lasok 4-P armored vehicle, which is optimally suited for performing combat missions. The prototype buggy was assembled in 2020. It is based on the armored assault vehicle "Locust" (demonstrated in 2019), but received a lighter 4x4 chassis.
The curb weight of the product is 2045 kg, full - 2700 kg, carrying capacity - 650 kg, height - 1720 mm, width - 1880 mm, length - 4580 mm (with the cargo compartment folded down - 3970 mm), wheelbase - 2420 mm, ground clearance 260 (370) mm, ford overcome - 0,9 m. In the future, it is planned to reduce the curb weight to 1900 kg, and increase the carrying capacity to 800 kg.
The machine is equipped with an engine, other units and assemblies borrowed from serial Russian SUVs. The body consists of a mine-resistant armored capsule that can accommodate 4 people, and a cargo compartment module, in which, if necessary, 3 people can be accommodated. landing. The thickness of the body armor is within 4,5 mm, in the frontal part - 6-8 mm. Basic protection class - 4th in accordance with GOST R 50963 (5th - at the customer's option).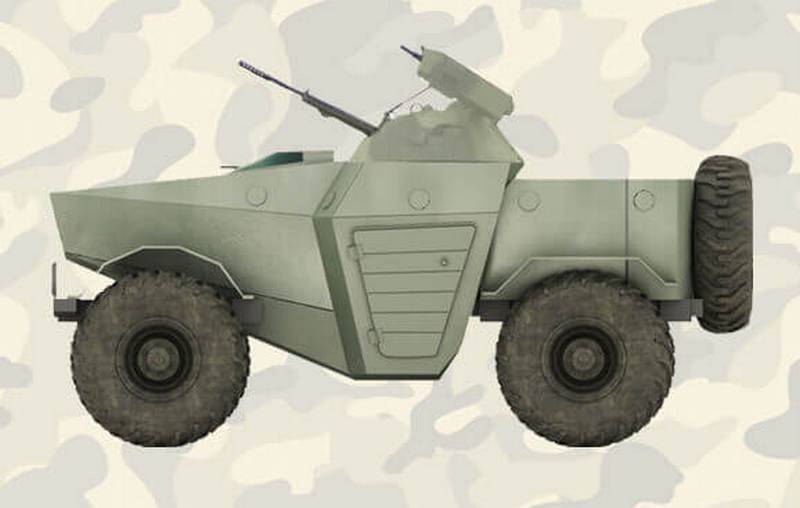 One of the predecessor options: BShSh "Locust" with an automatic cannon GSh-23 and a 30-mm AG-17 grenade launcher
"A car from the past"
As stated, the Mi-8-AMTSh helicopters are capable of transporting buggies along with a combat group. A standard trailer (truck) can take three vehicles at once - this is how many pieces of equipment can be required by a regular fighting compartment. Various versions of the armored car are possible, depending on the tasks assigned, in particular, the floating modification (it will have a combined armor, with the use of metal polymers).
The basic version under the designation ALBM "Lasok 4-P" is equipped with a turret installation with a folding armored shield and a 12.7-mm "Kord" retractable into the cabin. Additionally, there are PC and RPK 7.62 (5.45) mm.
The Western press has already paid attention to the new product.
The car does not look exactly from our century [...] If armored buggies of the 1900s are eventually produced in large numbers, this could further enhance the capabilities of the Russian air assault forces
- ironically one of the publications.