Indeed, who there dreamed of how nice it would be to return to the times of the Soviet Union? We still have a lot of them, and there are many for good reason. Even the same Zen almighty is littered with canals, on which they sigh tearfully about the fact that vodka was tastier and sausage was more nutritious.
You can agree with many things, but alas. On December 26 this year, everyone who wishes can celebrate the thirtieth anniversary of the end of the Soviet Union solemnly or not so much.
Thirty years.
And, naturally, there will be no refunds anywhere. This is like death to modern power, because the built oligarchic totalitarian state is the Russian Federation and the Soviet Union, which, although it was also totalitarian, but at least with pronounced signs of a social state.
And now, thirty years later, we may well observe the Soviet legacy in the Russian version.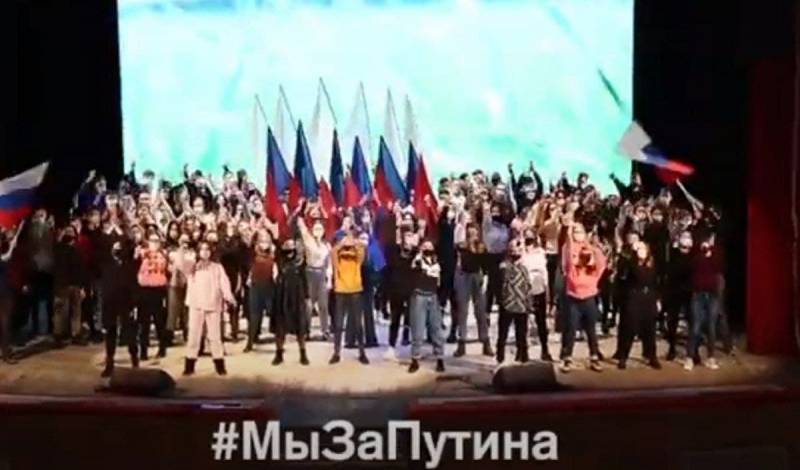 Unfortunately, everything is very similar to Soviet reality, when propaganda about love rushed from every iron, loudspeaker and radio receiver. Well, yes, about love for the Motherland, the party and everything else.
Well-done, but very intrusive propaganda. However, it was thanks to her that we grew up into very intelligent people who know how to distinguish flies from cutlets.
What is happening today is just some kind of theater of the absurd. Demonstrating loyal feelings simply by any means. Even the dirtiest.
Barnaul. They shoot a video as part of a flash mob. There is no information about how the factory workers were aware of where they were filming, but the director of the factory posted the clip. But at the other end of Russia, in Volgograd and Belgorod, they were not at all.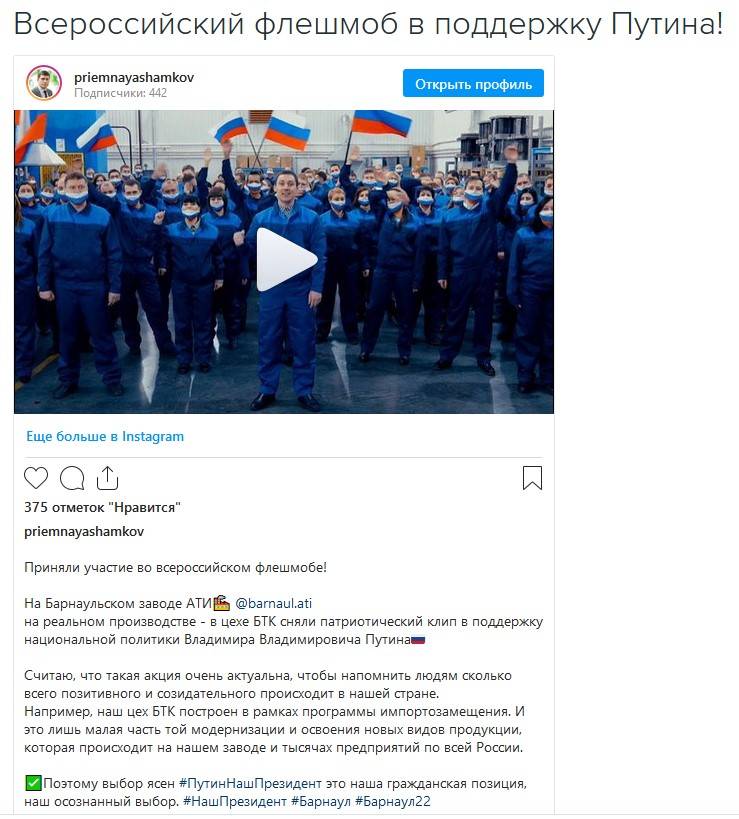 In Volgograd, people were gathered to shoot the video on the pretext that a video for the song of the Lyube group would be shot. In Belgorod, they also gathered for the shooting of the "clip", moreover, local deputies rushed to publish the "clip", but for some reason then all together removed it.
Strange, but for some reason the people of Belgorod did not like the fact that they were invited to shoot the video by February 23, but it turned out how much they love Putin.
And it turns out that such "clips" were filmed all over Russia by deception.
Dear, this is no longer the USSR. This is some kind of crazy carnival, mixed with lies. Yes, in Belgorod, the vice-rector of the BSIIK Natalya Baranichenko quit after organizing all this. I hope she will find a place, in fact, not to disappear such a valuable frame?
Unlike many others, Baranichenko at least apologized to the students for her deception. She admitted that the video was custom-made, and that she simply did not have time to explain the final intention of the video.
A very similar shame happened in Volgograd, only the scale was more abrupt. On Mamayev Kurgan, state employees and schoolchildren were gathered under the guise of shooting a video for the Lyube group. Only after it was found out that Lyube had not filmed any clips, but all got into a video about how people in Volgograd love Putin.
In general, such videos were filmed throughout the country. Evil tongues claim that everything was prepared according to some training manuals that were sent out by the EP, but no one presented the manuals.
But the most interesting thing began later, when the wave of adoration to Putin subsided somewhat, mainly under the pressure of deceived extras.
Leonid Volkov from Navalny's group called everyone to a new rally in support of his boss. And for some reason, the entire apparatus of state propaganda, to put it mildly, got up on ears. All to fight Navalny! It smelled like 1918 ...
Channel One aired a relatively calm story "The non-systemic opposition, after pumping from NATO, again called people into the street to break the law".
You know, going out with a flashlight into the yard is a violation of the law? I wonder what and in what place? And according to the idea of ​​\ uXNUMXb \ uXNUMXbthe "heart" of flashlights - for this in general the execution on the spot? It's scary to even imagine what will follow about photographing it ...
However, what law were the followers of the Dark Lord going to break?
Vladimir Soloviev went further and made the regular first-channel members one left on his channel. His team is of some completely suspicious types, who easily began to compare plans for the action with flashlights with German saboteurs during the Great Patriotic War.
In general, of course, very high, but our gentlemen, the deputies liked it! Deputy Speaker of the State Duma Pyotr Tolstoy issued the following:
"All these calls to shine flashlights in the dark - in fact, you know, this is not a cute action about love, not just an attempt to mobilize young people. This is Mr. Sharpe's color technology. And in general, this is a tracing paper from the actions of defector-collaborators during the blockade of Leningrad, when they illuminated the targets of the German aviation».

How lovely, isn't it?
But if you rewind
historical
ribbon a little back in the covid summer of 2020, how about a promotion for May 9? With flashlights! Yes, yes, yes, # Victory flashlight - how is it?
A flash mob for Putin on Mamayev Kurgan - who and how?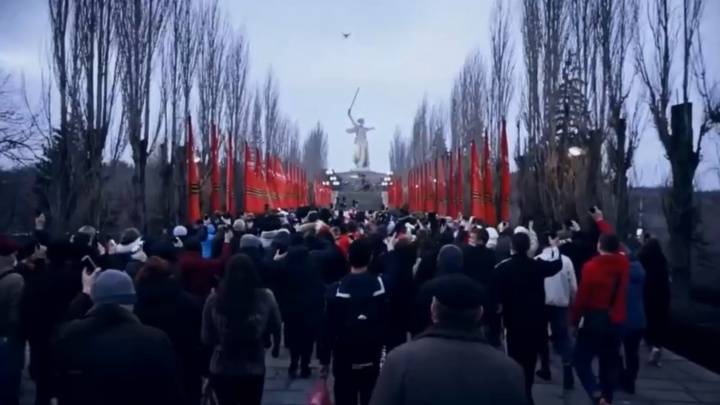 Screenshot: Andrey Gimbatov / Instagram.com
According to Mr. Tolstoy, it turns out that if in the house and on the monument with lanterns for Putin is the choice of the people (although they were chosen for the people and the people were deceived) and this should be welcomed, and if with a flashlight in the courtyard behind Navalny, this is collaboration and a crime.
However, if this is not a double standard, then what is it?
And how can one against one's will not remember "dear Leonid Ilyich", who was hung with awards and to whom the whole country wrote letters? Workers, milkmaids and students thanked for their speeches on television. Whole country.
How sincere was that? Many people remember. And I remember. Well, honestly - it was not very sincere. But everyone understood the importance of the moment.
But never with a single word did I hook Brezhnev in my materials. Always, you know, respected. No, not that old man, hung with awards, but a brave and reckless political officer who more than twenty times went with landings to Malaya Zemlya.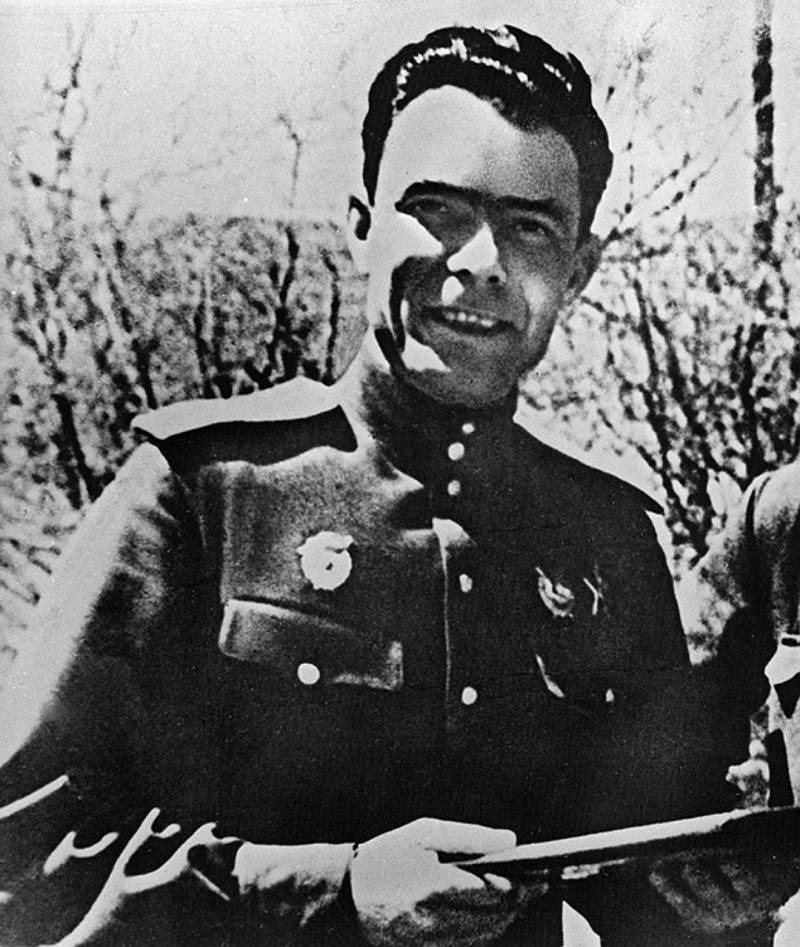 And many remembered and respected. There was a reason. And we also passed on malicious anecdotes from mouth to mouth, when everything began to decline. And there was also why.
And now, when everything is developing so similarly, your feelings are not the best. All in all, they replaced "dear Leonid Ilyich" with "dear Vladimir Vladimirovich". Nobody was going to change the manuals. And even more so - to invent new ones. It's difficult, I guess.
Soviet propaganda madness is back. Likewise, implicated in deception and counterfeiting. Well, didn't we in the USSR know that all this kneeling was not worth 10 kopecks in Soviet money? Don't we know that now?
And His Majesty Deception comes into play.
For what?
For the sake of showing "dear Vladimir Vladimirovich" how adored by all segments of the population?
You know, there is one word that characterizes everything that happens in the best possible way. This word is "shame."
It is shameful to grovel in front of a man like that, whether he be president three times. Okay, four times. And all the same - shameful. To lure people into fake flash mobs by deceit in order to show "dear Vladimir Vladimirovich" how the whole country adores him is, of course, not very much. This is, sorry, the bottom. It is clear that we can break through and not so, but all the same - for the power it is insulting.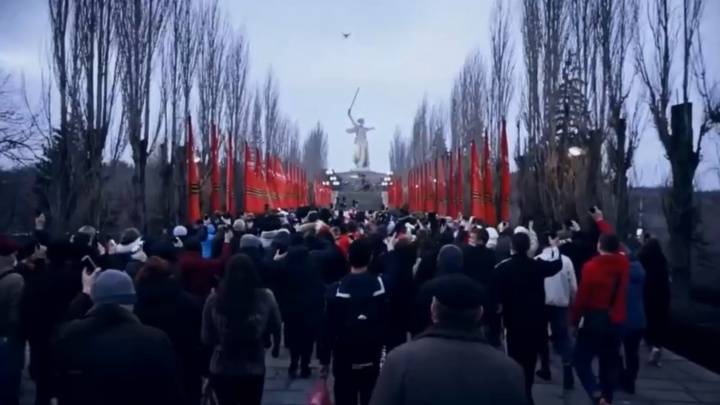 But if someone is against it, it must be banned urgently. By motivating.
But even with motivation in modern Russia it sucks. What did Volkov do? Have you invented something new? No, I just copied the unsuccessful United Russia scripts, nothing more. And now state propagandists are now banning what they called for before. Your scripts.
It is sad to see all this. Complete powerlessness of power in everything. And especially in the field of propaganda and state ideology. What we are missing today.
Who will all this play? Will fake flash mobs and "clips" add confidence to Putin so much that he will do something else epoch-making? And then the people will really understand ...
And what will he understand? Except that he was once again deceived for the sake of some vague plans. Someone just decided that "dear Vladimir Vladimirovich" would be very pleased to see how the people adore him.
Both "tik-tok" and YouTube are filled with the opinion of young people. And there is nothing to add here.
Probably difficult to think of something worse. Better - very simple. Worse - hardly. At one time we believed that our country is the best in the world. Ask anyone under the age of 25 - and you are unlikely to hear an answer that would please the organizers of "patriotic" flash mobs. But these people will be the basis of the electorate literally in 10 years. And so with them today ... Strongly showing that window dressing, lies and fake creations are the basis of everything.
What will grow on such a thoroughly fertilized soil?
These are the weeds that the OMON and Rosgvardia will not have to pound in the squares and streets, shoving them into buses, but to catch them in the yards.
No, this is also not the best option. It is strange when with one hand the authorities begin to persecute dissidents (well, navalno-minded), and with the other create all the conditions so that the trickle of those disillusioned with the Russian state does not stop flowing into the swamp of Navalny and company.
But it will flow. Because Navalny's pseudo-truth is no worse than the outright lies of those who want to show Putin the nation's love.
And on "Putin's live broadcasts" no longer smells of democracy ... They ask those questions to which he is ready to answer. Those "trusted comrades" are like a Magadan journalist.
We remember how one superpower perished, drowned in stagnation, window dressing and lies. Now all the same is observed in a state that has grown on the ruins of that power.
Is it really the case when "repetition is the mother of torment"?