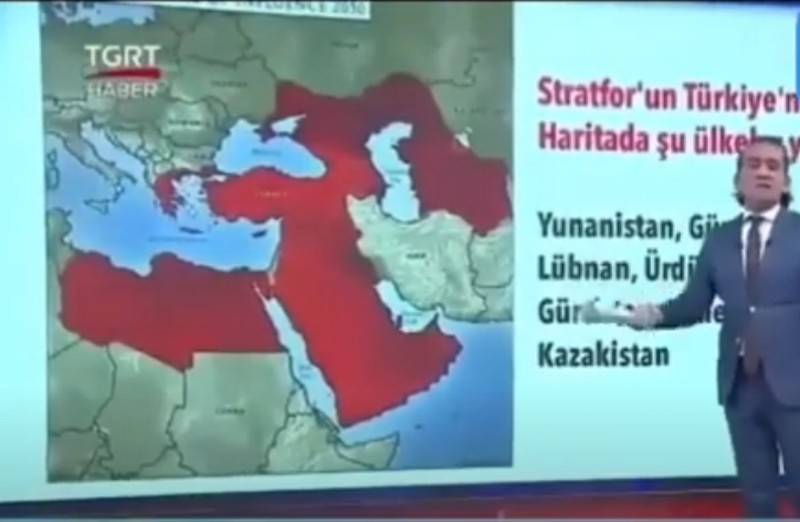 By 2050, Turkey will significantly expand its sphere of influence, into which part of the territory of Russia will fall. The map showing the expansion of the zones of Turkish interests, which was predicted by the American company Stratfor, was shown by the Turkish state TV channel TRT1.
According to the Stratfor forecast, by 2050 Turkey will significantly expand its zone of influence, which will include part of the territory of Russia. According to analysts, the Crimea, Krasnodar and Stavropol Territories, Rostov and Astrakhan Regions, Kalmykia, other regions of southern Russia, as well as the Donbass Republics of the DPR and LPR will fall under Turkish influence.
In addition, the Turkish influence, in accordance with the forecast, will be extended to the republics of the North Caucasus, Uzbekistan, Tajikistan and part of Kazakhstan. Among foreign states, the countries of the Persian Gulf, Libya and Egypt, and the Balkans will fall into the sphere of Turkish interests.
Last year, Turkish President Recep Tayyip Erdogan said that Turkey has every opportunity to expand its influence over other countries in the current global situation. According to him, Turkey should take a leading place on the political map of the world.
Political experts have repeatedly stated about Erdogan's desire to "gather under his arm" the fragments of the former Ottoman Empire. At the same time, Ankara is trying to act with "soft power", i.e. through trade and economic, scientific and technical, cultural, religious and other impact on the countries surrounding Turkey. Erdogan pays particular attention to the religious factor, promoting the idea of ​​Islamization.