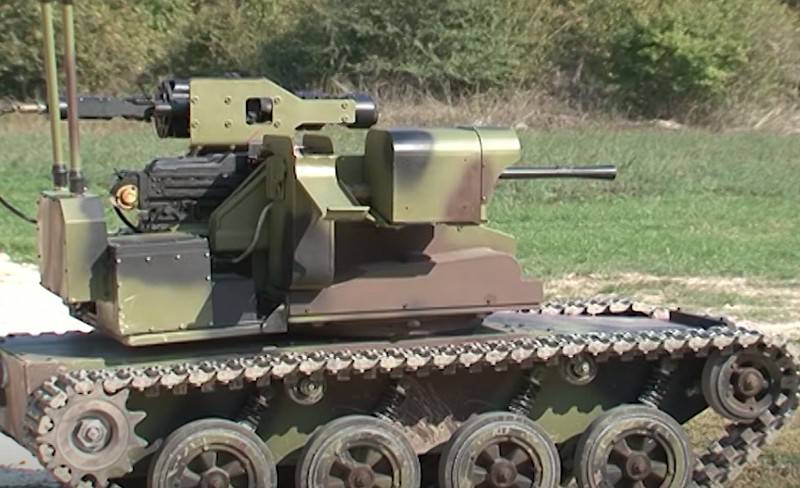 In Serbia, the third version of the ground-based remotely controlled vehicle (robotic complex) Mali Milos was presented. This is stated in the February issue of the Odbrana magazine of the Serbian Ministry of Defense.
According to the publication, the third version of the complex is armed with a six-barreled M134 Minigun machine gun with an electric drive from DillonAero chambered for 7,62x51 mm and two disposable 64-mm M80 Zolja anti-tank grenade launchers. The robot should go into service with the 72nd Special Operations Brigade of the Serbian Armed Forces, where there are already five similar complexes of the earlier version of "Milos N".
The Milos N complex is equipped with an optoelectronic unit and a Zastava M86 machine gun chambered for a 7,62x54 mm cartridge (500 rounds of ammunition) and a 40x46 mm revolving grenade launcher (five grenade ammunition). There is also a Milos L version designed for the evacuation of the wounded.
The robot is built on a modular basis with the ability to mount various weapons. Electronics allows aimed fire from a machine gun at a distance of up to 800 m, from a grenade launcher - up to 400 m. The combat module can rotate 360 ​​degrees at a speed of 20 degrees per second. It is equipped with an electro-optical camera with a 30x zoom lens, a 4x digital thermal imager and a laser rangefinder.
The caterpillar chassis of the combat vehicle allows it to move off-road at speeds up to 7 km/h. Weight
Robot
is 620 kg. Machine dimensions: length - 1,73 m, width - 77 cm, height - 95 cm. The robot can be used inside buildings, it passes through a standard door 80 cm wide and climbs stairs. The body of the robot is equipped with ballistic armor.
In the first version, the charge of the built-in batteries provided an hour of continuous movement. The latest version received new lithium batteries that will become standard for the complexes.