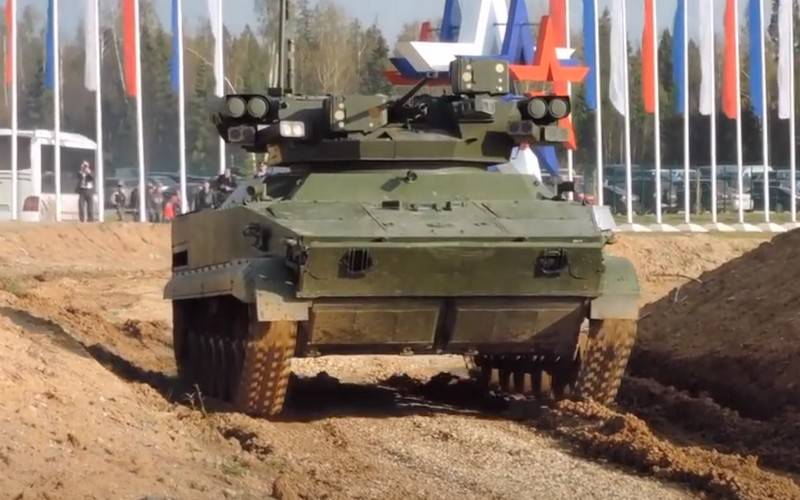 The Udar robotic complex being developed in Russia was able to autonomously move on the battlefield, as well as interact with drones. Bekkhan Ozdoev, the industrial director of the weapons complex of the State Corporation Rostec, spoke about this.
The Udar complex was developed by the Kovrov All-Russian Research Institute "Signal" based on the BMP-3. Presented for the first time back in 2015, the complex was able to move around the battlefield autonomously, without operator commands, interact with drones, including a tethered type powered by the complex itself, as well as the ability to work in conjunction with light-type robotic systems. Previously, only remote control was reported.
When developing the "Impact", the specialists of the enterprise tested the possibility of the robot's movement in an autonomous mode. For this, the complex includes a motion planning subsystem based on sensors and meters. Based on the data received, the robot's movement route is formed, while taking into account the terrain and the parameters of the combat mission can be calculated
- leads
TASS
words of Ozdoev.
It is specified that when creating the Udar complex, the Signal specialists applied the principle of equipping the BMP-3 infantry fighting vehicle with a set of special equipment, which turns it into a robotic complex.
The robotization of the fighting compartments is carried out on the same principle - at the moment, six different fighting compartments are robotized, which were installed on the vehicle.
- specified in Rostec.
Earlier, VNII Signal explained that they did not create a robot from scratch, but developed a unified control system, which, after all the necessary work and tests, in the future can be installed on other standard models of military equipment in service with the Russian army.