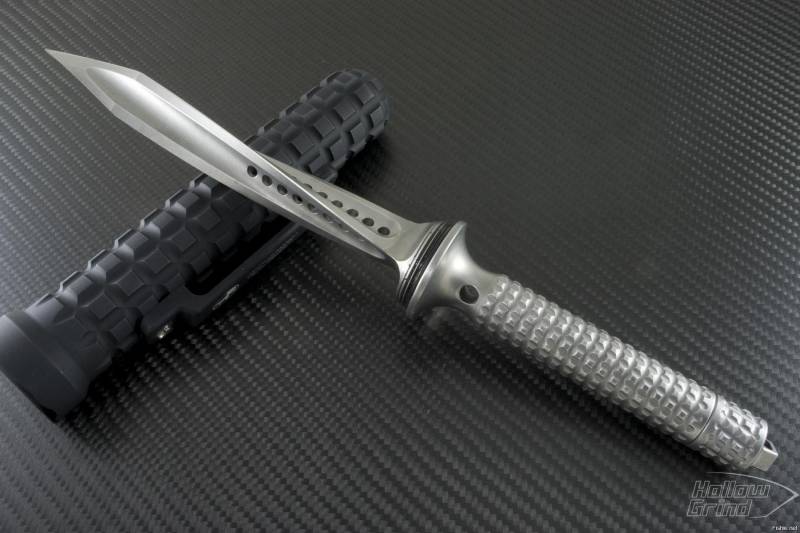 In everything that concerns
weapons
or items directly or indirectly related to it, the awareness of the population of our country is at an extremely low level.
There is a lack of understanding of what is permitted and what is prohibited to acquire, store, carry and use for hunting or self-defense. This often leads to the fact that people simply do not use the opportunities that the state provides them to implement their hobbies or to ensure their safety.
The opposite situation often arises when a person acquires and uses certain items, and later it turns out that these actions are a violation of the legislation of the Russian Federation. Which at best leads to a fine, and at worst - to criminal liability.
One of these "gray areas" is information on cold weapons (CW). It often includes knives used in everyday life with a folding or fixed blade, which, in fact, are not any "cold weapon".
It is also worth distinguishing between the concepts of "cold steel" and "an object used as a cold weapon". In the second case, the definition is applied as a context to the description of the commission of a crime, then an ordinary stone can act as an object used as a cold weapon.
A bit of history - knives in the USSR
In the Soviet Union, the attitude towards knives was extremely negative.
In fact, most of the knives sold were either extremely scarce in their characteristics or belonged to melee weapons, which could only be purchased with a hunting ticket. Of course, part of the primitiveness of the knives sold was due to the general primitiveness of the market for civilian products in the USSR. But legislative restrictions on their use also played a significant role.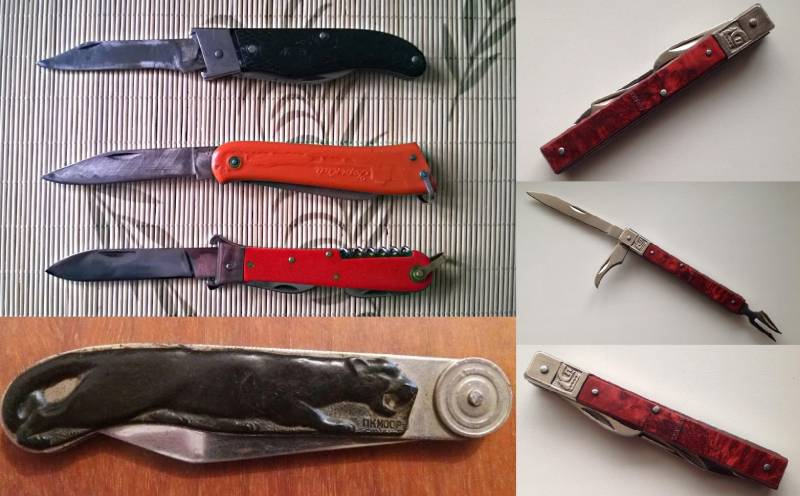 Most of the knives sold in Soviet hardware and travel stores were conceptually reminiscent of Victorinox-style Swiss army knives, given the generally terrible workmanship.
The illegal acquisition and carrying of cold steel in the USSR was punishable by criminal liability. Any use of even a non-cold knife as a weapon of self-defense would most likely also lead to condemnation of the defender.
Of course, the criminal world ignored all these prohibitions - if someone is going to commit robbery or murder, then the legality of carrying the weapon of crime will not bother him much.
However, criminals often used (and are using) household items for these purposes. For example, an awl or screwdriver. So the strict restrictions on the carrying of knives did not bring any advantages to potential victims.
The lack of quality knives on sale led to a large number of cases of their handicraft production. Moreover, for making a knife and trying to sell it, one could get another term. Sometimes quite interesting specimens came across. However, rarely do any of them compare with modern high-quality factory products.

The so-called "Zonovka" knives. It is not known for certain whether the above specimens were made in the USSR or in modern Russia. However, conceptually and technologically they have hardly changed much.
Russian Federation
After the collapse of the USSR, the situation changed dramatically.
First, the carrying of edged weapons was decriminalized. Now only administrative responsibility arose for this act.
The criteria for classifying knives as melee weapons are quite clearly indicated in GOST R 51215-98 and in the Federal Law "On Weapons" of 13.12.1996 N 150-FZ.
Now most of the knives available to citizens of the Russian Federation meet the requirements of GOST R 51644-2000 "Cutting and skinning knives", GOST R 51501-99 "Tourist and special sports knives", GOST 51548-2000 "Knives for survival", GOST 51500-99 "Knives and hunting daggers ", GOST 52737-2007" Hunting cleavers, tourist machetes ", GOST 51015-97" Household and special knives ".
In addition, most manufacturers (to avoid misunderstandings between the owner of the knife and law enforcement officers) include a copy of the certificate in the delivery kit, certifying that it does not belong to melee weapons.
However, neither the availability of information in the age of the Internet, nor the widespread sale of knives in all types of retail outlets (from stalls with Chinese junk to large federal chains) have largely changed the public's opinion that carrying a knife is a crime.
Cold / not cold
In order to become a "cold weapon" a knife must meet a number of criteria. Moreover, the discrepancy between only one of them immediately excludes it from the specified category.
Immediately we can distinguish knives that are prohibited for circulation on the territory of the Russian Federation, according to the Federal Law "On Weapons" of 13.12.1996 N 150-FZ.
These are knives, the blades and blades of which are either automatically removed from the handle when you press a button or lever and are fixed by them, or they are extended by gravity or accelerated movement and automatically fixed, with a blade and blade length of more than 90 mm.
The first include the well-known "switch" knives.
And to the second - the so-called "butterflies" or knives like "balisong".
In fact, this is, of course, stupidity. Because these knives are no more dangerous than any others. But this is the lesser of evils, only making it difficult for amateurs and collectors to acquire some interesting and by no means cheap knife models. Most likely, these knives got into the Federal Law "On Weapons" because of their film-criminal reputation, which has nothing to do with reality.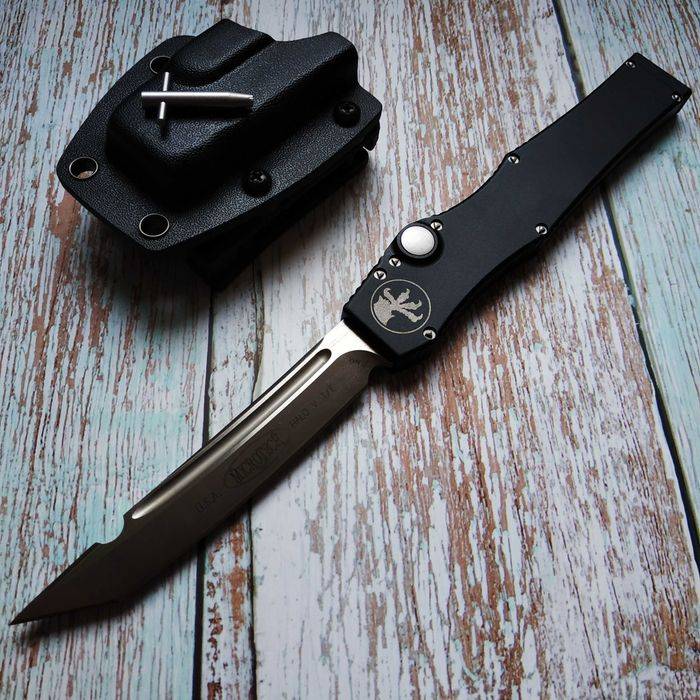 Microtech Halo 5 switchblade knife with frontal ejection of the blade, prohibited for circulation on the territory of the Russian Federation. Its cost is about $ 1000.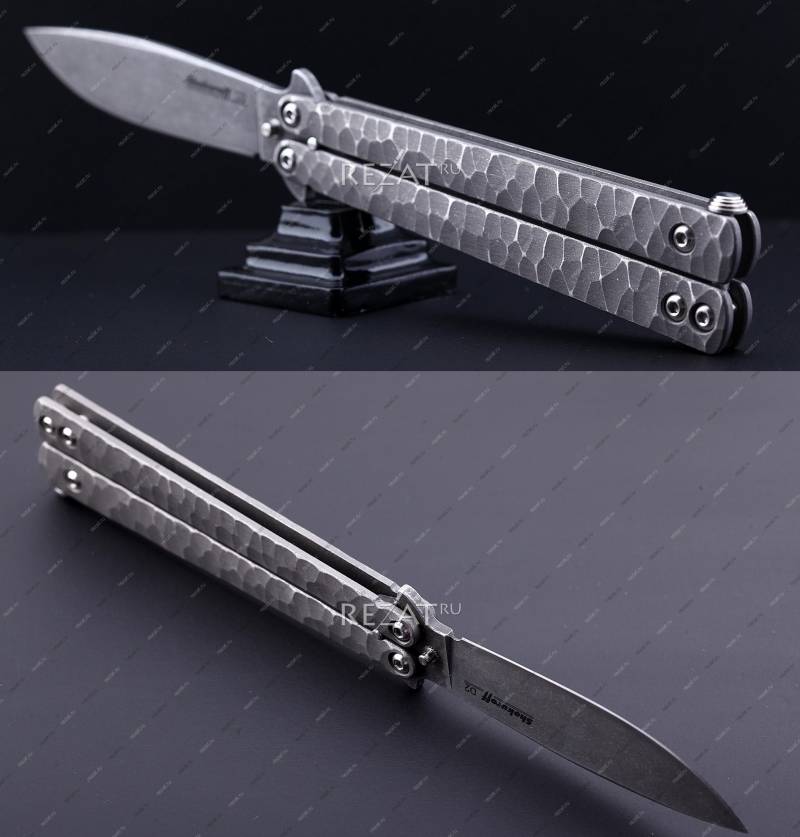 Collectors are, of course, sorry. And the additional profit would not hurt the market. But in fact it is better to leave it as it is. Since the risk of toughening the Law "On Weapons" when it is adjusted is always higher than its relaxation.
Based on the existing GOSTs, the following main features of CW can be distinguished:
- the length of the blade must be at least 90 mm;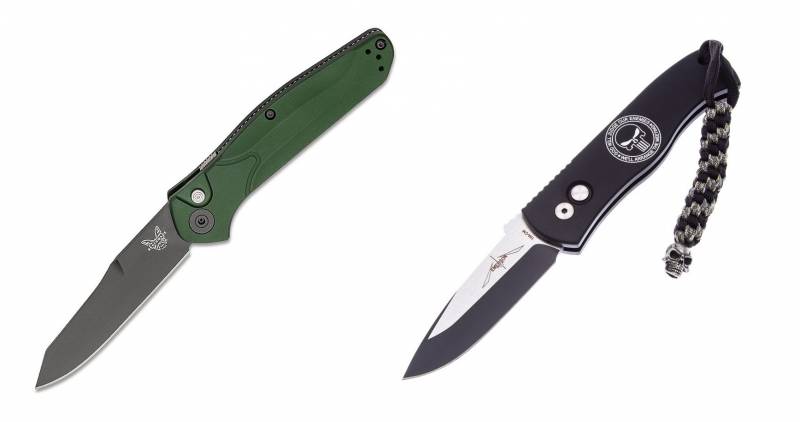 Knives with a blade length of up to 90 mm cannot be melee weapons, including this applies to switch knives.
- blade butt thickness from 2,6 to 6 mm;
- the presence of stops (guards) or sub-finger grooves with a height of more than 5 mm, for knives with more than one groove or stop, their size should be less than 4 mm;
- steel hardness from 42 HRC and above;
- the presence of a sharpened blade.
Inconsistency of the knife to even one of the signs immediately removes it from the "cold weapon".
In addition, there are still distinctive features that make it possible to judge that the knife does not belong to XO. In particular, these are:
- folding knives with a blade length of up to 150 mm, when folded does not exceed the length of the handle;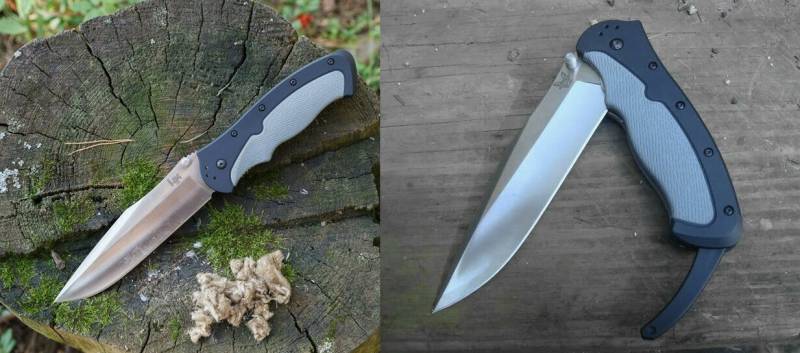 The blade length of the Benchmade Harley Davidson 13220 LFK / Heckler & Koch knife exceeds the length of the handle, but it is not a melee weapon. Perhaps the certifying authority considered the retractable element to be part of the handle or took into account the lack of a developed guard and sub-finger grooves.
- knives in which the blade edge is located more than 5 mm above the butt line. In fact, like a strongly curved "oriental" dagger. It is believed that such a knife is difficult to inflict a penetrating blow. This also includes knives with a blade, in which the deflection of the butt is more than 5 mm with a length of up to 180 mm and more than 10 mm with a length of more than 180 mm (crescent-shaped blades);
For whom karambit is a combat knife for inflicting cutting-ripping blows, and for whom it is a "garden knife". From top to bottom: "garden knife" (USSR), also known as "Michurin knife" (since the XNUMXth century they were used by orderlies on the battlefield to cut the uniforms of wounded soldiers, and during the Second World War they were part of the packing of a medical military bag), modified karambits Spyderco Civilian and Cold Steel Black Talon II.
- knives with a handle up to 70 mm, which made it possible to remove the so-called "butt" knives from the XO sign;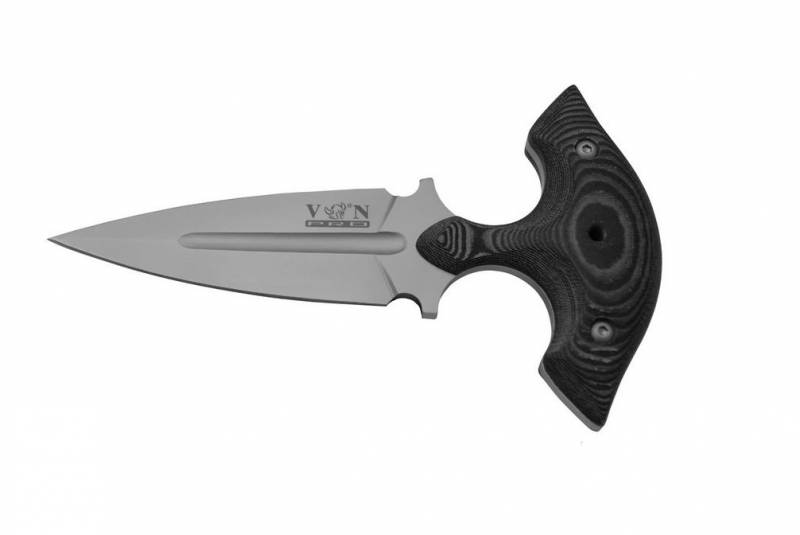 Dart knives could be effectively used for self-defense, since they are more difficult to knock / drop from the hand, and possession of them requires less skills, if not for the law enforcement practice in the Russian Federation, which maximally contributes to the criminalization of self-defense, especially self-defense with a knife. However, this claim is no longer about knives.
- knives without a tip, intended only for cutting, that is, knives with which it is difficult to inflict a stabbing blow, as well as knives in which the blade and butt converge at an angle of more than 70 degrees (chisel);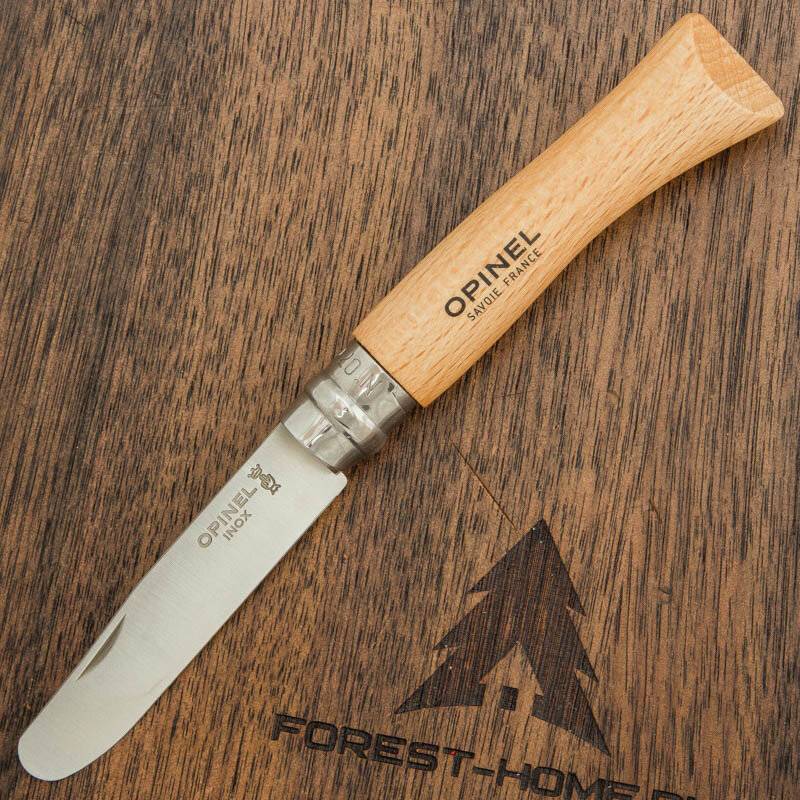 Knives without a sharp point cannot be a melee weapon
- knives with a blade hardness less than 42 HRC - any cheap low-price category sold in stalls, and knives made of fragile materials - plastic, aluminum, silumin, etc.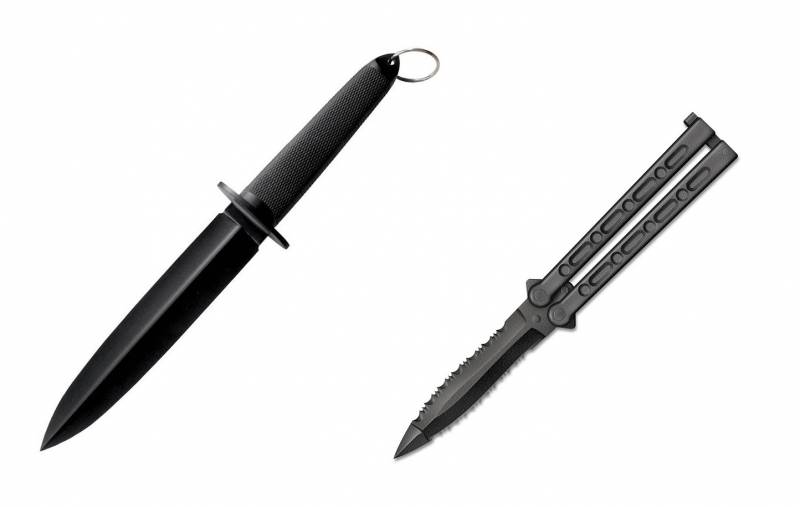 High-strength plastic knives are not legally melee weapons, but they may well be used as such in fact.
In reality, most crimes are committed with knives or other objects that do not in any way fall into the list of knives. Most often, they do not come close to him.
Actually, it was the same in the USSR.
Even a complete ban on carrying knives, as mentioned above, does not ensure that they or any other dangerous objects (screwdrivers, awl, hammers, etc.) are not used as cold weapons in the commission of crimes.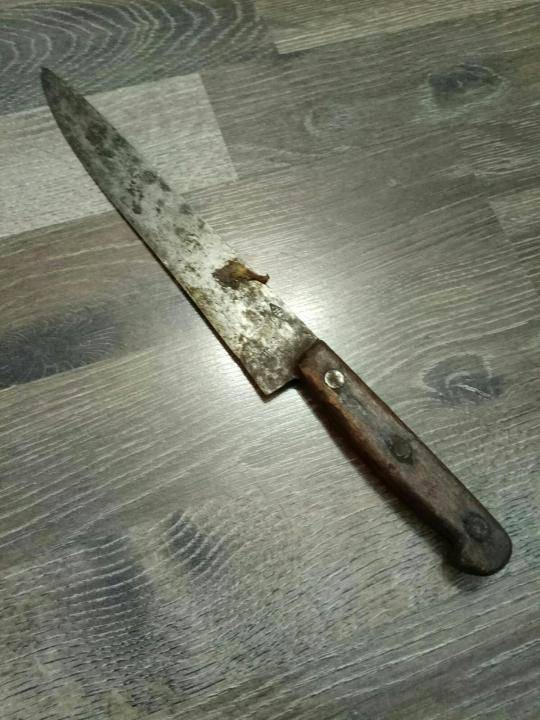 The leader of the criminal rating of the Russian Federation and most other post-Soviet countries is not a melee weapon and is available in the kitchen in almost every family.
Therefore, any prohibitive measures against CW are obviously ineffective. And they serve only as an imitation of violent activity on the part of legislators to obtain the approval of overly impressionable aunts and males equated to them.
Something like:
"Do not worry. Yes, you were stabbed to death. But this was done with an illegally carried knife. For this we will add two months to the offender's deadline. "
It is significant that Russian knife laws are among the most liberal in the world.
In most countries of the world (both in the west and in the east), the laws in this regard are much stricter. However, as we said earlier, there is no benefit to citizens from this. This is just an illusion of security and order. Perhaps we will return to the topic of legislative restrictions on knives in other countries.
On the other hand, knives are not primarily self-defense weapons. A versatile tool. One of the most demanded in everyday human activities.
In addition to the practical value for many, knives are also aesthetic, serving as hobbies and / or collectibles.
Knives are produced by a huge number of foreign and Russian companies.
It should be noted that recently in Russia, very worthy samples of fixed and (more importantly) folding knives have been produced. (Making quality folding knives is much more difficult than making fixed knives.)
We will talk about the manufacturers and design features of knives, the materials and technologies used in them, as well as the evolution of knife steels in the following materials.