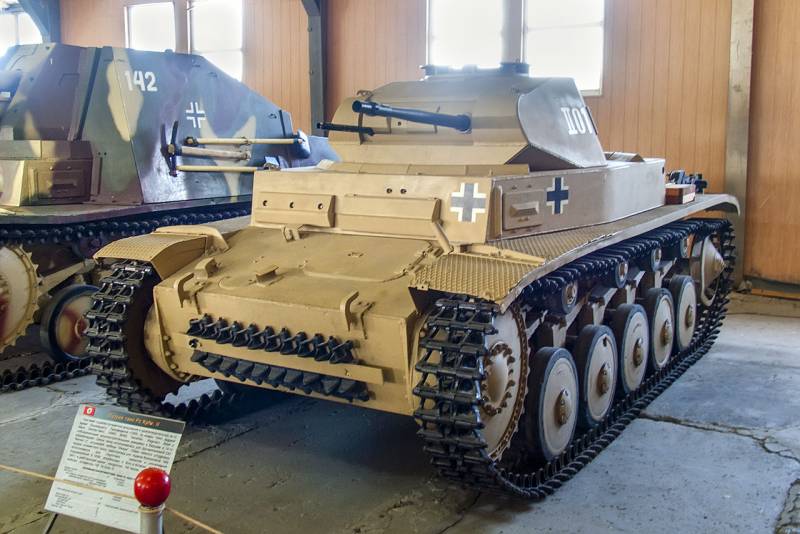 After the Nazi party came to power in Germany, a course was taken to restore the country's armed forces. The military potential was forged by the Nazis, despite the fact that it was prohibited by agreements signed by Germany after the defeat in the First World War. One of the chosen areas - tank building, developed very actively.
Already in 1935, the German armed forces acquired the 9,5-ton light tank Pz.Kpfw. II, aka Panzerkampfwagen II or T-II. The tank was developed in 1934.
Attention is drawn to the fact that the Germans initially concealed the development in the field of tank building. Therefore, in the documents at the German factories, the new tank appeared as a tractor under development. Then Germany's plans were revealed. Instead of tractors, combat vehicles rolled off the assembly line.
At the same time, at the first stage of its operation, the T-II was difficult to consider as something breakthrough in the tank business. The German light tank was very seriously losing to similar armored vehicles, which by that time were in service with the armies of a number of other European countries, including Poland. However, in the end, this did not help the same Poland - in September 1939 Warsaw, which considered itself a great friend of Hitler's Reich, faced an attack by Germany and quickly surrendered.
Those who took part in the battles on the territory of Poland
tank
units of Nazi Germany, the core of which was the Panzerkampfwagen II. But by that time, the tank had already undergone modernization.
Some details about the German T-II light tank in the plot: