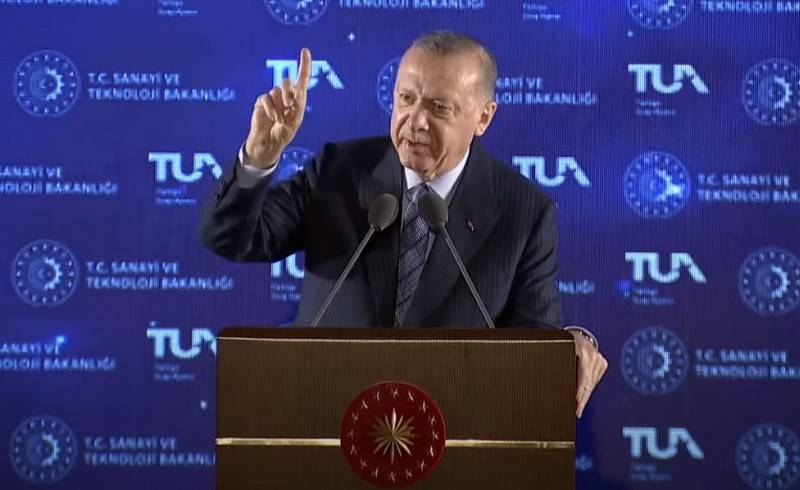 Turkey joins the global space race. Turkish President Recep Tayyip Erdogan announced ambitious plans for space exploration.
The Turkish leader, speaking at the ceremony of proclaiming the ten-year Turkish National Space Program (Milli Uzay Programi) and the opening of the Turkish Space Agency (TUA), outlined the goals that need to be achieved in the near future. These goals should propel Turkey "to the top league in the global space race."
According to Erdogan, Turkey intends to land on the moon in 2023. The Turkish lunar program will be implemented in two stages, at the first it is planned to send an automatic device using a nationally developed launch vehicle to collect the necessary information for subsequent missions.
Our first goal is to land on the moon by 2023, the 100th anniversary of the Republic of Turkey, I believe that Turkish engineers will be able to fulfill this mission
- declared the Turkish president.
The second stage will be implemented in 2028. A completely Turkish-designed launch vehicle is to launch a probe to the moon, which will make a soft landing on the surface of the Earth's satellite.
Having completed a soft landing on the moon, we will be one of the few countries that can conduct scientific activities on it.
- he added.
Another goal Erdogan called the creation of a global brand that can compete with world leaders in the production of satellites.
As part of the implementation of the space program, Turkey plans to build a cosmodrome, but since the country's geographic location is not suitable for placing a launch site for rockets, Ankara will negotiate with "friendly countries".
The ultimate goal is to send a Turkish citizen into space on a scientific mission
- summed up the Turkish leader.