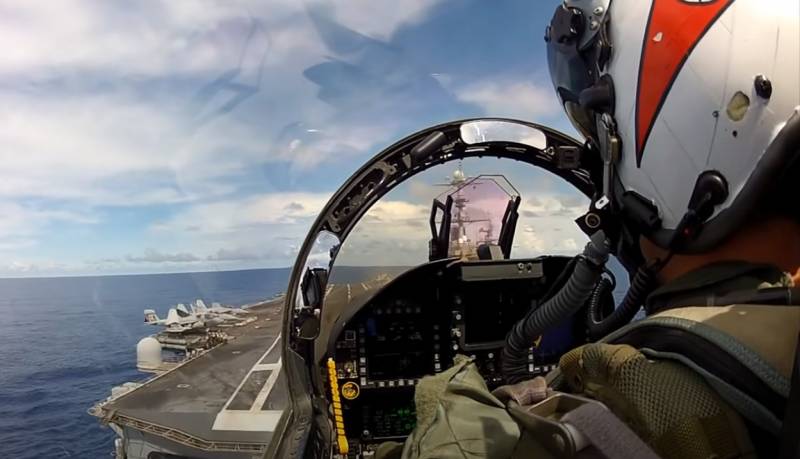 The US Navy is completing a full transition to Precision Landing, which allows even young pilots from shift squadrons to significantly reduce the amount of work required to land on the deck of aircraft carriers.
This is stated on the pages of the USNI News, citing the words of Captain Dan Catlin, commander of the 106th Strike Fighter Squadron, who tested the new Precision Landing Mode (PLM) landing system on Super Hornet aircraft, both day and night. The new mode was first tested in 2015, after which, due to numerous failures, software revision was required. This task was successfully completed at the end of 2020.
After a night landing on a beginner's aircraft carrier, you can easily see his white knuckles, trembling knees and an unforgettable facial expression
- said Kathleen, pointing out that this is now a thing of the past thanks to the confidence that the PLM system gives.
According to him, before the introduction of the new landing mode, the pilot made an average of about 300 small adjustments during the last 18 seconds of the landing approach - he had to control the aircraft flight speed, glide path, ship movement and the angle of approach to it from the stern. With PLM, the number of transaction data can be reduced to single digits.
The pilot manually enters travel speed and then the PLM automatically calculates the correct 3,5 degree glide path for a safe landing. If the plane goes too high or low, then PLM itself controls the throttle [in the hydraulic system], maintaining the desired flight path.
Landing on an aircraft carrier is the most dangerous maneuver in all
aviation
... Landing on an aircraft carrier at night, with a swinging deck and after a long 6,5 hours of combat flight - a difficult feat
- says the captain, noting that now "no tremors in the knees threaten the pilots."
In this regard, the US military hopes that
the fleet
it will be much easier to find pilots for your aircraft carriers.