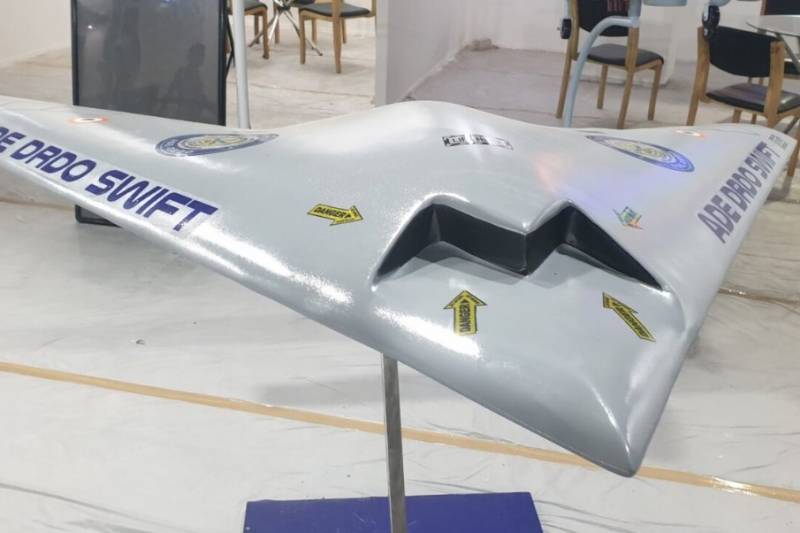 Ghatak is the most anticipated and first in
stories
India is a stealth unmanned combat aerial vehicle (UCAV) developed by specialists from this South Asian country. Various organizations throughout India are involved in its creation, including the Indian Institute of Technology IIT-Kanpur, located in Kanpur.
The Indian edition of Alpha Defense tells about it.
A 1: 1 scale model of the vehicle is currently being developed, and soon Ghatak will make its first flight. It is noted that the UAV has a flying wing design, which to some extent complicates its control. To make it easier to control the device, the Indian Aviation Development Agency ADA is going to apply the principle of thrust vector control. This technology was developed jointly by ADA and IIT-Kanpur. It is based on transverse jet injection in a converging nozzle with a stern platform.
The thrust vectoring technology will make it easier for the Ghatak to change direction. Working on the project, scientists from the two institutions conducted joint trials in 2017 to create a thrust vectorization in the yaw direction with injection into a convergent nozzle with an elliptical exit and using a triangular-shaped aft platform, as reported by the specialized portal Science Direct.
India is developing the Ghatak autonomous stealth drone for its Air Force. It is designed for reconnaissance missions, but can also perform strike functions with missiles, bombs and precision-guided ammunition.
There is no talk in India yet about when such a UAV will take off.