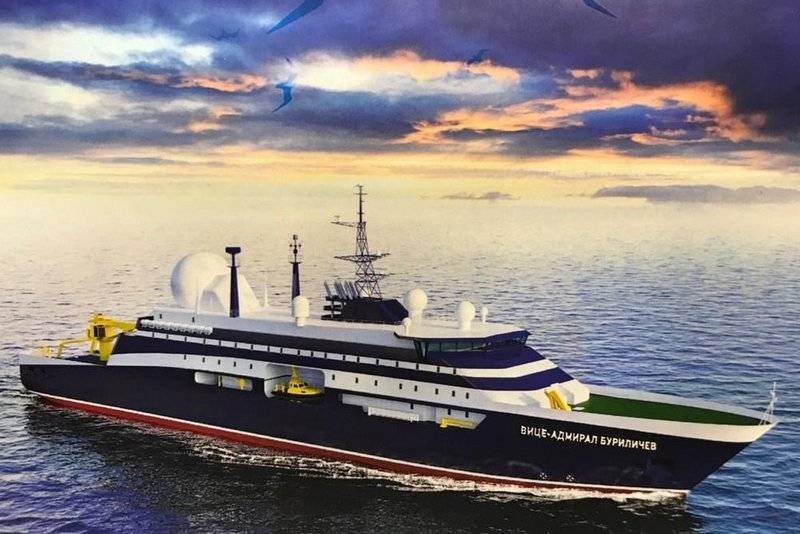 The Main Directorate of Deep-Sea Research will receive one more oceanographic research vessel. The groundbreaking ceremony for the OIC "Vice-Admiral Burilichev" project 22011 was held in Vyborg at PJSC "Vyborg Shipyard".
The ship-laying ceremony was attended by the command of the Naval
fleet
Russia, including the commander-in-chief of Admiral Nikolai Evmenov, the deputy chief of armaments of Vice-Admiral Igor Mukhametshin and the acting head of the Main Directorate for Deep-Sea Research (GUGI) Rear Admiral Alexander Konovalov.
The ship is named in honor of the former head of the GUGI, Hero of Russia, Vice Admiral Alexei Vitalievich Burilichev, who died on November 25, 2020 from the effects of coronavirus infection.
The vessel will be built according to the project 22011, developed by the Almaz Central Marine Design Bureau (TsMKB). According to the bmpd blog, project 22011 is a further development of project 22010, according to which the OIS Yantar was built for the GUGI at the Yantar Baltic shipyard, transferred to the Ministry of Defense in 2015, and the second Almaz ship, laid down in 2016, is being completed.
Officially, the task of the oceanographic research vessels of the GUGI of the Ministry of Defense is called the study of the world ocean, including the bottom at great depths, carrying out rescue operations and searching for sunken objects on the sea and ocean bottom.
The United States claims that Russian oceanographic vessels are actually reconnaissance ships. In the West, the OIC are called "communications hunters".