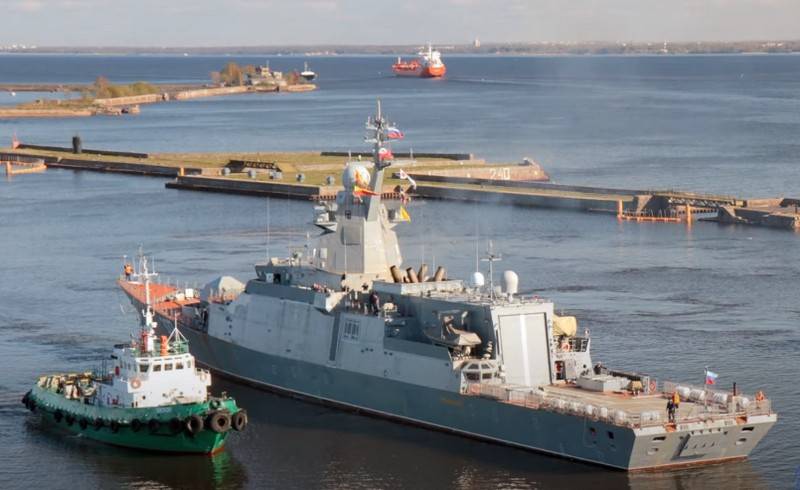 The project 20385 corvette Provorny, which is being built at the Severnaya Verf shipyard in St. Petersburg, will go to serve in the Pacific Fleet by the end of the year. Reported by
"News"
with reference to sources in the Ministry of Defense.
As the newspaper writes, the decision in principle to send "Provorny" to the Far East has already been made. Following the lead "Thundering", he will go to the Pacific Fleet, where he will become part of the Joint Forces Command in the north-east of the country. The ship will be stationed in Kamchatka, the main task of the corvette is to ensure the safety of navigation on the Northern Sea Route.
Currently, the ship's crew has been formed, the corvette is preparing to undergo mooring tests, after which it will enter the factory running gear. According to the plans of shipbuilders, the end of state tests and the transfer of the ship to the Naval
fleet
will be held before the end of the year.
Project 20385 "Agile" corvette is the second ship in the series after the lead "Thundering", under construction at Severnaya Verf. Laid down in July 2013, launched in September 2019. It is a further development of project 20380. It is designed to detect and destroy enemy surface ships or submarines, organize the landing of troops, protect the coastal zone, and escort other ships.
Displacement - 2200 tons, length - 104 m, width - 13 m, speed - up to 27 knots, cruising range - 3500 miles, autonomy - 15 days crew - 99 people.
The armament includes a universal shipborne shooting complex (UKSK) for the Kalibr, Onyx and possibly Zircon, Redut air defense missile systems, 100-mm artillery mount A-190-01, two 30-mm anti-aircraft artillery systems AK- 630M, and also anti-submarine complex "Package". There is a platform for the Ka-27 helicopter.