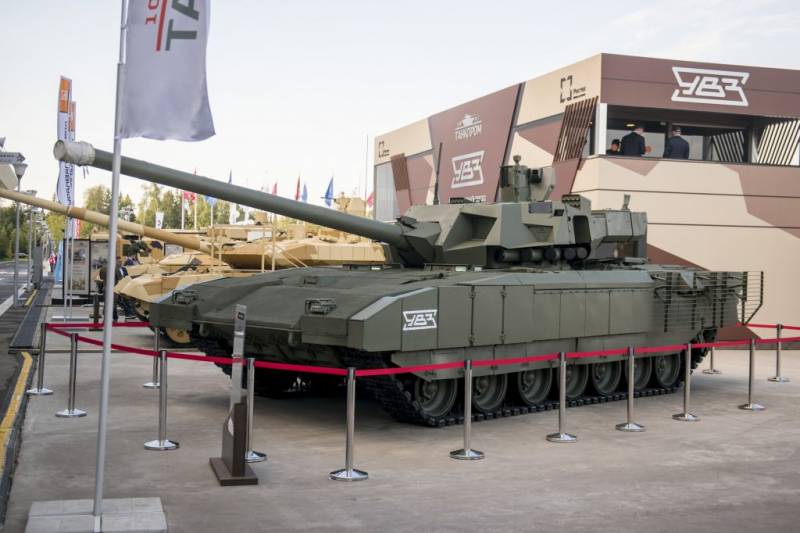 The newest Russian-made T-14 Armata tank has been successfully certified and received an export passport. This means that now he can take part in international arms exhibitions, entering the world market.
Iranian news agency Akharin Khabar reports.
Thus, according to the press service of the state corporation Rosoboronexport, the T-14 Armata tank is entering the world market for the first time. At the moment, it is considered the only one in the world
a tank
third generation.
As noted by the Iranian press, for overseas buyers this is a good
news
... They have long been interested in the possibility of purchasing the T-14 and other newest examples of Russian armored vehicles. Earlier, the head of the Rosoboronexport company, Alexander Mikheev, said that consultations have been going on for a long time about the probable export supplies of these combat vehicles.
It is quite possible that for the first time foreign military will have the opportunity to buy "Armata" during the IDEX-2021 exhibition, which will be held this year in the United Arab Emirates. Indeed, among the defense enterprises of Russia, whose products will be presented in Abu Dhabi, there will also be the Uralvagonzavod concern, which has developed and produced the T-14.
An official representative of Uralvagonzavod said that an "advertising passport" had already been prepared for the Armata tank, which would allow this product to participate in exhibitions and be sold abroad.
Tank T-14 "Armata" is able to successfully resist the enemy's armored vehicles, support the leading motorized units, as well as destroy the enemy's manpower, including those located inside the fortifications.