England-US Collaboration on Exchange of Ideas in the Field
tank
Politics, as well as the development of requirements for tank weapons, began in June 1940, when a British tank mission arrived in the United States to select tanks for the army. The first result of this collaboration is the order of the M3 Grant medium tanks. M3 - a modified tank in accordance with the requirements of the UK. The head of the ATC, Major General C. M. Wesson, sent an American mission to the UK in September 1941 to obtain first-hand information about the combat use of the tank, the British assessment of American weapons, as well as their views and requirements for future vehicles. Among the ideas discussed was the idea of ​​a tank with heavy armor and a larger caliber gun, the need for which at that time was felt by the British armed forces in connection with the experience of fighting in the Western desert with German troops. (Due to such reasoning and because of disappointment in the first modifications of the Churchill tank, the British started developing the A27L (Centaur) heavy tank. Modifications to this project soon led to the creation of the A33 assault tank - a possible replacement for Churchill.)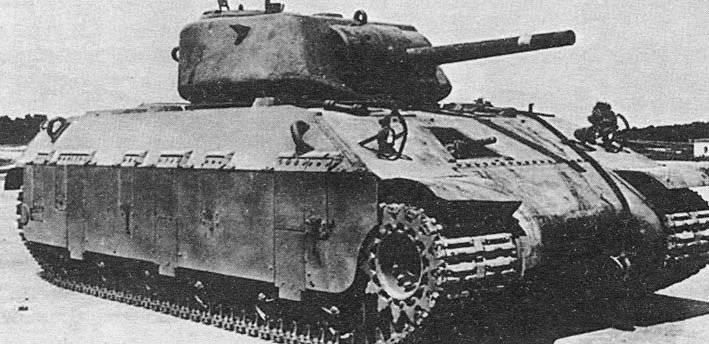 This British view in September 1941 found understanding among the American artillery and technical services, which at the time was developing the heavy M6 and advocated the need for heavy tanks for the US Army. In December, the 1941 of the year the artillery and technical service began a study of an assault heavy tank that met the British requirements and included some design solutions similar to the Т1 (М6) and the medium М4 tank, in order to use the units and components of the latter. The tank was to be armed with an 75-mm M3 cannon with the possibility of replacing it with the British 6-pound (caliber 57 mm) cannon. Maximum armor thickness from 75 to 100 millimeters. It was planned to use a tank Ford and then replace it with a more powerful one.
In the US, in March 1942, a new tank mission from the UK arrived mainly to solve supply problems, but the possibility of building an American assault tank T14 in the United States for the UK was also considered. With the PBX, an agreement was reached on the supply of 8,5 thousand machines, after which a detailed study of the project began. Two prototypes built in the 1943 year, but tests have shown the need to refine the suspension and tracks. In 1944, one of the tanks for tests and modifications was sent to the UK, but by that time in British tank policy priorities had changed in favor of using cruiser tanks with strong weapons. As heavy infantry tanks, it was decided to retain the modified Churchill. Thus, British interest in T14 disappeared. In December, 1944, the PBX stopped the project refinement. The tank never reached the production stage.
The assembled T14 tank had a transmission similar to the M4 tank and the standard Ford tank engine. But to reduce the maximum speed reduced gear ratio. In general, the armament repeated the M4, and the tracks and suspension were taken from the M6.
Specifications experienced assault tank T14:
Combat weight - 38102 kg;
Crew - 5 man;
Dimensions:
Length - 6197 mm;
Width - 2773 mm;
Height - mm 3128;
Armament;
Gun - M3 caliber 75 mm,
Machine guns - Browning calibers 7,62 mm and 12,7 mm;
Reservations - from 19 to 133 mm;
Engine - carburetor, 8-cylinder, V-shaped, Ford GAZ, power 520 hp;
Chassis single-sided - 8 interlocked pairwise supporting rollers, 4 supporting rollers, front drive wheel;
Maximum speed - 22 km \ h;
Cruising on the highway - 160 km;
Obstacle obstacles:
Wall height - 0,62 m;
The width of the moat - 2,70 m;
Wade depth - 0,90 m.