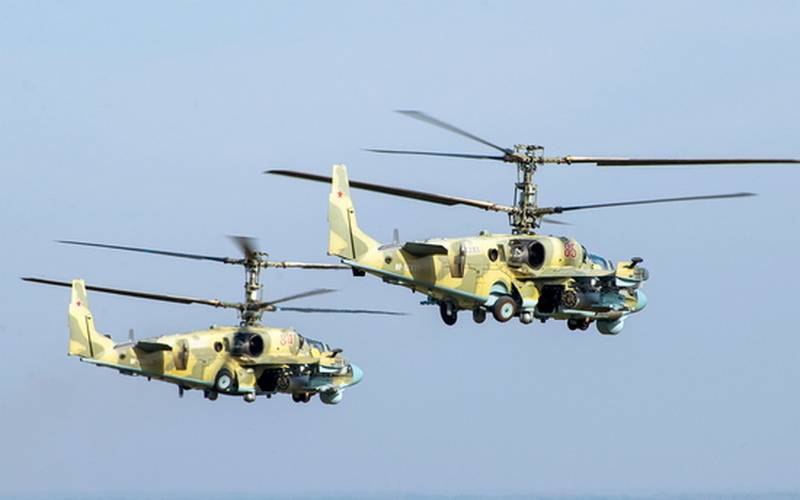 Arrival of new Ka-52 Alligator attack helicopters to the army regiment
aviation
The Southern Military District was a concern in Ukraine.
In Ukraine, they said that Russia continues to build up its strike potential on the Ukrainian border.
A batch of new attack Russian Ka-52 helicopters entered the Rostov region of Russia bordering Ukraine, Ukrainian media claim. The deployment of Russian military equipment causes concern of the Ukrainian side, which continues to assure that this is being done to prepare an offensive and seizure of Ukrainian territories.
The Russian Defense Ministry confirmed the arrival of a batch of seven helicopters in one of the army aviation regiments of the Southern Military District. The vehicles were delivered disassembled from the manufacturing plant by Il-76VTA military transport aircraft of the Russian Aerospace Forces. After assembly and testing, the helicopters were allowed to perform tasks within the framework of combat training.
The Ka-52 Alligator attack helicopter is a modernized version of the Ka-50 Black Shark. It has the best aerodynamic characteristics and is less noticeable for radars. Designed to destroy
tanks
, armored and unarmored military equipment, manpower and helicopters of the enemy, in all weather conditions and at any time. It can provide fire support for troops, patrol and escort military convoys.
Currently, Russia is testing an upgraded version of the Ka-52M helicopter, which has received enhanced booking and a new airborne defense system. The armament of the helicopter was unified with another rotorcraft, the Mi-28NM.
In total, it is planned to get into service with 114 modernized helicopters.