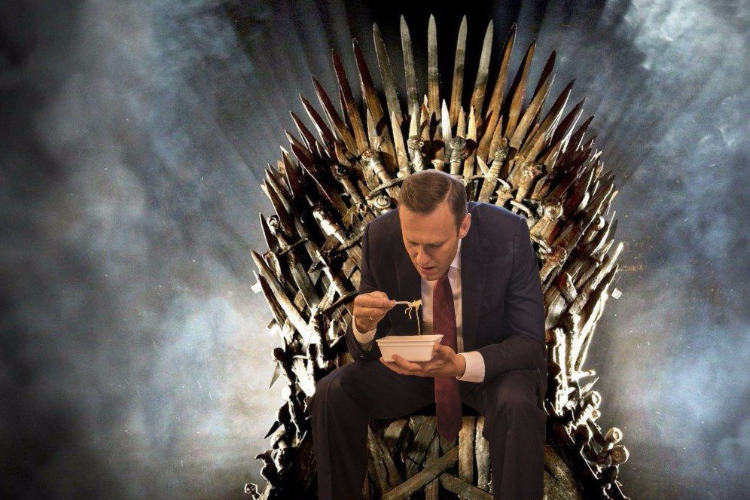 Collage https://cont.ws
In the first lines of my story, I would like to express my deepest satisfaction that the main protest manager of Russia went on a well-deserved corrective labor rest.
In general, this circus had to be finished even when the authorities, according to a scenario I did not understand, presented Navalny with a second suspended sentence. In a country where every tenth inhabitant had a variety of articles, Navalny's two "conditions" looked either as a mockery of the masses, or as an inability to cope with the protest manager.
Possessed. Not bad already.
The second positive point (in comparison with Minsk) is that the country's main protest force is still completely neutral. Here is the fact that the protest movement in Russia, relying on schoolchildren and students, has shamefully failed.
Failed so far, I also emphasize this.
Further downsides begin.
The main disadvantage is that nothing new is offered to us. Navalny is the same phenomenon as Magnitsky and Khodorkovsky.
Khodorkovsky could have "played in the box" quite normally, but he was left alive and "just" was jailed. By the way, with Khodorkovsky it turned out pretty well, he is alive and well, does not need money, he lives in Europe. But as a political symbol, it did not work out perfectly. Yes, there were some attempts there, but it all ended with Khodorkovsky turning into a political corpse immediately after appearing on the political arena.
With Magnitsky it turned out less carefully, because he died in a pre-trial detention center. Today, premeditated murder is spoken about not only overseas, but also here. Unfortunately - representatives of the investigation.
But it was with Magnitsky that Russia began its sanctions path.
And when Navalny appeared, it turned out that the Dark Lord appeared, but the third scenario had not yet been invented. And it turned out quite ugly somehow.
I am of the opinion that it was not "ours" who were persecuted. Many former people on this planet, if they could, confirmed that yes, the KGB / FSB have always been able to work and (I really count on this) have not forgotten how to do it until now.
"Novice" provocation in Britain turned into a spray from a spray can and the death of a cat. And not from a poisonous substance, just removed as a witness. And the same thing happened with Navalny. They didn't kill me, they didn't finish it off in a Russian hospital in Omsk, and they managed to take me to the Charite.
Kindergarten. A fairy tale for primary school children, isn't it?
I must say that Navalny was lucky, but the Russian authorities were not. Precisely, "no man - no problem." But it so happened that there is a problem. The problem is that Navalny was not poisoned properly, the problem is that he was not cured in Russia, the problem is that he could not help but return.
Now many people say that it would be better for Navalny to stay in Germany and from there, like Lenin, he led his fight against the Putin regime.
In theory, yes. In practice, look about Khodorkovsky. Those who wrote the scenarios for him took into account the experience of both Khodorkovsky and Magnitsky.
And, by the way, today's affairs in the US Congress are the best confirmation of this. Everything seems to be going according to plan.
What are we talking about? On the document, which was submitted to the US Congress on February 4.
The document is called "Draft Law of 2021 on holding the Russian Federation accountable for malicious activity." It was represented by Senators Marco Rubio, Chris Koons, Ben Cardin, Mitt Romney, Chris Van Hollen and Richard Durbin. Mitt Romney, if anyone does not remember, is an unsuccessful presidential candidate, burning with great "love" for Russia.
So, Navalny was very much needed in Russia. But - to the United States. And therefore, knowing full well that most likely it would be "closed," but relying on pressure from overseas, Navalny flew to Russia as such a doomed hero. Here it is perfectly understood "leakage of information about the flight, a huge number of journalists, a crowd of people, and so on.
He just had no choice.
As well as our government, which does not differ in variability of behavior and speed of response, there was no choice either.
It is clearly seen that in the current situation, the Magnitsky option was chosen. And not an option that they chose him in Moscow. It seems to me that it was chosen in Washington. The bill was very quickly concocted, and this business, you see, did not take two days.
However, we managed.
Of course, the Kremlin did a huge foolishness by accepting Navalny's sacred sacrifice. It is difficult to predict now how much the Magnitsky-2 plan or the Navalny plan will cost, but the fact that it will have to pay is clear now.
And Navalny? And Navalny will be in prison. Moreover, it is very long and dreary. It is clear that since they went according to Magnitsky's plan, they will hang everything that is possible on him. From fraud to treason. And everything will be investigated for a very long time.
Lawyers will be pressed, removed, changed like gloves. Lawyers will be prohibited from talking to Navalny about anything other than the materials of the criminal case. They will communicate behind glass. If you try to talk about another topic, communication will be disconnected, and lawyers will have problems. A simulated script, there is no other one yet.
And then the third force will come into play. Navalny's team, which by all means will "hold the flag" and maintain interest in its leader. Exposing him as an epic warrior who stood up to fight against Evil and stuff like that.
True, in our country everything can easily play in the opposite direction. The leaders of Navalny's movement can follow the leader to places that are not so remote, because ... Because this is possible here.
Or teammates who do not become inmates will simply fight over power and thus complete the procedure for the final collapse.
Such an option is quite possible.
Unfortunately, this does not cancel the sanctions that are expected to follow the "Navalny list".
However, sanctions are sanctions, but this is only a political part of the anti-Russian struggle. And they are not entirely effective. Examples from all of Belarus and Khabarovsk have shown that if there is no real revolutionary situation, then it is not so easy to artificially cause it.
And here a lot can serve as an example, from Bolivia, where Che Guevara died, to Venezuela of our time.
In Russia in 2020, the conditions for a successful attack on the authorities have not yet emerged. And in this context, Navalny's attempts by all means and without reckoning with anything, to bring people to the streets look very ugly.
In any case, since today the authorities are not ready to enter into dialogue with the people, as many people as you like, even millions, can be taken to the streets. The only question is the workload of the National Guard, the police and the courts, nothing more.
Therefore, neither Navalny nor his team will have to choke in vans of the Russian Guard, crowded "monkey houses" and other convenient places.
Yes, of course, everything that happens will definitely significantly reduce the number of those who will vote for United Russia and the president's initiatives. But here and as in the case of rallies, the burden on election commissions will simply increase, which will have to forge more ballots. And nevertheless, as Rosgvardia easily arrests more people, so in the election commissions they will draw as many votes as necessary.
Of course, another option is quite possible here. Which also fits well into our analysis.
When people, citizens, say, in the fall, come and vote for anyone, just not for United Russia, and the next day they will be told about the victory of United Russia, as always with a huge advantage, here, by the way, overseas technologies will work as it should. And piled too.
It is clear that, unlike Lukashenka, Putin won his elections. And due to the correct choice of opponents, and due to additional votes. But he was gaining quite calmly 50% of the votes, at least. Why it was necessary to add these percentages of "convincing victory" is difficult to say. But they were. A political move, apparently.
And this is the moment our non-systemic opposition can use to the fullest. And this simultaneously changes the conditions of the future political game. And the start of the changes was not given in the Kremlin, which, as always, plays on defense. The start was made in Germany, when Navalny decided to return.
Then the game will go harder. What happened before, when the authorities pretended to stifle non-systemic opposition, but in fact supported and advertised, this time ended at the moment when the judge announced the verdict to Navalny. Everything, the game went on a different track.
And this is where the problems begin. Both in power and in the Navalnovskys. The authorities will need to get rid of those who will muddy the waters as soon as possible. And Navalny's team has to throw lots, since each new leader who "raised the fallen banner of struggle" can instantly find himself on the bunk.
And the electorate, which is important, will simply watch this "game of thrones". Perhaps even with curiosity.
But to talk about support ... No, I won't. It won't be there. And here they did their best. At first, this frankly stupid skirmish with Slepakov, then dirty
история
with Lanov. Why all these shares were needed, I do not understand. The enemy seems to be, what have the verse writer Slepakov and the great artist Lanovoy - I don't understand.
And it is not necessary to throw mud at the Navalnovskys, they themselves do it well.
And more and more people today look towards the Navalnov movement not with hope, but as a gang of clowns. But such clowns, from a horror movie. For whom nothing is sacred.
So I am sure that in the future there will be one policy in power: grab and imprison. Reasons to come up with as easy as shelling pears, this will not work.
And one should not expect that the "popular masses" will go to unauthorized rallies at the call of Navalny's headquarters in order to support him. Nobody is going anywhere, and on January 31st it showed more than beautifully.
And who will go - well, an unauthorized rally - this is the case ... Welcome to the Rosgvardia benefit performance. The dances are hard and rough, but there will be no others. And then there may be no sanctioned rallies. Just in case.
But the main force that can have a real impact on the situation in the country is still silent. And this power really is.
Currently, two clans are participating in the "game of thrones": the state and Navalny's movement. The movement is not homogeneous, it is the most liberal-minded youth, brainwashed, and representatives of the older generation, who, in fact, washed their brains.
But who the future belongs to is the various movements of the left. From young patriots to very older generations. Those who are not for Putin and do not believe him, but also not for Navalny, because it is also difficult to believe him. Especially after the failure of the "palace" exposure.
As an example - Udaltsov and his associates. First, they started moving to the regions, and then, halfway through, they simply abandoned this business and hid. Hopefully for the time being.
And the left-wing movements, if they can rise and enter the political life of the country, can become the stone that will deduce the system of their balance. This is precisely what must be done, since the situation has become very peculiar.
Navalny with his revelations and dirty working methods is the horror and fear of the authorities. But on the other hand, how convenient it is for the authorities - cannot be conveyed! Against the background of Navalny's actions, even EP looks somehow more humanized. Plus Navalny preaches mono sound in his politics. There is Navalny, everyone should follow him. Who is against - that Slepakov.
And therefore, such confusion and vacillation suits the authorities quite well. Simply because the opposition is simply not sensible and strong. There are Zyuganov, Zhirinovsky and Mironov, who frankly live off taxpayers' money, who are just puppets in the political game, and, moreover, completely dependent. And there is Navalny, who wants to live no worse than them.
But the parties of the "opposition" are rapidly losing their supporters, precisely because they do nothing. Unlike Navalny, who is trying to create something like that.
But it turns out very dirty, because people like Udaltsov and Titov prefer not to mess with Navalny's movement, and Zhirinovsky and the company do not need this. They are already well fed at the expense of the people. And they are not forced to work.
Therefore, those forces that are still refraining from participating in political games for various reasons really need a new and charismatic leader. Not as dirty as Navalny and not with such a past as the leaders of the Duma "opposition". I really need it. Otherwise, the situation will remain in the same position, that is, it will completely suit the authorities.
The Kremlin is simply obliged to pay attention not to the tame parties like Prilepin's For Truth, which was urgently formed to confront Navalny, but Prilepin completely failed, and therefore the party was transferred to the reserve. One has to look at the left and perhaps even the ultra-right. Feed, so to speak.
And then you can get both sane and workable opposition. With which you will not have to act as with Navalny's gang.
In general, the stupidity was terrible, with his arrest and return. It would be worthwhile to apply Soviet tactics: simply not to let them back in. As was the case, for example, with dissidents. They took out, tore the passport and that's it. Persona non grata. And the point.
And Navalny would sit in the Baltics or Poland and broadcast from there ...
A familiar script, right? That's right, I was talking about him. Khodorkovsky scenario.
And in a couple of years no one would have remembered about Navalny. The latest example is Shariy. Well, yes, he's king on the internet. And in Ukraine? And in Ukraine he is an oppositionist, whom no one follows. Precisely because Anatoly is sitting quite far from Kiev.
This is how Navalny would have ended.
But today in the Kremlin, cadres do not decide everything. Bad there with staff. Therefore, the decisions are strange. Accept and plant is not a decision. And now the "List of Navalny" is ready, and now the sanctions will come.
I don't know how good the idea is to substitute Russia for the next sanctions, blame the United States for everything and try to rally the Russians once again in the fight against a common enemy.
I don't want this. And I don't want to rise to this fight. And I don't want to follow Navalny.
This is the main problem for you: the lack of a clear state ideology. And therefore, not only me, but also millions of Russians do not want it. And this is wrong, we have to want to go somewhere. To a bright future, to fight against ... or in the name of ...
And only Navalny offers a choice. And also so-so - a boot or a rubber stick on the organs, or to sit at home.
Not an option for an active electorate, not an option.
Russian Game of Thrones is entering a new season. No one has given promises yet, but the first move has been made.