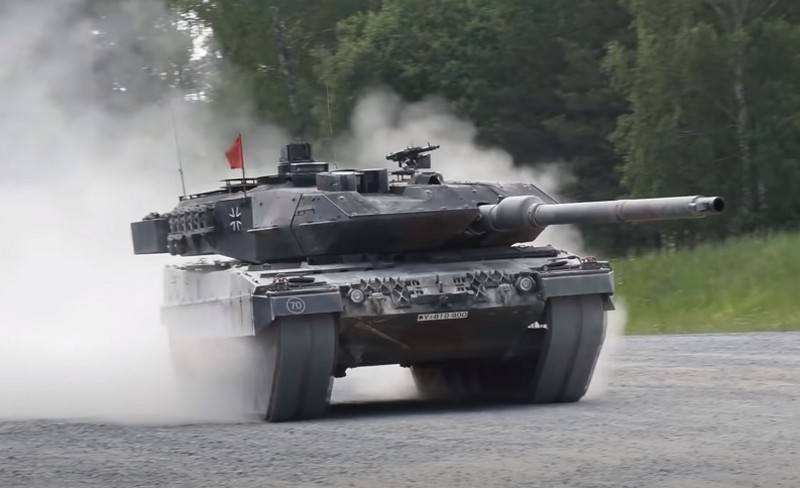 German
Tanks
Leopard 2 will receive the Israeli Trophy active protection complex ("Meil Ruach" - "windbreaker"). According to the German Defense Ministry, the budget committee of the Bundestag approved the allocation of funds for the purchase of Israeli active protection systems.
The number of purchased systems and delivery times were not disclosed, and the cost of the contract is also unknown. The contract, in addition to the complexes themselves, spare parts for them, ammunition, etc., will include the training of crews and service personnel.
The German military department clarified that installing the KAZ on tanks would require a small upgrade, consisting in the installation of an additional power source. It is noted that the complex will be installed on the Leopard 2A6 tanks of the German Ground Forces. According to known data, 155 Leopard 2A6 tanks, 50 "2A6M" modification vehicles and 20 Leopard 2A7s are currently in the Bundeswehr. 176 combat vehicles are distributed among four tank battalions. The rest of the equipment performs the functions of training and is in the corresponding connections.
The fact that Germany is considering the Trophy active protection complex for installation on its tanks became known at the beginning of 2019. At the same time, the German company Krauss-Maffei Wegmenn announced joint trials of the Trophy system on the Leopard 2 tank with Rafael Advanced Defense Systems.
It was assumed that by 2023 the Bundeswehr will receive the first unit of Leopard 2 tanks with an active protection system installed for use in the NATO Joint Task Force.
Earlier it was reported that the US Department of Defense chose the Israeli active protection system for installation on the M1A2 SEPv2 Abrams tanks of the ground forces and the Marine Corps, the supply of the complexes has been completed.
At the same time, the developers from the Rafael company announced the modernization of the Trophy active protection complex, the modernized version of the complex received an electro-optical all-round view system.