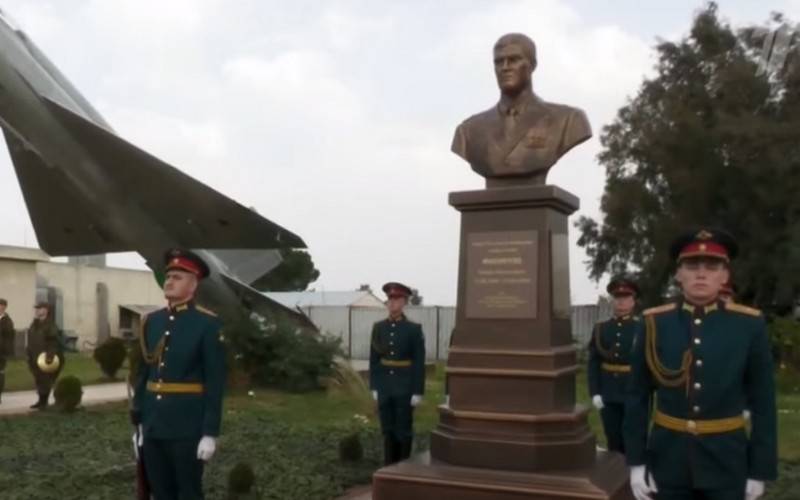 A monument to Russian pilot Roman Filipov, who died in a battle with terrorists in the Syrian province of Idlib, was unveiled at the Russian Khmeimim airbase in Syria.
The bust of the pilot was installed next to the bust of the helicopter pilot Ryafagat Khabibulin, who died during the liberation of Palmyra from militants in 2016. On the monument, in addition to the data of Major Roman Filipov, his last words are placed on the side: "This is for you guys!"
Today we pay tribute to the memory of all who fought on Syrian soil against international terrorism, all who did not return to their homeland and died, thereby fulfilling their duty to the end. Among them is our pilot, hero Major Filipov Roman Nikolaevich. He devoted his life to a noble cause, to protect our Motherland.
- said at the opening ceremony the commander of the Russian group in Syria, Lieutenant General Alexander Chaiko.
The Su-25 attack plane under the command of Major Roman Filipov was hit by 3 February 2018 of the year over Syrian Idlib. The pilot managed to eject, but after landing he was surrounded by terrorists and died, having blown up a grenade of himself and several militants. By decree of the President of Russia Roman Filipov posthumously awarded the title Hero of Russia. A special distinction "Golden Star" was presented to the relatives of the deceased pilot in the Kremlin. The streets in Voronezh and Borisoglebsk are named after Roman Filipov; in addition, SU-25 and Sukhoi Superjet 100 are named after the hero.