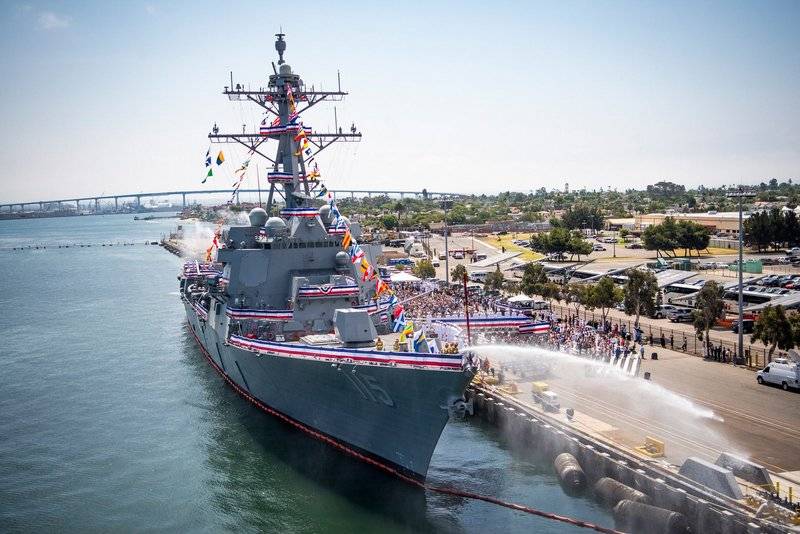 The 7th US Fleet, based in Japan, is building up its strength. As reported by the command, the fleet was replenished with the destroyer Rafael Peralta (USS Rafael Peralta, DDG-115) of the Arleigh Burke class.
The destroyer USS Rafael Peralta DDG-115 on Thursday arrived at the Yokosuka naval base in Japan for permanent deployment. In command
fleet
stressed that the destroyer is one of the "newest and most advanced" ships of the US Navy.
The presence of the destroyer Rafael Peralta strengthens the national security of the United States, its allies and partners, and improves the ability to protect strategic interests
- said in a statement.
The increase in the number of surface ships in the 7th Fleet in the United States has traditionally been explained by "a commitment to ensuring regional security in the implementation of the rule of law" in the Indian-Pacific region.
Missile destroyer USS Rafael Peralta DDG-115 - 65 Arleigh Burke-class ship in the US Navy. She is the first ship in the Flight IIA series to be built with several improvements.
Launched on November 1, 2015, on October 17, 2016 began sea trials. Transferred to the United States Navy on February 3, 2017; entered service on July 29, 2017.
Named after Marine Corps Sergeant Rafael Peralt (April 07, 1979 - November 15, 2004), who died in Iraq.