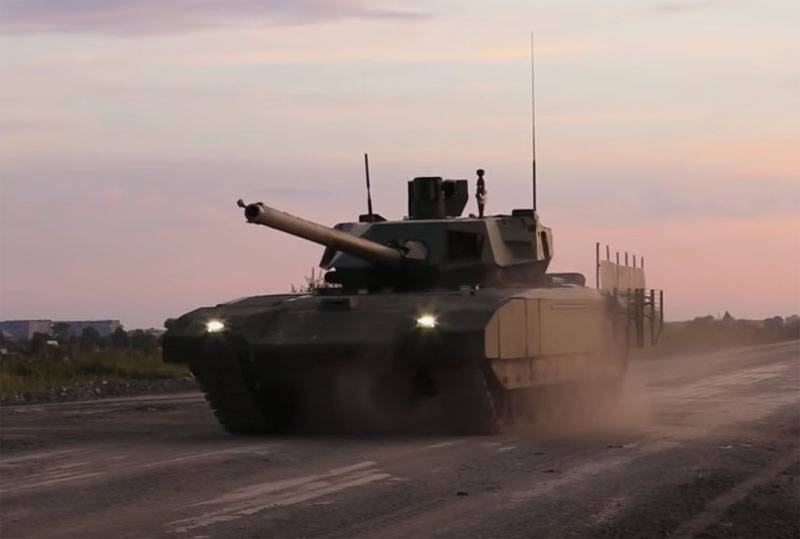 It became known that the Russian new generation T-14 "Armata" tank is being prepared to enter the international market.
It is reported
RIA News
with reference to Rosoboronexport.
The company said in a statement that the T-14 received an export passport, and now the combat vehicle can be presented at foreign exhibitions of weapons and military equipment. The mentioned passport is often referred to as an advertising one.
According to the latest information, the first foreign platform, which will show the Russian "Armata", should be an exposition in the United Arab Emirates. We are talking about the IDEX-2021 exhibition. At this exhibition, which will open on February 21, Rosoboronexport will represent Russian
weapon
and military equipment. IDEX-2021 will last until February 25.
Recall that for the first time the T-14 "Armata" tank and other armored vehicles on the same platform were presented in our country on May 9, 2015 - during the parade in honor of the 70th anniversary of Victory.
At the same time, it was previously reported that the export of the T-14 "Armata" is possible only after the norms of the state defense order in terms of delivery are fulfilled.
tanks
for the needs of the Armed Forces of the Russian Federation.
The T-14 tank is a new generation tank with an uninhabited turret. Its crew is in a special armored capsule in front of the armored vehicle. This guarantees the tankers special protection. From the first appearance on the screens of the T-14 tank abroad, a special interest arose in it. It can be assumed that in Abu Dhabi, where this exhibition will take place, "Armata" will attract special attention.