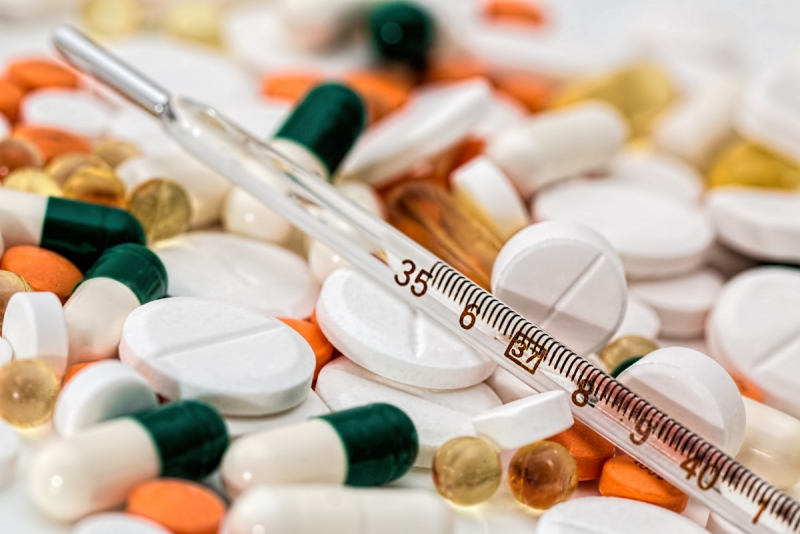 Once a month, I, like many other Russians, face the same problem. I have to go to the pharmacy for medicines. For pills that help me to keep working, to ensure a normal life. And without which, with a high probability, I would have already become acquainted with the afterlife.
Alas, stormy youth, harmful work, sports and other unfavorable factors that doctors tell us about in maturity wear out even the strongest organism.
Life, in general, is an unhealthy thing. Take care of your heart, do not be nervous, do not work in an aggressive environment, do not strain, sleep for 8 hours ... I'd better keep quiet about bad habits.
Although, according to the assurances of doctors, all habits are bad. Starting with alcohol, smoking, fried, boiled, hard, soft, salty and sweet and ending with high performance sports, excess oxygen and lack of the same oxygen.
I remembered an old bearded anecdote about a retired officer who surprised the social security workers by coming every five years for a new pension certificate. And when asked why he does not "crumble" after retirement, like other officers who parted with their harness, proudly lifts up his shirt, shows the harness on his naked body and says:
"I didn't take it off!"
Alas, this is just an anecdote. Even a harness does not save from age.
There are medicines, but they are quietly getting more expensive
There is nothing new in the fact that drugs are becoming more expensive. It is understood that since the pharmaceutical industry
"Released to free bread",
that is, it became just an ordinary branch of production, the usual rules for capitalism reigned there: the fight against competitors, the seizure of sales markets, the search for cheaper production, etc., which contribute to an increase in production efficiency.
An ordinary pill, which is known to everyone from childhood, consists of two components. Actually the element that heals, and those supplements and fillers that are either neutral or harmful to health.
A good medicine differs from a bad medicine simply by the presence of more or less of the second component. But the cost of a tablet depends to a large extent on the degree of purification from these harmful substances. The process is really expensive.
It is from understanding, on their own state of health, of this very difference in pills, in consumers an opinion about good and bad manufacturing plants has been born and has already taken hold. What we didn't have before (in Soviet times). Today the patient looks very closely at who produced the medicine.
(For example, I will never use an analogue of the French Coplavix). Only one company and one manufacturer. Thus, the manufacturing plant attracts some part of the sales market. And faith in medicine is bearing fruit.
Another problem arises that concerns the poorest patients. Nobody will produce cheap and well-known medicines.
Why do we need acetylsalicylic acid for 20 rubles, when we can release exactly the same medicine under a new and louder name and advertise it as a new generation drug?
How many expensive aspirins do we have today? Not for tens of rubles, but for hundreds and even thousands?
But it seems to me that pharmacies are also to blame for the increase in drug prices. There are several pharmacy chains in each city. Most often, they take medicines from the same pharmacy warehouse. But the prices in the pharmacies of these chains are different. In one network, a medicine costs 900 rubles. In the other - 1, in the third - 000 rubles.
Some will go where it costs 900, and the majority will take it at the price that costs in the usual pharmacy. And he will be sure that the price has risen everywhere. And it really will rise. In a month, the drug for 900 rubles will no longer be in the pharmacy. And you will go to those where "over 1". In another month, this medicine will cost 000 in "your pharmacy". But officially, no one spoke about the increase?
Is the market a killer?
To some extent, this is true for pharmaceutical companies. Medicine is one of those areas of life that, if government control is removed, can turn into human killers. The disease comes on suddenly. And in order to cure it, people are ready for anything. For any expenses, for any hardships. And for the necessary drugs they will pay two or three prices.
But there is one interesting document in our country - the VED list. The most important information is hidden behind these incomprehensible letters. List of vital and essential medicines. The same drugs, without which some patients simply cannot live on.
Cardiac patients, asthmatics, cancer patients, diabetics ... The list of categories is quite long. And everyone needs medicine every day. And they consume tons of these drugs every day.
According to this list, the country has medicines for such patients. But is it?
It is clear that sick people cannot work fully and for the most part live on a pension from the state. Therefore, medicines for them must be either free or at a minimal cost. But what do we really see?
There is a prescription according to which you will receive state-subsidized drugs in a certain network of pharmacies. You come with a prescription. And you are put on the waiting list for the drug. This can happen in a day, or in a week or two. A diabetic injects insulin more than once a day. And what is he forced to do?
Go and buy at a commercial price at another nearby pharmacy.
I know several patients who refused to receive free medicines for this reason. And now they receive monetary compensation for the purchase of medicines on their own. Only the commercial price is very different from the state one.
How to solve the problem
The easiest route most patients take is simply to go to pharmacies and buy medicines where the price is lower. Fortunately, today there is an opportunity to compare the price in different pharmacies and in different pharmacy chains.
Only now, most often for a sick person, such trips are quite difficult. Physically. Yes, and with computers old people are on "you". It is good if children or grandchildren live nearby. And if a person lives alone?
Today, in almost any program on TV or radio, I hear that we are great fellows in creating vaccines against coronavirus. In different versions, from different people. I will not write about the vaccine. But about the new in this
stories
I will mention.
It turns out that our pharmaceutical industry has shown its capabilities in the production of vaccines. In a good sense of the word. They increase, build up, quickly master the release, etc.
But until recently, the conversation was about the fact that the same industry is not able to produce a vaccine for export. We offer other countries to produce their own medicine according to our technologies.
It turns out that there are capacities, opportunities, people - everything to quickly increase output. So what's the deal?
And the point, it seems to me, is that the production of drugs (even from the list of vital and essential drugs) is not a priority for the state. This is not a global, breakthrough project. This will not increase your rating, you will not get a quick and big profit.
The state has taken the path of subsidizing a specific patient if he has chronic diseases. And I forgot about those who are simply sick, but cannot afford to buy expensive drugs. Hence, it would be quite logical to organize the production of cheap drugs at the available capacities and subsidize them from the budget.
Then the first part of the problem will be solved. Moreover, the pharmaceutical industry will begin to develop. Conditions will appear for the modernization of production, for the production of better quality drugs. Is this not the task of the government in this area?
The second part of the problem must be solved in the same way.
I'm talking about pharmacies. Today, the list of medicines approved for sale in Russia looks like a solid, multivolume edition. Moreover, if you enter the name of a drug in a computer search engine, you will receive several pages listing the names of this drug from different manufacturers.
It is necessary to oblige all pharmacy chains to have cheap Russian-made medicines on sale. And strictly control the implementation of this instruction.
At the same time, pharmacists should be obliged to inform buyers about the availability of not only expensive, but also cheap drugs, explaining the main differences. That is, simply to stimulate them to do the work that they should do. So that the decision about which medicine to buy is made by the buyer.
Well, and one more small, but still a problem.
They are doctors. There are still cases when doctors contact manufacturers or pharmacists and prescribe expensive drugs from certain manufacturers. For which they receive a percentage of sales. Such cases should be classified as fraud with an appropriate law enforcement response.
Instead of a conclusion
When you are young and healthy, the problem of drugs does not exist for you. The body heals itself perfectly. Except for a very small number of diseases. In our youth, each of us is his own doctor. My head hurts? For analgin. Throat? Furacilin. The strangest thing is that this kind of advice helps.
But illness is as natural as life itself. Medicine allows you to increase the duration of its active phase. Medicines make it possible to live, and not to survive. But not everyone has such an opportunity. Each person has a different income level.
The task of the state is to make the possibilities somehow equalize.
This is important for a person.
But this should certainly become important for the state as well. And preferably in the very near future. If not today, then tomorrow for sure.