"I have never sung about the global,
I've always believed
It's better to have a live dog
Than a dead lion ... "
A. Grigoryan, "Crematorium" group
In general, the choice is so-so. Moreover, depending on what angle you look at it, which is better, a live dog or a dead lion.
But in our case, we are not talking about dogs, but about jackals. Like Tobaccos in the famous cartoon about Mowgli.
For only jackals can afford this - yapping towards the lions. Dead, naturally. Aside the living, you know, it's scary.
Surprisingly, I could not even imagine that the death of an actor, an artist, albeit a great one, would be able to stir up society. For this, the last applause to Vasily Lanovoy, he played his last role in the Russian performance. The role of the indicator by showing very clearly who is who.
On the web and in the media, they have already gone through Krastoshevsky, an employee (I really hope that the former) of the Kultura TV channel. Deservedly.
I will not post photos of this organism on our pages, as the photos of Vasily Lanovoy are more appropriate here. And where eagles fly, there is nothing for vultures to catch, so we can do without Krastashevsky, agree?
In general, with this Krastoshevsky, the situation turned out to be interesting. He decided that he could spit at Lanovoy and did it. You see, one less putinoid has become, Krastoshevsky's joy.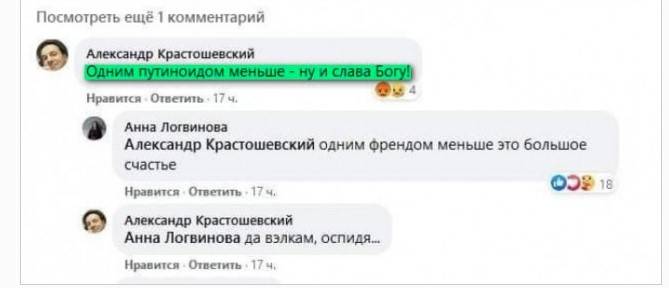 But the fact that he then began to screech that he was an employee of the federal channel, that everyone who attacks him would simply not get away with it, and stuff like that looks strange. The Kultura channel is a part of VGTRK, the all-Russian STATE TV channel. That is, a very funny chain is drawn.
Krastoshevsky despises Lanovoy and calls him a putinoid. But at the same time, he calmly receives a salary from the very state, headed by the same person, for relations with which he spits at Lanovoy. Into the dead Lanovoy.
And again bees against honey, and again anti-Semitism, in which Krastoshevsky accused all opponents.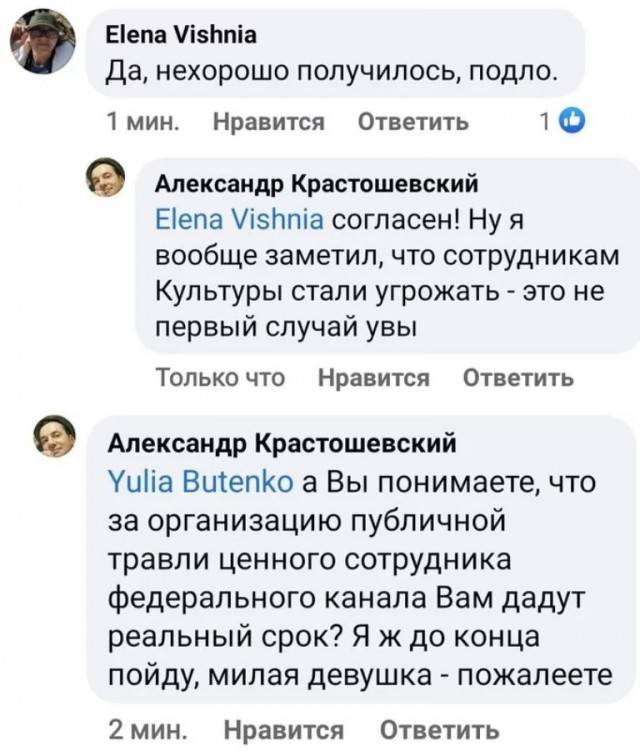 An excellent situation: Lanovoy, who has benefited all his life, playing roles that will remain with us forever, receiving money and awards from the state, is a bad person. And Krastoshevsky, who does the same in terms of money from the state, is just an angel.
By the way, the Kultura TV and Radio Company for some reason did not confirm the presence of Krastoshevsky in his state ... And as a result, our fighter, who had previously promised everyone ruin through the courts, for some reason deleted his page from which he was broadcasting so furiously ...
Strange, isn't it? But even more interesting are these statements by Krastoshevsky: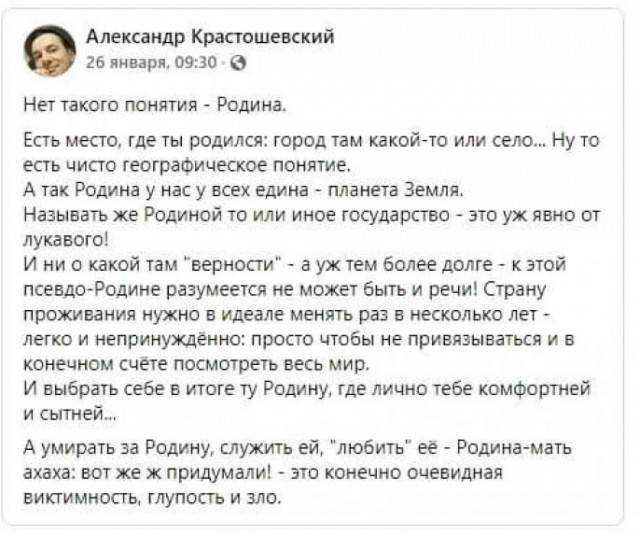 Nice about the Motherland, right? Read carefully the work of the "Culture" channel scriptwriter. A good channel, by the way. You just wonder. how could such a thing be there ...
And Krastoshevsky is not alone. All the light-faced Warriors of Light from the company of Navalny's supporters suddenly uncovered far from human faces and ... Well, yes, everyone will choose words for himself that better characterize what our "fair-faced" and "brightest" have begun to broadcast.
Wow, BP walked alongside Putin on the march ... Crime of the century, there is nothing to say!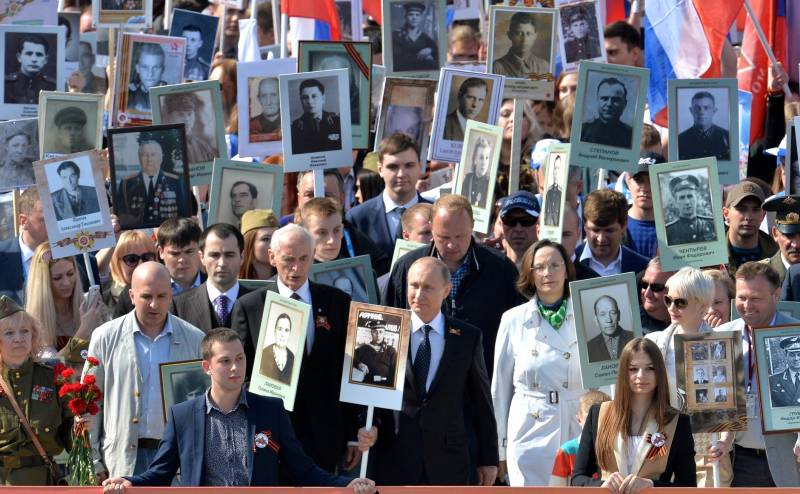 Yes, I am not a fan or even a supporter of Putin. However, you need to know when to stop. A great artist has the right to be friends with anyone. But, if someone considered it necessary to speak, he could do it, as a person should. That is, in the face.
But we have recently been fashionable to do it in the back. As Krastoshevsky did, as the comedians of the quartet did, as thousands of "fair-faced" people do, who suddenly shuddered towards Lanovoy.
Do not mention it? Well, I do not.
Krastoshevsky, if he is known for what, is how cowardly he acted. First, spitting at the deceased person, and then, fearing that more and more people called him who he really was, deleted his page.
How it's called? It's called COWARD!
And how it all began ... Sasha showed self-confidence, an American nuclear aircraft carrier would have envied. He threatened with "multimillion-dollar fines for libel" and "real terms", promised to "go all the way" and "break the life" of those who dared to encroach ...
He told me what a good lawyer he had and not only that. In general, he said so much that it could really come out to him sideways. And when it dawned on him (or someone clever suggested) that the search was done in full, he rushed to change the information in the profile and partially wipe past posts.
In general - another "Putin's palace".
I am so boldly comparing, because the Czechs have officially confirmed that pictures of the library in the Czech Republic were issued for the surroundings of the "palace". Well, in general, everything was sewn so-so. A little crooked and not so good.
It's the same here.
All this yapping and grunt at the great artist who left us is ridiculous if it weren't so sad.
It is sad that this is performed by a choir of those who seem to be the opposition. Who should be there to demand something from the same Putin and so on. But in fact, these "fighters for the Light" simply tore off their masks and showed their true ... spots.
But let them be offended. If Krastashevsky remains in memory, it is precisely as a scoundrel who has so ridiculously lowered himself.
And Lanovoy will remain. And it will stay for a long time. And nothing to erase from the memory of his role. Personally, I saw him for the first time in Scarlet Sails, and if the best Arthur Gray appears, it will not be during my lifetime.
And what about his work in the TV series "The unknown war"? And what about other equally significant roles? And not only Ivan in "Officers", Lanovoy played a lot of people. And he played with his soul.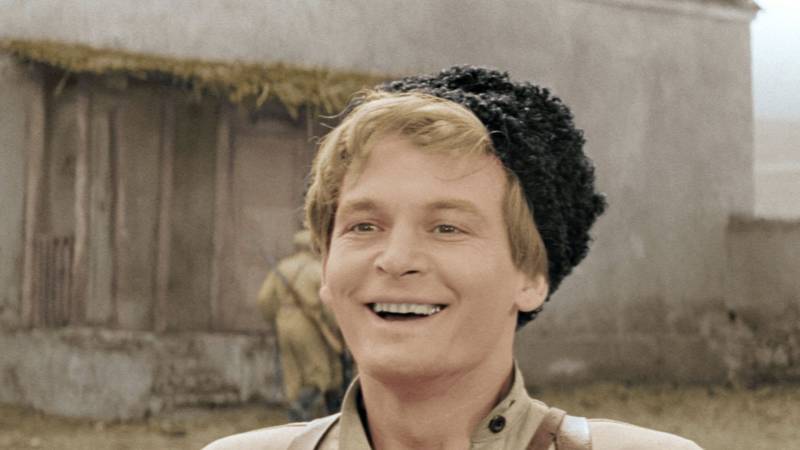 "Officers"
Yes, our regular readers have already written to me. What kind of "Officers" Lanovoy is worthy ... Yes, worthy. Indeed, a landmark film.
Well, and the scene at the airport - isn't it brilliant? Mimicry, plastic, well, after all, an episode that has become a masterpiece. And let's confess, because many even sympathized with the handsome Wolf, who could get into circulation with dad Mueller. But it was Lanovoy who played the episode like that ...
This is what separates the great actor from the great cowardly nonentity.
But you want to criticize - what's in the back?
In general, our "Most Serene Opposition" once again showed its culture, upbringing and everything else.
However, after campaigning for participation in meetings of minors in schools, I personally am not surprised at anything. And spitting at a person who has left us is the final touch to the portrait.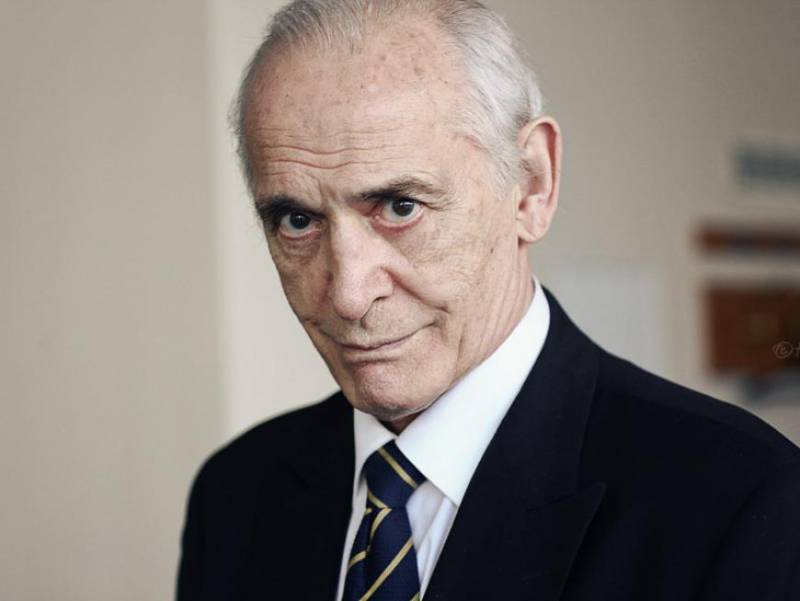 So really, on the one hand, it's disgusting that such
история
happened to one of the most beloved true folk artists of the two countries, on the other - our opposition showed once again its true "face". More, however, similar to the muzzle.
And then let them talk as much as they want about the fact that we have an inactive people, slaves, slaves and everything else.
But you know, with such sublime and enlightened Krastashevskys, many smart and well-mannered people are definitely not on the way.
We still understand perfectly well that only jackals yapping towards the dead lions.
As long as our generation is alive, the great People's Artist Vasily Semenovich Lanovoy will live. In memory, in great films, in their roles on stage and screen.
And, as practice shows, even the younger generations have enough honor and conscience to trample the jackal. Lanovoy will be remembered for a very long time. But the Krastashevskys must die into oblivion.
Vasily Semenovich showed us a lot with his images and taught us a lot. As these days have shown, he had, is and will be the most important award - people's appreciation. Therefore, you can be calm in this moment - the people will never give offense to their favorites.
No wonder that the highest gratitude to the artist is the people's ...