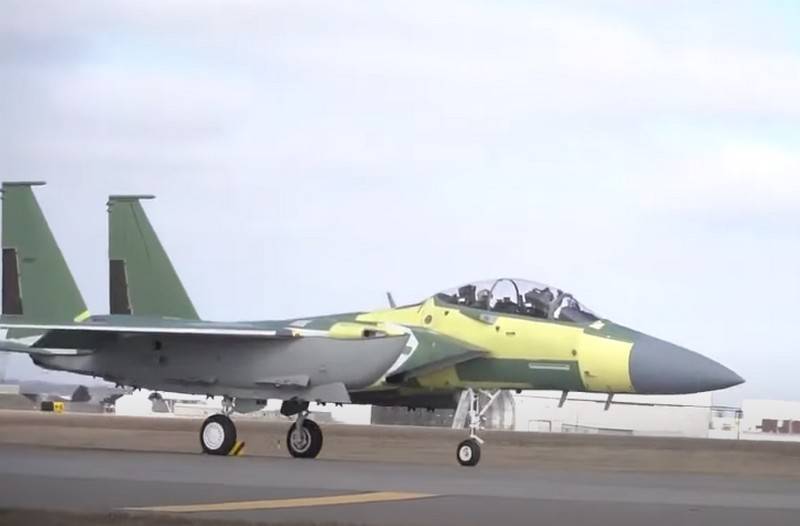 The first promising American multifunctional fighter F-15EX built for the US Air Force made its maiden flight. The plane took off from the airfield of the Boeing Corporation in St. Louis.
It is reported that the first F-15EX fighter assembled for the US Air Force took off on February 2, 2021 and stayed aloft for a total of 90 minutes. The flight was originally planned for February 1, but was postponed due to unfavorable weather conditions. According to the corporation, flight tests of the fighter will continue in the near future.
Thus, Boeing began testing fighters from the first batch of eight F-15EX. In total, according to the contract signed in 2020, Boeing will assemble eight F-15EX fighters, two of which will be delivered this spring, and the remaining six in 2023. All eight aircraft will be stationed at Eglin Air Force Base in Florida, where they will take part in tests.
Deliveries of serial F-15EX aircraft should begin in the 2023 fiscal year; in total, according to an open-ended contract, the US Air Force will receive 144 (according to other sources - 200) newest fighters. The first vehicles will enter service with the 123rd Fighter Squadron of the 142nd Fighter Wing of the Oregon National Guard Air Force, based at Portland AFB.
It is clarified that the F-15 is being purchased not to replace the F-35A, but to replace the already outdated fleet of the F-15C / D in service and as a carrier of a hypersonic
weapons
... In the future, it is planned to purchase 18-24 fighters annually.
In the Air Force, the fighter will be delivered in a two-seat version, there will be no single one. It differs from previous versions by modern avionics based on the concept of "digital highway" and the architecture of Open Mission Systems (OMS), including the Raytheon AN / APG-82 series radar with AFAR. The F-15EX is said to be capable of carrying up to 22 air-to-air guided missiles or "hypersonic weapons up to 22 feet long and weighing up to 7000 pounds." The aircraft will be equipped with conformal tanks.