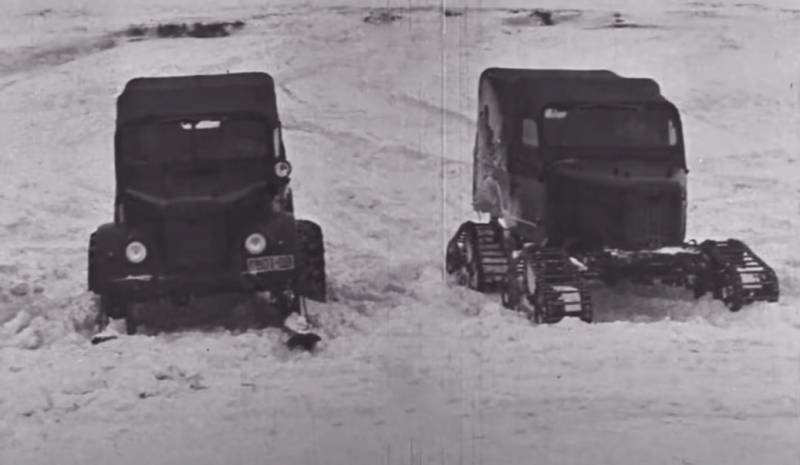 At one time, the film laboratory of the design and experimental department of the Gorky Automobile Plant prepared and presented a film dedicated to snowmobile cars. Among these cars, which were created by GAZ, there were modifications of the GAZ-1950 car with a 1970x69 wheel arrangement, which was widespread in the 4-4s. For the convenience of driving on snow, this Soviet SUV could be equipped with both additional skis and several track blocks.
In total, at that time, the Gorky Automobile Plant had designed and built four models of snowmobile vehicles. The tests were carried out in the winter of 1959-1960.
Two technologies were chosen for walking on the snow: sliding on the snow using skis and pushing off the ground by the propellers.
Such autosleds during the tests showed their limited capabilities when passing through the snow cover. If, at the maximum possible depth of the propeller, it does not come into contact with the ground, then the snowmobile machine turns out to be helpless in overcoming the snow-covered "virgin soil".
As it turned out then, problems arise in the case of using tracked units. If there were no questions about the mileage on the snow, then with the carrying capacity it was far from clear. GAZ-69, which was equipped with this kind of propellers, had a low carrying capacity, and this did not allow us to calculate how successful the use of tracked units on vehicles with a higher carrying capacity would be.
About trials 60 years ago: