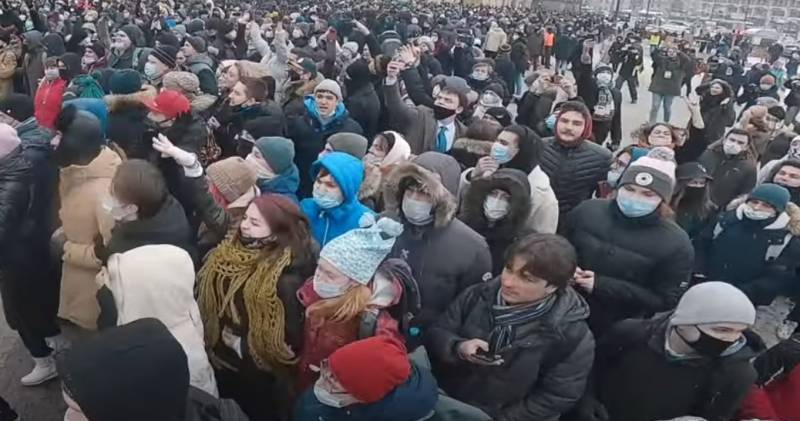 It so happened that on the day of the trial in the case of Navalny's violation of the sentence serving regime, I agreed with several young people (from among the participants in the march on January 23) to meet. They are students of the nearest universities. Not activists from Navalny's headquarters, not "freedom fighters" and not even "haters" of Putin. Ordinary students who are the kind that say:
"I don't watch TV because everyone is lying there."
They are citizens of some other, virtual country called Internet Russia. And they live there (in this very virtual Russia) a rather active life. At least, even when one hand was busy with another piece of barbecue, the other tapped something on the screen of a smartphone lying on the table. The conversation in common human language was going on in our company. And in parallel, the conversation with someone else was going on in that other reality.
I didn't specifically ask any tricky questions. It was just that sometimes I pushed the guys' conversation with each other in the direction I needed. The task was quite difficult. And I probably looked like a dense Neanderthal in their eyes, who does not know some elementary and known things to everyone. Like the lead singer of the "Bedbugs" group Vasya Pupkin. I apologize for not remembering the name (although I remember the group - "Cockroaches").
What car did you drive
The first thing I noticed was some kind of blind admiration for the West, implicated in pseudo-patriotism.
"Why do I write" you "with a capital letter? Because they turned not just to me, but to us, the older generation, they admitted a situation where we have nothing.

Phones, cars, televisions, even coffee machines and Western brand vacuum cleaners?

We want all the best to be Russian! "
The talk that we survived the defeat in the 90s of the last century is categorically rejected.
"Legends of deep antiquity. We weren't even born then. "
Now I will write a phrase that is strange for many, including for myself.
It turns out that the country was killed not in the 90s, but in the early 2000s! Young people are sure of this. Like this.
Yeltsin and Gorbachev? You (in the sense we are) still remember Ivan the Terrible.
To be honest, the idea is old. I admit that, for example, I myself am happy to look at the new models of VAZ, Kamaz, Urals and other cars, which turn into cars not only for the convenience of work, but also for the convenience of a person. Somewhere out there inside a worm of resentment against our state, against our engineers and designers, our workers at car factories lives. Intellectually understand that not all at once. But the eyes see. Hands feel. And everything else, sorry, on the bumps too ...
The fact that the whole world lives in this way, using those goods that are currently the best in their class, regardless of the country of origin, does not affect the children.
It should be Russian. And the point!
It turns out that youthful maximalism versus mature realism. We talk and think about the same thing, but we, bumping our elbows through life, understand that not everything is so simple, but they are not. They only understand one thing. Should be better than it is!
It seems to me that there was a transformation of our views from the 90s, when the majority saw Western life only through films and the International Panorama on the Central Television. And then they just bought into the beautiful packaging. And today the children bought into the fact that everything is modern, modified,
"There is the best, quality and progressive".
Moreover, it was very interesting to see the Soviet perception of Russia in the eyes of young men who do not know what the USSR is.
There is Russia and there is the West. Not the USA, Germany, France, Italy or any other country, namely the West. As a single enemy or ally. This depends on the political views of the interlocutors.
We again
"one on one".
Only that "one" West, which stands opposite, consists of many countries.
German cars, Japanese computers, Korean telephones, American tractors, etc., against Russian objects, things and constructs.
So far I can't make an unambiguous conclusion about where this is from.
Why do we, at some deep, far hidden, level take responsibility for all of humanity?
Upbringing?
Doubtful.
Traditions?
Again, inaccurate.
Genetics? So who knows ...
Political vinaigrette in young heads
I have long ceased to argue with those who profess primitivism in politics. What for?
Well, a person wants to earn money, as under capitalism, and enjoy benefits, as under socialism, so what? Explain to him that capitalism and socialism are different social systems based on opposite principles, individualism and collectivism? Ask to explain why the socialist principle
"From each according to his ability, to each according to his work"
contradicts capitalism?
Talking with the young, I suddenly realized that we are the same. We are from those 90s, and they are from the 2020s. Only we perceived the West "through the stomach", and they perceived through "freedom and democracy."
Remember why we prized Western pants, Western tights, Western drinks and more? We appreciated the quality of our products. Yes, it is the quality of the goods. The USSR bought and sold exactly high-quality goods.
I remember the reportage by Valentin Zorin from Germany. 38 types of meat in a regular shop! We looked at all this abundance and even thought did not arise, what kind of meat is this? We savages ate pork, beef, lamb, venison, game. And there, a simple German ate 38 varieties. Later, after years, we began to understand that the type of meat is just what we chose on the market:
"For soup, for goulash, for chops"
and so on.
In the heads of today's young people is no longer the main type of meat. Now freedom, democracy, human rights ... And all this is beautifully laid out in youthful maximalism.
Freedom means anarchy. Democracy means only listen to me. Human rights are when no one can forbid me something! Maybe elections? What do you mean, elections are always lies of those who win. Choices can be correct only when we win.
For some reason, even the fact that in "Internet Russia" you can see not only positive, but also negative about Western life, does not change the main trend -
"Everything is bad with us, everything is good there",
it is politically good.
When I tried to find out why, for example, the demonstrations of Democrats or Republicans in the United States from political ones quickly turn into pogroms at the very first supermarket, I received no answer.
As I did not receive an answer to my security question:
"Why didn't you smash shops when you walked along the city streets?"
There were big eyes. There was a doctoral view like "grandfather is crazy." But there was no answer.
They were unable to combine the pogroms of stores with "political struggle". By the way, a video from the Netherlands, when the crowd is watered with cannons, was also awarded only -
"They are probably not peaceful demonstrators."
We have completely abandoned political education and political education of our children.
I wasn't talking to freshmen. In front of me were almost ready-made engineers, including those who would very soon design and construct new military equipment and weapons. Moreover, these are really good engineers, not from today's, that "on a paid basis."
On the other hand, in front of me were young men with vague political orientations, with vague political views. They want some improvements, but they don't know what. They want it to be "like theirs," but the government defended itself "like ours."
No suitcases and train stations needed
I foresee the reaction of some radical veterans who have not yet matured "romantics of the revolution." A sort of "suitcase, station, West". Let in other words, but the essence is just that. If we don't like it - forward to the West. Nobody intends to re-educate you. We are not a nursery or a school. If you want it like in the West, live in the West.
By the way, I asked this question too. Why not just move there?
"Who needs us there? There are enough of their own! "
Their own, in the sense of the same students or young engineers. Young people have an understanding that they are Russians, that this is their Motherland. As well as patriotism, albeit peculiar, but there.
Where does such a mess in the minds come from?
I remember those 2-3% of idiots that exist in every nation. They are loud, active, uncompromising, but they are few. But there are such people, my interlocutors, who are looking for their truth. They ask the same questions that we asked at their age. But we got answers and they didn't. What these answers were is not very important. We (with age) ourselves have found the correct, from our point of view, answers to these questions.
Today the young are left without our adult wisdom. By yourself, all by yourself. And then we are surprised at the emergence of radicals of different directions, the emergence of fascists and leftists, the birth of completely "wild" political trends, from the point of view of formal logic. Young people are looking for answers themselves.
Suitcase, train station, West - it's easy. From the series "the fool himself".
And we must start by defining the basic tasks of educating schoolchildren and students.
Who do we want to see in general?
After all, even in the family now there is no answer to this simple question.
"My children must grow up to be good people."
Hooray! And how is a good person? I'm not sure there are many parents in the world who say they want to raise a bad person.
Let's decide who we need - there will be teachers and professors who will perfectly fulfill the task of educating just such a person. The fact that an adult cannot be re-educated, as life has shown, is wrong.
It is impossible to re-educate someone who truly believes in something. And there are quite a few of them. The rest will quickly change their views under the powerful influence of propaganda, as we see in the example of Ukraine.
So, don't offer our children a suitcase. And show them where the station is.
What if, like obedient children, they really get on a train leaving somewhere?
And for whom then did we build it all, destroy it and now rebuild it again?