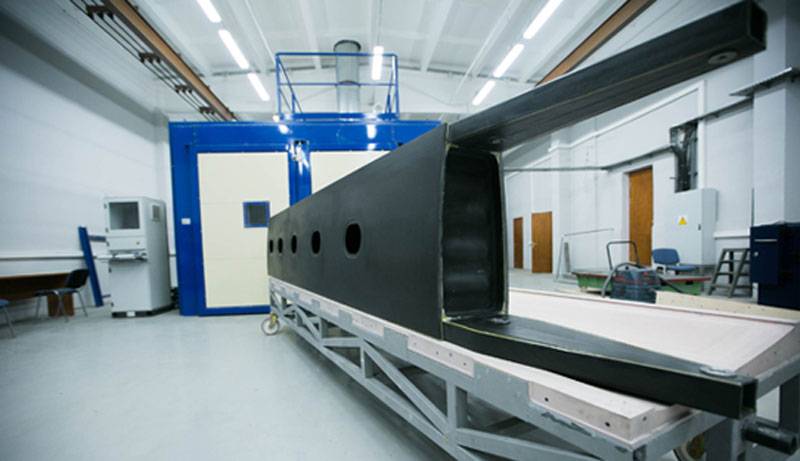 It became known about the creation in Russia of a polymer demonstrator of the wing load-bearing structure for a 9-seater small aircraft
aviation
.
The design and creation of such a demonstrator for a promising aviation facility was carried out by TsAGI (Central Aerohydrodynamic Institute) specialists under a state contract with the Ministry of Industry and Trade of the Russian Federation. It was noted that the Chaplygin Aviation Research Institute was a co-executor.
The work was carried out within the framework of the program, which is designated by the code "MA 19-20". One of the main tasks during the work was the task of assessing the possibility of import substitution of materials necessary for the successful implementation of the project.
The press service of TsAGI reported that for these purposes more than 400 different samples (including structurally similar ones) were manufactured to obtain operational information about the strength characteristics. As noted, in the end, we came to the conclusion that the materials produced in Russia are not inferior to imported materials in their main parameters.
TsAGI adds that the obtained data on the strength of the samples formed the basis for the development of the structure, which includes spars, ribs and three-layer sheathing panels.
As a result, the spars were manufactured on the basis of the Siberian NIIA in autoclave molding, and the steel structural elements were manufactured directly at TsAGI using vacuum molding technology.
According to the head of the design and production department, Yuri Evdokimov, in the manufacture of a demonstrator of the strength structure of the wing of a small aircraft from domestic composite materials, such new solutions were applied as the use of the vacuum infusion method in the manufacture of the caisson panel (its span is about 5 m, the chord is about 1 m). This panel is an integral three-layer skin.
This year, the manufactured wing structure will undergo strength tests, so that, as a result, the correctness of the technological solutions used is confirmed.