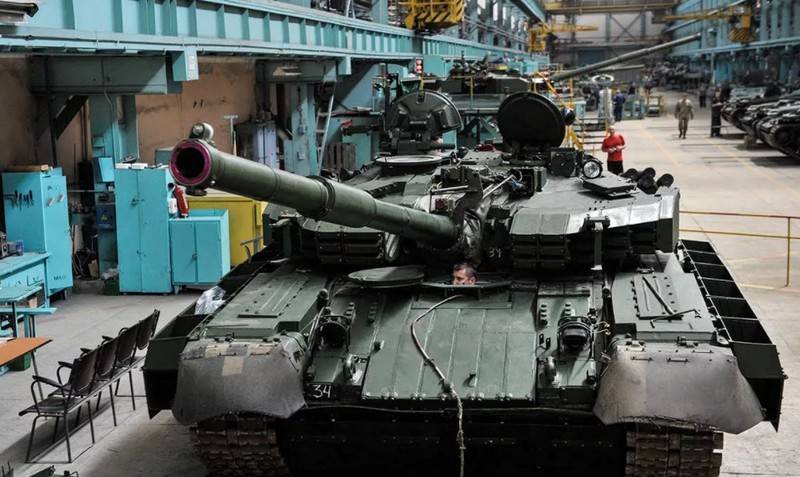 Construction will finally resume in Ukraine
tanks
"Stronghold". According to Defense Express, Malyshev Plant signed a contract for the construction of Oplot, though only one.
According to the newspaper, the company signed a contract for the manufacture of one copy of the "Oplot" tank in a short time. The tank should be ready for the parade on August 24, 2021, in the future it will participate in various exhibitions and demonstrate the "success" of Ukrainian tank building.
However, it remains unclear whether the plant will build a new tank "from scratch" or will finish building the "Oplot" located at the enterprise, which was to be supplied to the United States in 2018. The most likely option is that they will finish building, too little time to build a new one.
Recall that in February 2018 in Ukraine "with fanfare" announced the delivery to the United States of one copy of the "Oplot" tank, manufactured by the state enterprise "Malyshev Plant". This event was called "very promising" and "opening access for Ukrainian technologies" to the US military market. In Kiev, they said that having studied the Ukrainian tank, the United States may decide to purchase a batch of "Oplotov".
However, in 2019, it was announced that the contract was terminated, since the company was never able to manufacture the tank. As it turned out, the contract for the manufacture of one Oplot tank for delivery in the interests of the US Department of Defense was signed on June 1, 2012. The plant undertook to hand over the tank no later than December 31, 2012, but for 7 years (until 2019 - approx. VO) it was not able to complete it.
Most likely, this particular tank will be shown at parades and exhibitions if it is made.
The Oplot tank is a modernized version of the T-80 main battle tank, which was put into service in the USSR in 1976. Currently in service with the Armed Forces of Ukraine, according to Ukrainian sources, there are 6 T-84U "Oplot" tanks as part of the 14th mechanized brigade. In June 2019, the Armed Forces of Ukraine refused to order Oplotov due to the presence of Russian components in the design.