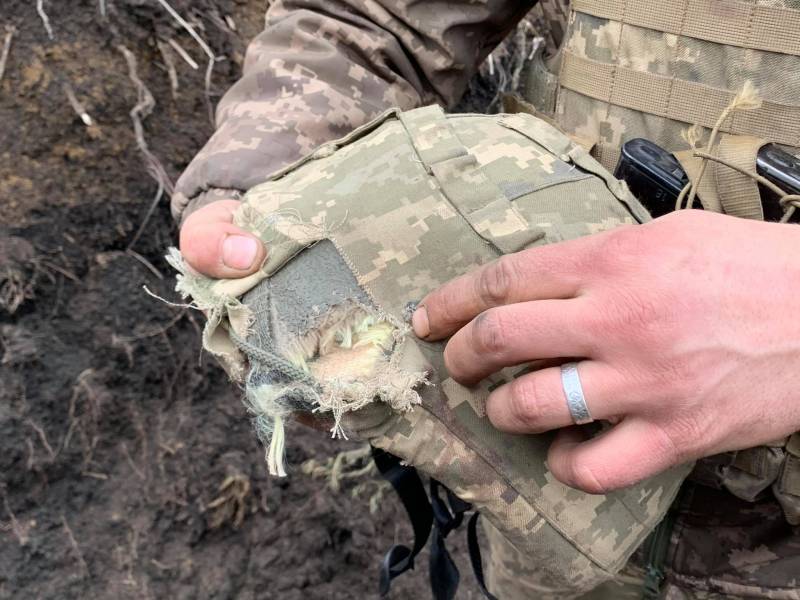 The ceasefire regime continues to operate along the line of demarcation of the parties in Donbas. However, this regime is often violated. The Ukrainian side for several days in a row carried out shelling of the western suburbs of Donetsk and the vicinity of Horlivka. Against this background, the Ukrainian Armed Forces claim that they themselves were subjected to intense shelling from the adjacent side.
A few hours ago, a note was posted on the social network on behalf of the correspondent of the TC "Ukraine" Alexander Makhov. In it, he shows a photograph of a protective helmet of one of the Ukrainian servicemen, who was hit by a bullet. According to Makhov, the Ukrainian soldier was wounded in the head.
This is how it is described on Facebook:
The sniper's bullet pierced the helmet and wounded the soldier in the head. Brothers collected brains with their hands and bandaged their heads. Now he is in intensive care, a serious condition.
After a while, a message came that the Ukrainian servicemen had died in the hospital where they had taken him.
At the same time, practically nothing is reported about the circumstances under which everything happened. According to the latest information, the Ukrainian military started to move to the front line with the advancement towards the contact line. Taking into account the fact that the Armed Forces of Ukraine often try to carry out sabotage on the adjacent side, it can be assumed that their next movement was perceived as the beginning of such an attempt.
Meanwhile, the DPR NM Office reported that a soldier of the mechanized battalion of the Armed Forces of Ukraine went over to the side of the People's Militia the other day. His name is called. This is Anatoly Taranenko, who himself asked for help in crossing the demarcation line. The deputy head of the DPR NM Office reports that the Ukrainian serviceman is on the territory of the republic, there is no threat to his life.