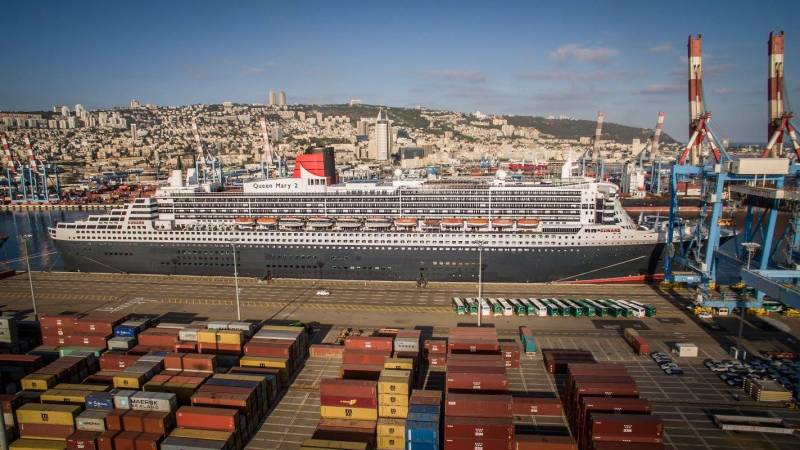 The Israeli media cite information that the Donald Trump administration at one time made a proposal to inspect the port of Haifa.
According to the publication of the Haaretz newspaper, this kind of proposal from Washington came in 2020. American partners offered Israel to assist in "checking the port of Haifa for protection from the Chinese threat and its presence." The US administration saw the work of a Chinese firm to build new port terminals as such a threat to Israel's security.
It should be noted that after the construction of all port terminals, the management of the port of Haifa will be transferred to the management of the Chinese company Shanghai International Port Group - SIPG.
The Pentagon believed that such management would threaten not only Israel, but also the American Navy. In particular, it was pointed out that the Chinese company would be able to collect intelligence information about American ships that enter the ports of Israel.
Initially, according to the aforementioned publication, the Israeli authorities "under pressure from the United States" decided to develop special measures for checking foreign investors. In some ways, this is reminiscent of Washington's pressure on Ukraine on the issue of Chinese investments in Motor Sich. Ukraine succumbed to pressure and itself decided to impose sanctions against those companies from China that invested in its own economy.
The Israeli authorities waited until the change of the US administration and rejected the "urgent proposal" to carry out an inspection of the Haifa port for the aforementioned "Chinese threat".
However, at the same time, it is still difficult for Israeli firms to interact with a number of other foreign companies. We are talking about all the same pressure from the United States in terms of joint business with companies from the Russian Federation (for example, Gazprom), technological giants from China (for example, Huawei planned to create 5G networks in Israel).
In this regard, the question is being discussed, if the Biden administration will not insist on checking the port of Haifa, does this mean that it is more loyal to large Chinese projects in the world?