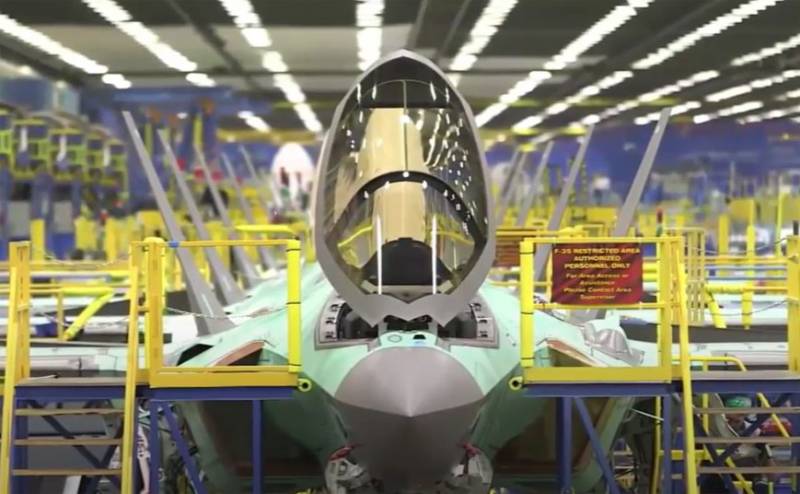 It became known about the construction of the first F-35 fighter for the Danish Air Force. We are talking about the F-35A Lightning II fighter with the serial number AP-01, which will be transferred to the American center for testing. The tests will be carried out jointly by Lockheed Martin, representatives of the US Air Force and the Danish Air Force.
It is noteworthy that after the completion of the tests (and they are planned to be completed by the end of spring 2021), the aircraft will not leave the territory of the United States. It is indicated that until 2023 the Danish Air Force fighter will be located at Luke Air Force Base in Arizona. This is said to be necessary for the training of Danish pilots and technical personnel in the operation of the fifth generation fighter.
In total, Denmark will receive 27 F-35 fighters and four simulators.
These messages received special attention in Poland. There they reacted very jealously to reports that the first F-35 had already been created for the Danish Air Force, but not for Poland, which "positions itself as the main US ally in continental Europe".
In the comments to the publication on the pages of the Polish military-thematic resource Defense24, there is a lack of understanding as to why "little" Denmark orders 27 fifth-generation fighters, and Poland "only 32". In response to this, it was noticed that Denmark is purchasing the F-35 with its own funds, but Poland has not so much "free funds" today, therefore, if you buy it, then on credit.
Stefan:
And everything is clear to me. Denmark's GDP per capita in 2019 is $ 53880, Poland's GDP is $ 33890. We have been building our economy since 1990, and they have been building since 1945.
Another Polish reader expressed satisfaction with the fact that American F-35s are actively bought in the world.
Isegg:
And what about the foreign sales of the Su-57 and J-20? Still zero orders? Nobody wants to buy this communist scrap metal because everyone prefers the F-35, which is cheaper and better than communist inventions.
In response, the user received a very objective answer from Jakiś tam:
Because they (Russia and China) do not force anyone to buy (their fighters), but the Americans are forcing their allies.
There was a kind of dispute about why some planes are bought in dozens, while others are not yet. The phrase "communist scrap metal" is used in a commentary on the publication in the media of a country that itself still largely lives on the legacy of the "building of communism" era.
Recall that earlier in Poland they announced their readiness to modernize their aircraft fleet, which also includes Soviet-built aircraft, with new combat aircraft, including the American F-35.