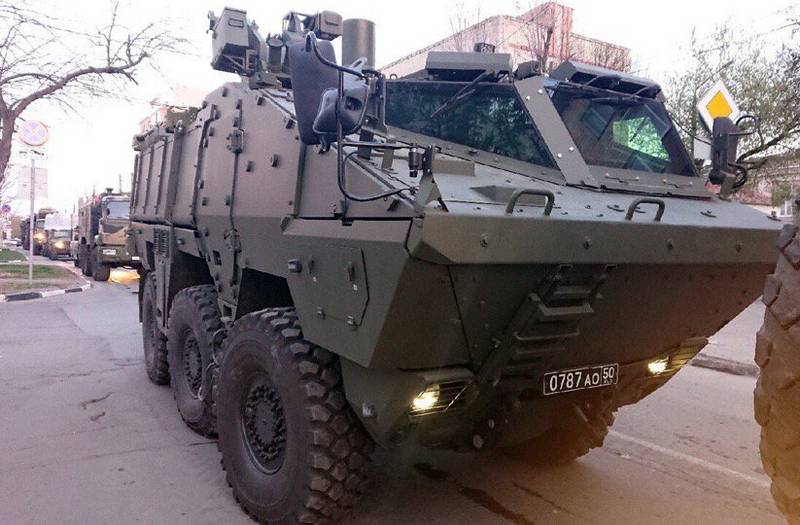 The RChBZ troops will soon receive a new RKhM-9 radiation, chemical and biological (RCB) reconnaissance vehicle. The creation of the machine was completed by the Tula Plant of the Roskhimzashchita corporation. This was announced by the Deputy Minister of Defense of the Russian Federation Alexei Krivoruchko.
PJSC "Plant" Tula "completed the development work of" Bogomaz ", within the framework of which a promising RCB reconnaissance vehicle RHM-9 with a completely new instrument base was created
- said the deputy minister.
The new RCB reconnaissance vehicle was created on the basis of the KamAZ-63969 Typhoon armored vehicle and is designed to conduct radiation, chemical and biological reconnaissance on the battlefield. At the same time, the design of the vehicle allows data collection without the crew leaving the vehicle. In terms of efficiency, the new vehicle is two times superior to the RCB reconnaissance vehicles of previous generations.
The development of new vehicles PXM-9 based on Typhoon and PXM-8 based on the Tiger armored car was reported in 2017. In 2018, both vehicles were demonstrated during a private display at the Army-2018 International Military-Technical Forum. In 2019, they were shown during the Victory Parade in Tula.
PJSC "Plant Tula" specializes in mobile means of radiation, chemical and biological reconnaissance. It was at this plant that the RKhM-2S was created on the basis of the GT-MU, RKhM-4 and RKhM-6 tracked transporters on the BTR-80 and RKhM-5 chassis based on the BMD-3 for the Airborne Forces.