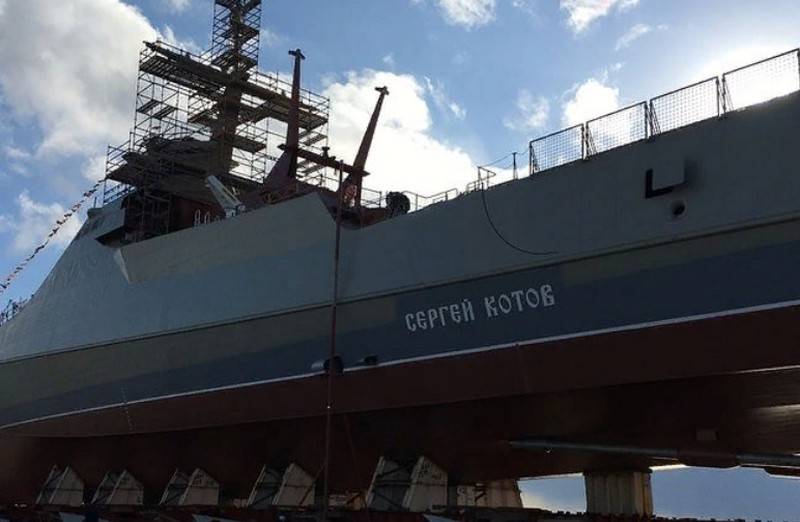 The fourth patrol ship of project 22160 "Sergei Kotov" was launched in Kerch. The ceremony took place at the Zaliv shipyard.
The ceremony was attended by the First Deputy Commander-in-Chief of the Navy Alexander Vitko, the authorities of the Republic of Crimea, shipbuilders and veterans of the plant.
I am sure that the fate of the ship will turn out and will be successful. It cannot be different. You have invested your knowledge, skills, your Crimean soul in this ship, and therefore it will worthily defend our homeland
- Vitko declared.
The patrol ship "Sergei Kotov" is the fourth ship of Project 22160 and the third serial one. Laid down on May 8, 2016, transfer to the Navy is planned by the end of 2021. The lead ship of the Vasily Bykov series and the first and second serial Dmitry Rogachev and Pavel Derzhavin are already in service, the fourth and fifth serial patrol ships Viktor Veliky and Nikolai Sipyagin are being built in Zelenodolsk. All ships are intended for the Black Sea
fleet
.
The new patrol ship was named in honor of the Hero of the Soviet Union, a participant in the defense of Odessa and Sevastopol, the liberation of Rear Admiral Sergei Kotov and Novorossiysk and Crimea.
Project 22160 patrol ship (corvette) has a displacement of 1700 tons and is capable of speeds up to 30 knots. Cruising range - 6000 miles, autonomy - 60 days. The crew is 80 people. On board, the Ka-27PS helicopter is based. As standard weapons, the corvettes are equipped with a 76-mm artillery mount, anti-aircraft missile system and machine guns. A place is provided for the placement of various modules (RCC, missiles, electronic warfare, etc.), depending on the tasks performed.