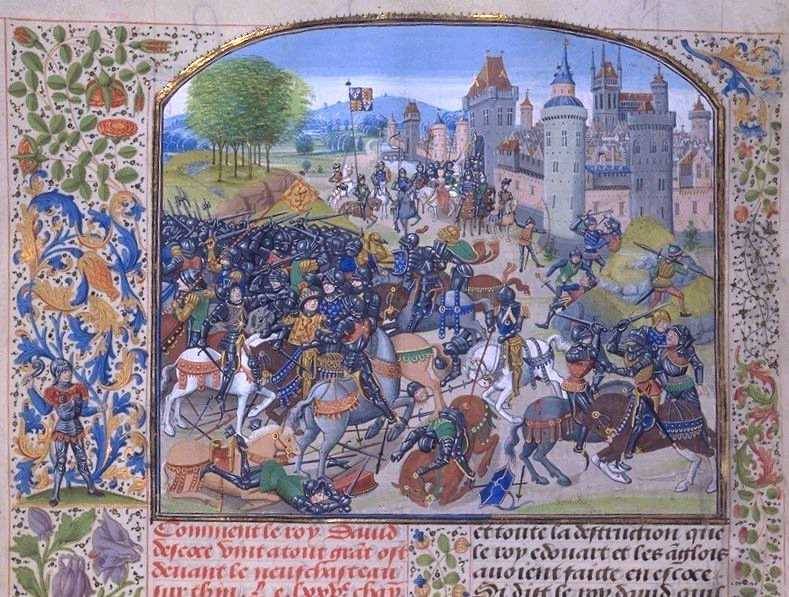 Battle of Neville's Cross. Miniature from the XNUMXth century Froissard Chronicle
During the Hundred Years War, people not only fought and killed each other. They also ate, and tried to eat better. But what they ate - that's what our story will go about today ...
"Russian cuisine is one of the first in the world in terms of cost. And the author has perfectly confirmed this. Let him tell you how long it took him for all this rite.

Due to the fact that everything was fine with firewood in Russia, Russian cuisine is also energy-intensive. Only Russians and their closest neighbors have this kind of cooking, like languor! "
ee2100 (Alexander)
To begin with, I really liked the article by Roman Skomorokhov about Suvorov cabbage soup. Well, cabbage soup and cabbage soup, one can only be glad that someone here knows how to cook and write "deliciously" about it, but there was also a commentary, which is given here as an epigraph. We are talking about the energy consumption of the national Russian cuisine. And it seems to be a trifle, but the devil is just hiding in the little things. Which are already of a fundamental nature, because such "little things" are directly related to culture and
history
our country.
We point out right away that the cuisine of all peoples in a certain era was very energy-intensive. Meat - the same chicken was cooked for several hours. Take the book by Elena Malokhovets - this is the most accessible publication for a Russian - and there is about all this. But English cuisine was no less costly both in terms of the amount of firewood and the amount of time: open, say, the book by Maggie Black and Deirdre Le Fay "Jane Austen's Cookbook", and there you will find all the same!
What made our cuisine different from all others, and then only in particular, was the church regulations, according to which our ancestors, up to Peter I, had to cook food. The Church pointed out that food should be cooked whole, as they were given to us from God, that it is a sin to grind them before cooking. From here, our pies with porridge - nothing to grind, pies with mushrooms - the smallest ones were selected, pies with fish - were baked gutted, but not cut, with bones and scales, so only some low-bone fish species were used. Cabbage was fermented with a head of cabbage, turnips were steamed and baked whole.
Eating veal in Russia was considered an unacceptable, shameful thing (they took care of the livestock!), And it was on this that False Dmitry was caught, who loved roast veal, which immediately proved that he was "not our man." The main meat was considered to be lamb and pork. Lamb even paid a salary to the archers: half a cow to an ordinary archer a week, and a whole to the foreman, plus three loaves for a shovel of fathoms for the first and six for the second! Of course, it is not so easy to know and the king ate. In the inventory of the tsar's dining there are such dishes as "smoking in pieces under lemons", "smoking in pieces under cucumbers", "smoking in pieces" and even "smoking in wrappers". But in general, the tradition not to cut or grind anything was strictly observed. And how not to observe, if the same Ivan the Terrible, observing church deanery, on pain of death forbade "grouse" (black grouse) and "stuffing sausages", which eventually appeared in our country in large quantities only under Peter.
However, kitchens of many other nations were costly both in terms of time and firewood. For example, the Poles who have been at enmity with us since the time of the Pretender. Their national dish is bigos, and ... every time we find ourselves in Poland, we order it with the whole family, eat and praise it. But ... to cook it at home according to all the rules so far have not dared, although for this, it seems, everything is available - both food and time. And this is because the recipe for bigos is still the same. For example, here is the simplest one for an ordinary family:
400 grams of sauerkraut,
400 g fresh cabbage
200 g of veal (or other meat),
200 g smoked meat (boneless),
100 g smoked bacon
150 g of raw smoked sausage,
1,5 tbsp. tablespoons of tomato paste + 1 glass of water,
1 onion,
1 carrots,
1 pickled apple
100 g pitted prunes,
50 g raisins,
50 ml of dry red wine,
several dried mushrooms,
frying fat (lard or a small piece of unsalted bacon),
bay leaf, marjoram, allspice, salt, black pepper, sugar - all to your taste.
Then we start cooking. First, you need to drain the brine from the cabbage, and soak and chop the dried mushrooms. Cut fresh cabbage rather coarsely so that it does not boil over during cooking. Carrots are rubbed on a coarse grater. The pickled apple is cut into large pieces, the onion is cut into rings. Meat products, on the other hand, are cut into small pieces.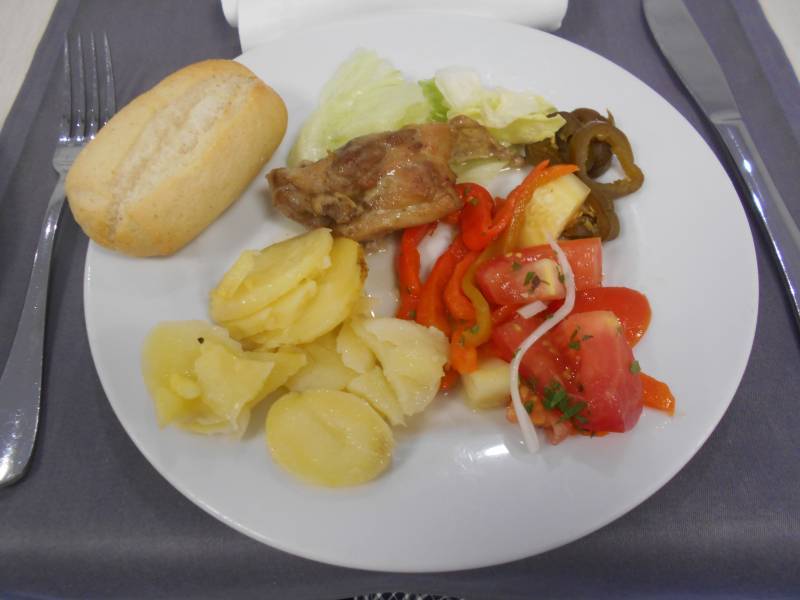 All this is delicious, but for me personally it is too difficult. In my opinion, eat often, in moderation, and to keep cooking as simple as possible. For example, a dish for breakfast: a slice of yesterday's duck, some boiled potatoes, pickled and fresh vegetables, a bun and ... that's it
A piece of bacon is cut into cubes and melted in a preheated frying pan, onions are added there and fried until half cooked, after which soaked mushrooms are added to the onions (you can also use champignons from the store, by the way) and fresh cabbage. Fry until the mushrooms produce juice. Now add carrots and a glass of salted boiling water with tomato paste diluted in it. All this is stewed until the cabbage is soft and juices.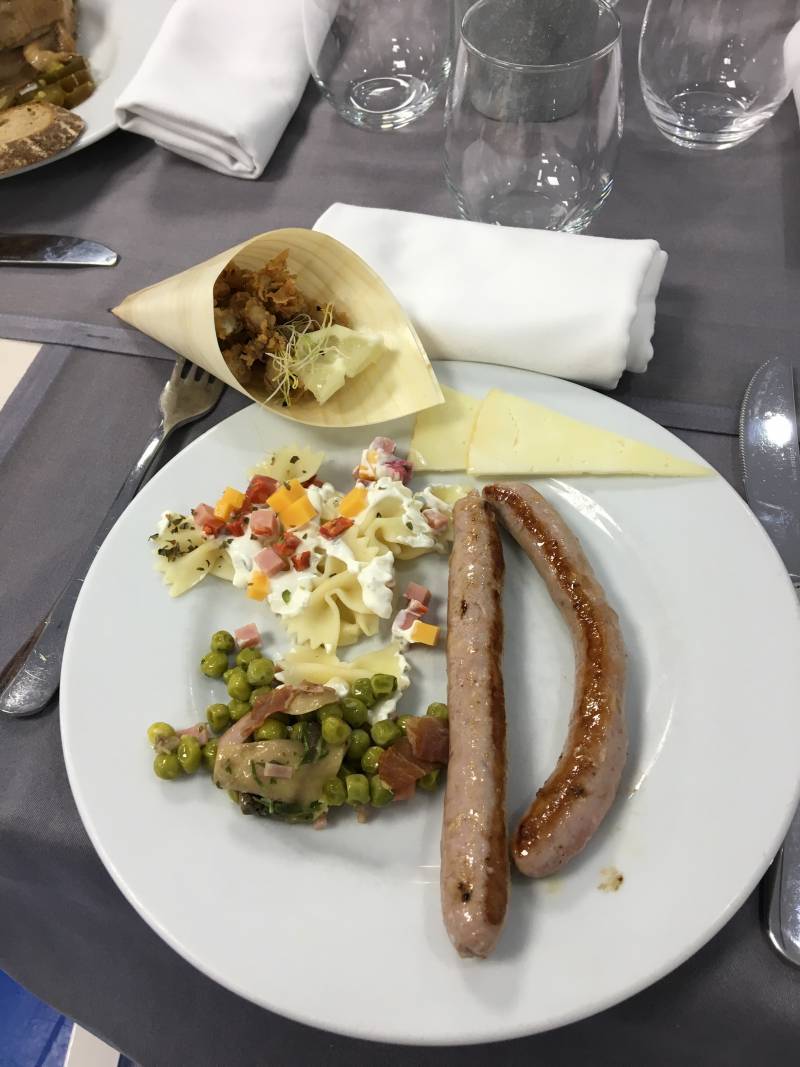 For dinner, you can afford sausages, boiled peas, farfalle with vegetables ("bows"), and in a bag - squid in batter ...
Now you can add sauerkraut, chopped apple, mix it all, cover and simmer. Then, when the sauerkraut becomes soft, pour in red wine and simmer again over low heat for 45 minutes - stirring so that our bigos does not burn. However, that's not all, don't even hope!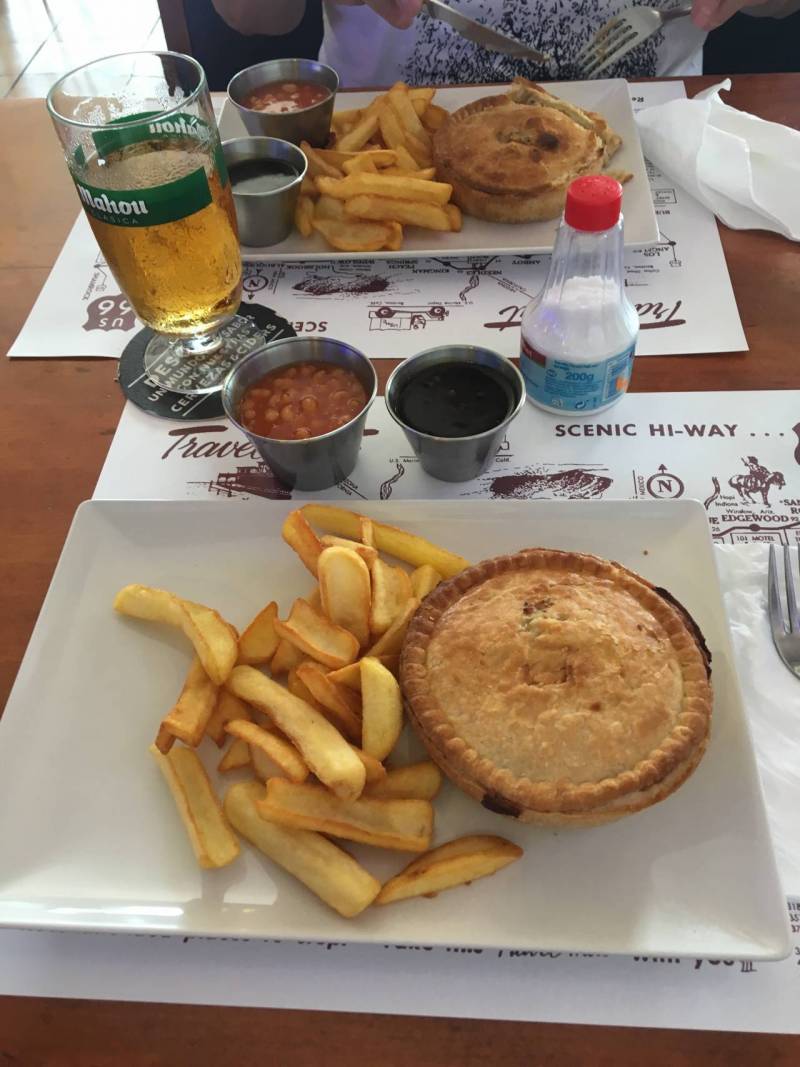 This, as we were told, is a typical modern English breakfast. Amazing, isn't it? No porridge! But ... they served us it in an English cafe, though not in England, but in Spain, and convinced us that it was "typical" today: a pie with meat, sauce and fried potatoes. Without her, in England, indeed, nowhere. There is even a well-known anecdote: an Englishman comes to the doctor and says: "Doctor, everything hurts me! - Do you smoke? - Not! - Do you drink? - What are you ... - Well then, it's fried potatoes!
Now let's move on to the meat. Cut it finely and fry in another pan for 5-15 minutes, then add smoked meat and fry a little again. Sausage and smoked bacon also go there, and all this is also fried for several minutes.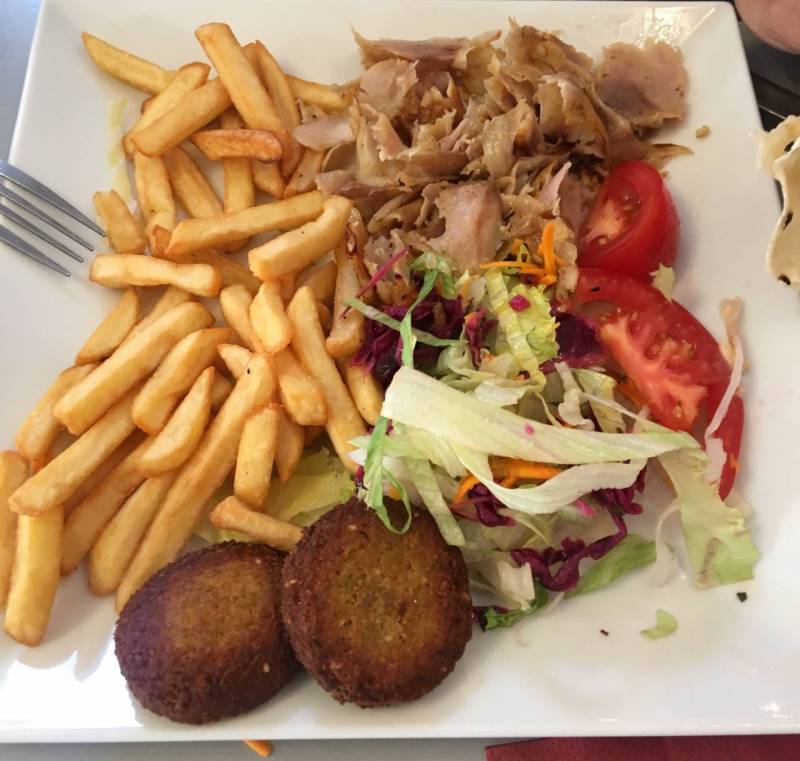 "International lunch" in Nice. It was called that, was served very quickly and looked like this. We never eat like that at home!
Add meat plus bacon, plus sausage, as well as prunes, raisins, bay leaves and spices to taste, add to cabbage and simmer all this together for a few more minutes until cooked. If necessary, try and add some salt. A teaspoon of sugar should also be added, which is said to further enhance the flavor of the bigos.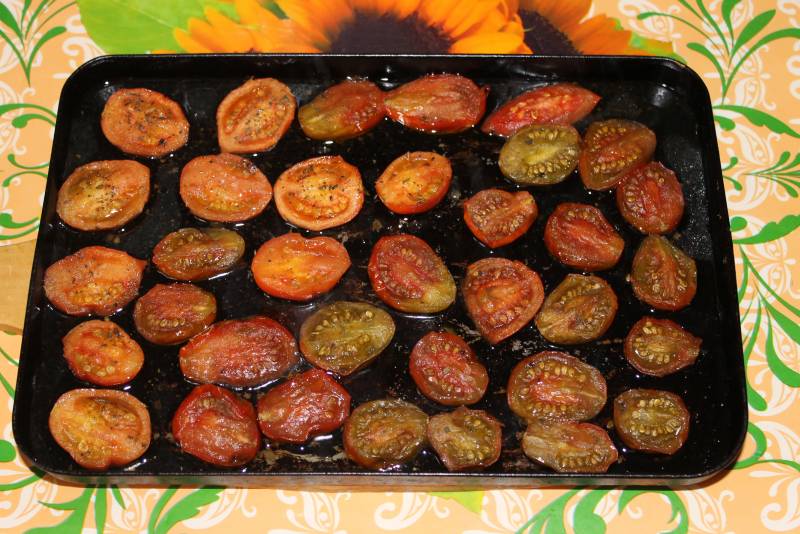 But everything that is simple and tasty is borrowed "from there". Here, for example, tomatoes cooked in the oven according to the Spanish recipe ...
And only now this dish can be served on the table, and the bread for it should be rye, and vodka - well, how can it be without it - Polish bison, which even more helps it ... "to open up". Of course, it is best to cook bigos in a Russian oven (the Polish one is not much different from it) and serve it hot on the second day, or even on the third.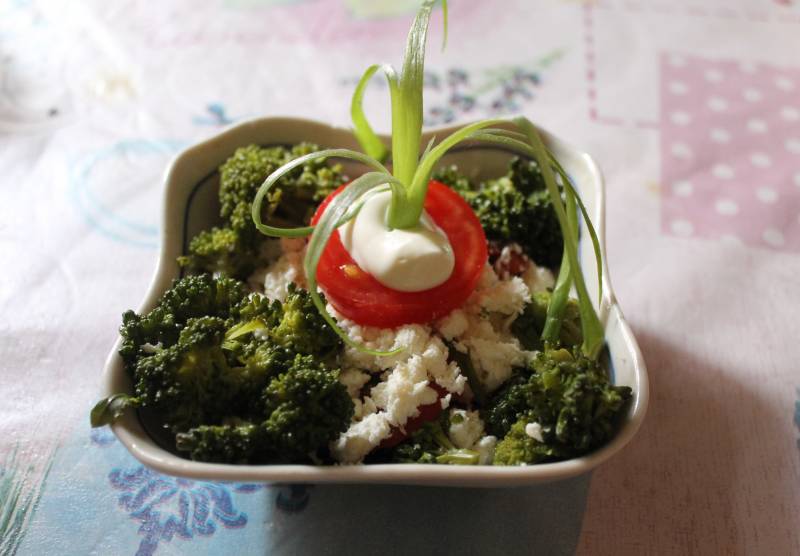 A very simple salad recipe: boiled broccoli, salted cheese, a little mayonnaise for taste and a dressing with olive oil. You can add leeks ...
PS Bigos is served on the table with fresh rye bread, and on the festive table - with a traditional Polish drink such as bison. You can also serve our vodka. But bison better sets off the taste of bigos.
But now we have reached the Hundred Years War ... It is believed that the recipe for such a French dish as Cassoulet (fr. Cassoulet) appeared just at that distant time. And it was in the southern regions of France, so that Joan of Arc could have eaten it in Orleans. At first glance, there is nothing complicated in it: a stew of meat and beans is what it is. But in reality it is a masterpiece: in a bowl you will find tender white beans in an abundance of sauce. But among the beans you will also find large chunks of garlic sausage and even fried duck (confit). Moreover, the beans in real cassoulet should be soft and tender, and not fall apart, and cover its entire surface with a golden crust of crackers. Prepare cassoulet ... for a few days! And it was necessary to spend quite a lot of firewood on it too!
On the first day, the pork knuckle had to be thoroughly cleaned and washed in running water. Then pour clean water and salt a little, after which you and I can put it in the refrigerator for the whole night. Meanwhile, the white beans are rinsed and also soaked overnight.
Now you need to cook duck confit. Its meat is covered with coarse salt, black pepper, poured with lemon juice and marinated together with onions for 8-12 hours. The inner fat of the duck is melted separately, then the marinated meat (but without onions) is placed in it, a couple of garlic cloves, sprigs of rosemary and thyme are added.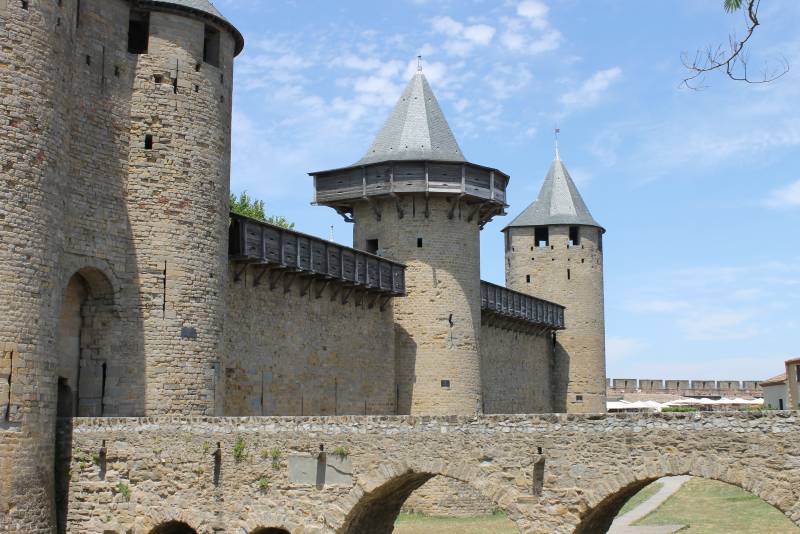 They are all in a hurry here: to the castle of Carcassonne! And for a good reason: they cook wonderful cassoulet, for which Carcassonne is famous along with all other attractions.
Simmer duck meat for 3 hours at 140-150 degrees in a container with a tightly closed lid. Cool the finished confit and put it in the refrigerator before time.
On the second day, all skin with a thin layer of fat is cut off from the pork shoulder, which is cut into long strips, from which five rolls are folded and tied with thread. The meat that was under the skin is cut into 3-4 cm cubes.
Now rolls and meat "cubes" need to be cooked in a duck on medium heat, pouring duck fat from confit. Put the browned meat on a plate.
Carrots are cut into thin rings. Chop the onion and tomato into large pieces. All this is fried for 1-2 minutes.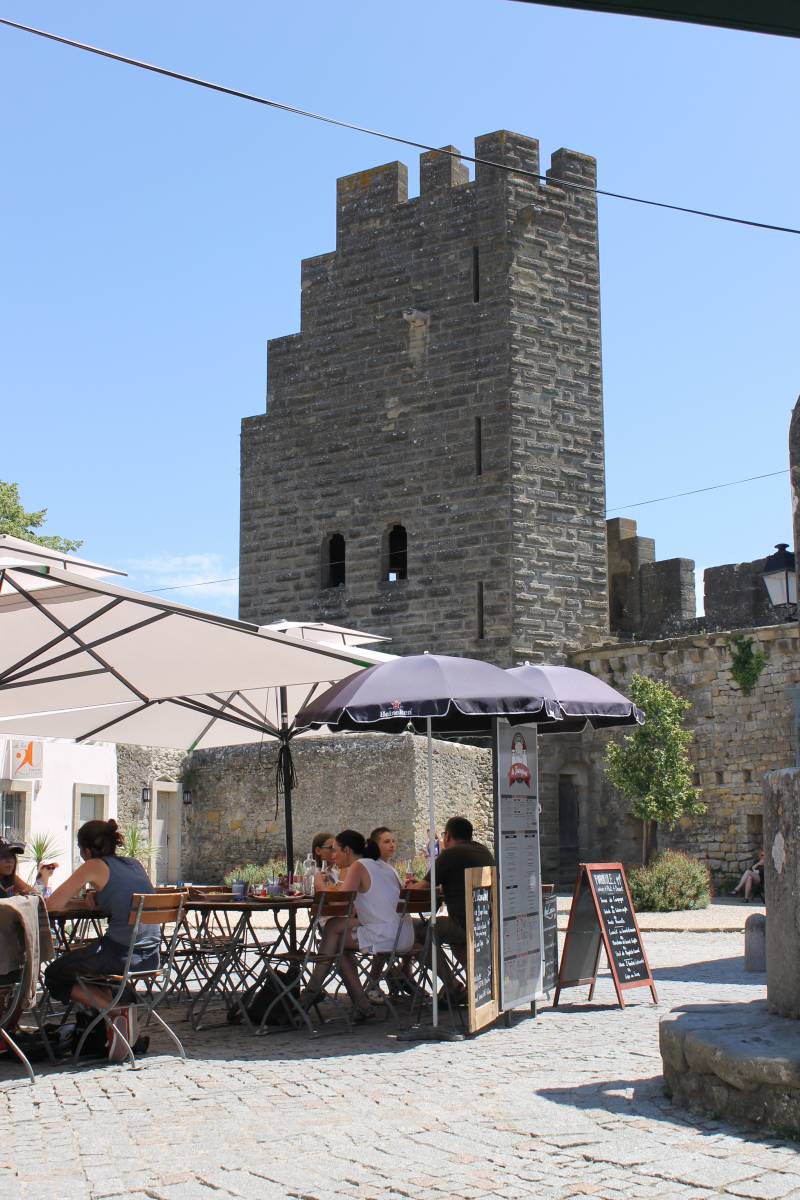 We will eat it here. In the restaurant "At the Little Well", which also saw the Algigoy Wars. Here it may not be prepared for 3 days, but you do not have to wait long, besides, if you order it with salad and wine, then they bring you dessert for free
Now we need one liter of water (the liquid should cover the meat). Put in it a bouquet of garni, a slice of celery, pork skin rolls, previously fried pork. Bring to a boil, season with salt to taste, cover the roaster and simmer the stew over low heat for 2 hours, stirring occasionally.
The shank should be welded so that the bones are exposed. Now you need to take it out, cool it a little, separate the meat and fat along with the skin. Then the meat is cut into small pieces and returned to the pan. The bones should be thrown away, but the pieces of skin with fat should be put in a container and put into the refrigerator to make garlic dressing. Leather rolls are also put away in the refrigerator.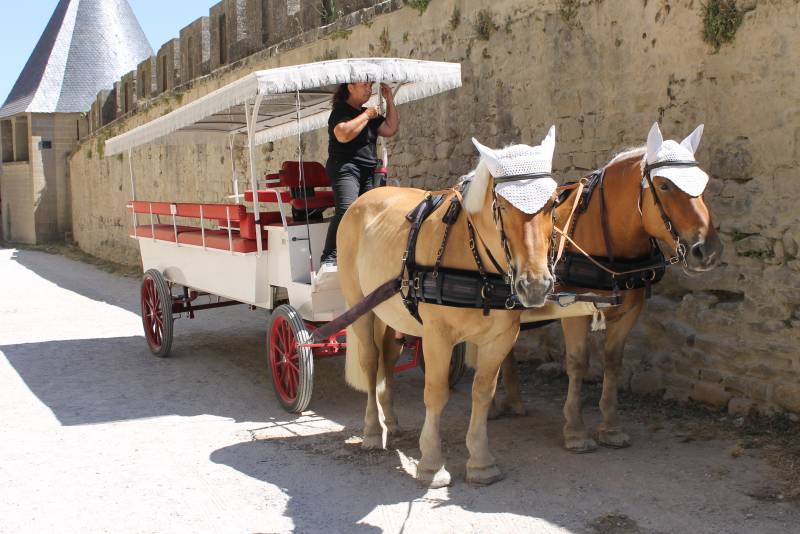 Then your legs no longer carry you, and there is only one thought in your head: where to lie down. However, you can continue exploring the town and here on such a cart pulled by the most real Percherons!
Now is the time for the beans. It is poured with cold water and brought to a boil over a low heat, boiled for 3 minutes, then the water is drained. Now the beans are added to the stew and stew for another 1-1,5 hours over low heat. Then the stew must be allowed to cool and again put in the refrigerator overnight.
The third, decisive day has come! The hardened fat is removed from the surface of the stew. Garlic (2 cloves) is ground with boiled pork skin (you can use a blender or a copper mortar and pestle, which is traditional for the Hundred Years War!) And add to the stew, bring it to a boil and simmer again for 15 minutes over low heat.
Once they made cassoulet at home. Not in three days, and it turned out delicious, but there was a lot of fuss with him. I just wanted to say: "Oh, these Frenchmen ..."
At the same time, brown the confit duck legs in a frying pan and fry small sausages. Now all this needs to be laid out in portioned ceramic bowls, untie the pork skin rolls and cover the bottom of the bowls with them, the fat side down. Moreover, confit and pork sausages are placed on top, but so as to slightly immerse them in the stew. And the final touch - all this should be covered with bread crumbs (from a white roll or bread crumbs) and again put in the oven for ... 1-2 hours so that a golden crust forms on top, and so that the cassoulet does not burn, pour broth into it.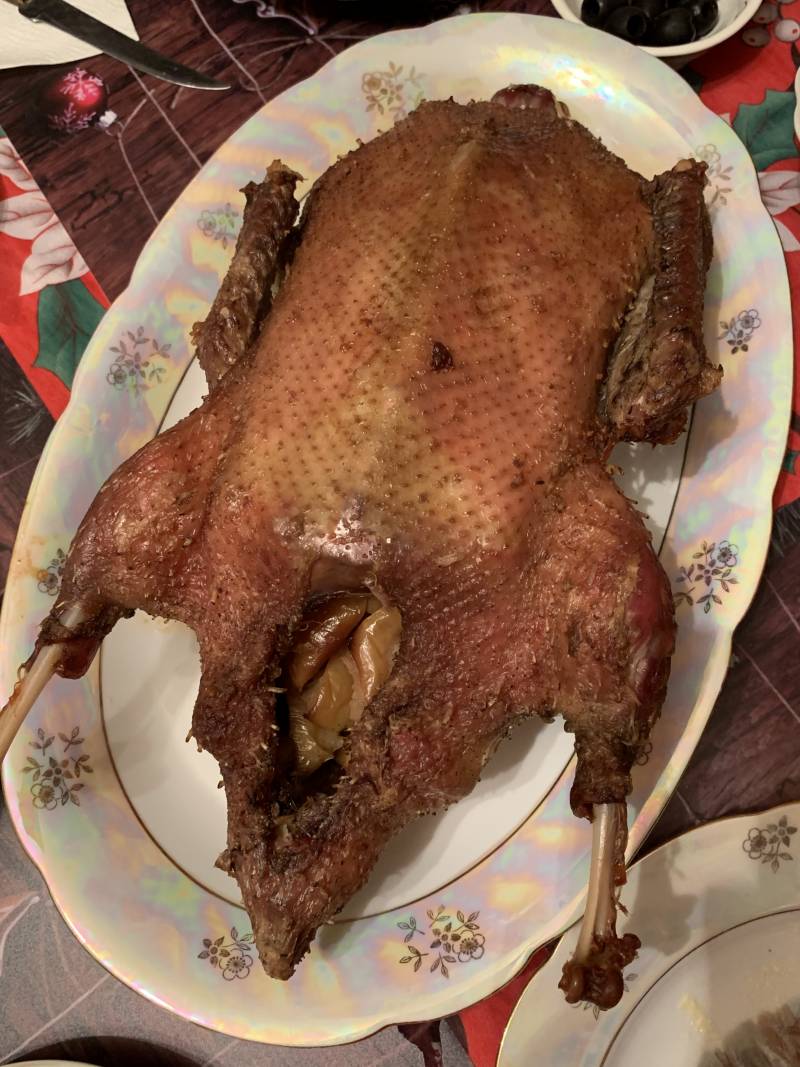 We cook duck much easier. First, it is coated with lemon juice with salt and spices (it is in this form for two to three hours), then it is stuffed with sour apples, placed in a culinary sleeve and baked in the oven for 1,5-2 hours. And that's it! She's ready. And all the fat from it remains in the sleeve. By the way, this is also not a simple duck, but an Indo-duck. They have more meat and less fat!
Before serving this dish, let it stand and cool down for a while. To it is a glass of red wine and white bread. Here the output is indicated for eight servings, so it will be enough for a family and ... for guests. And most importantly: you will satisfy your exquisite taste, find out what the gentlemen ate during the Hundred Years War (although who knows, maybe not only gentlemen - the ingredients were all quite accessible to people even easier), and ... once again remember that the cost was in the past peculiar to the cuisine of the most different nations of the world!