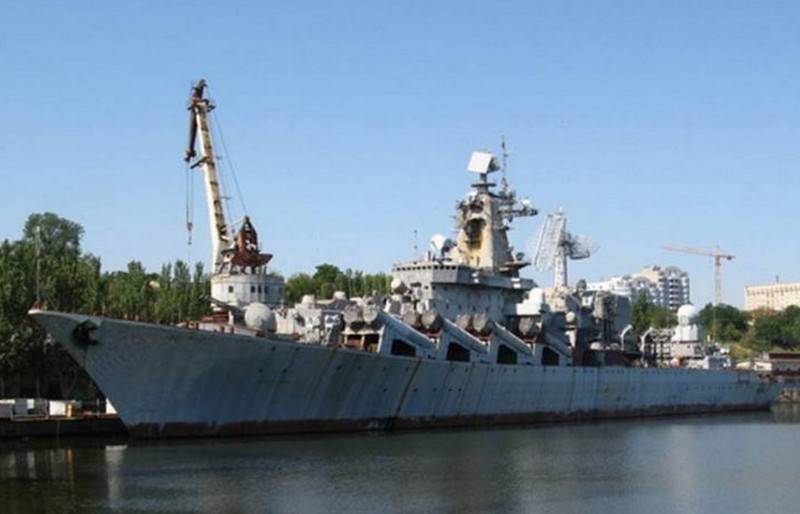 The government of Ukraine has made a final decision on the unfinished cruiser "Ukraine", located at the Nikolaev shipyard. Ukrainian Deputy Prime Minister Oleg Urusky said the ship would be sold or scrapped.
In Kiev, they decided to sell the unfinished cruiser. According to Urusky, all weapons will be removed from the ship, after which the "Ukraine" will be put up for auction. In the absence of buyers, the ship will be disposed of. The issue of possible completion and introduction into the Ukrainian Navy is not being considered. Also removed from the agenda the issue of flooding "Ukraine" in connection with a possible environmental disaster.
(...) disputes about the fate of the ship have been going on for decades, and the question of selling it is being passed from government to government. The fact that it cannot be introduced into the Navy at all is understandable
- declared Urusky.
He emphasized that the cruiser takes a place at the Nikolaev shipyard, and huge funds are spent on its maintenance. Therefore, a decision was made on the final fate of the unfinished ship.
The missile cruiser of project 1164 "Ukraine" was laid down on August 29, 1984 at the "Shipyard named after 61 Communards" in Nikolaev, by order of the Navy of the USSR. The cruiser was to become the fourth ship of Project 1164 Atlant, designed to combat enemy aircraft carrier formations. Initially, the cruiser bore the name "Komsomolets", March 23, 1985 was renamed the "Admiral
Fleet
Foreheads. "
On August 11, 1990, the cruiser was launched. On October 1, 1993, at 75% readiness, it was withdrawn from the Russian Navy and transferred to the ownership of Ukraine. On December 17, 1993 the cruiser was named "Ukraine". In 1994, a crew was formed for the ship, but in 1996 its completion was suspended due to lack of funding.
In 2010, Ukraine planned to sell the Russian-built 95% cruiser, but Moscow refused to buy it and finish it, since its completion required a serious modernization of the Nicholas CVD capacities, and the delivery of the cruiser to Severodvinsk was fraught with the risk of losing the ship and was considered inappropriate.