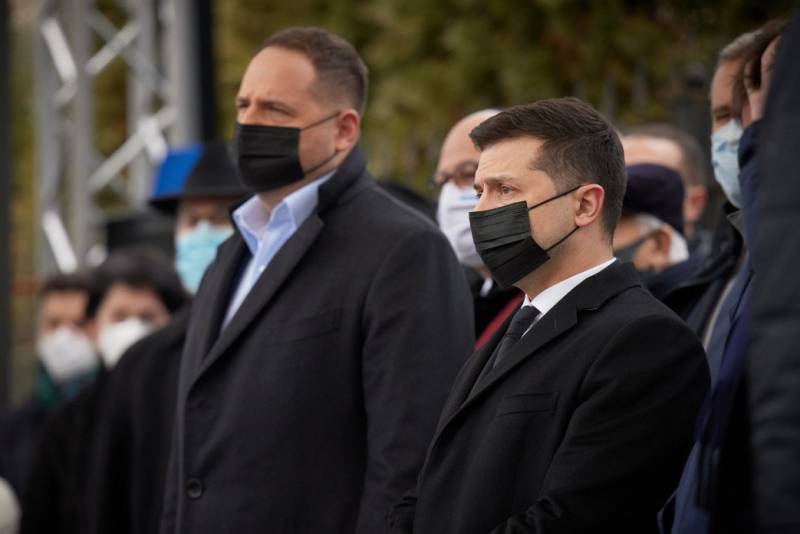 In Ukraine, there has been a change in the electoral leader. For the first time in the past year and a half, the rating of the incumbent President Volodymyr Zelensky, based on polls conducted by the Ukrainian sociological monitoring services, dropped to second place. More recently (in the early days of Zelensky's presidency), his rating exceeded 70 percent. Today, Volodymyr Zelenskyy is already inferior to the championship, and, interestingly, to Viktor Medvedchuk.
The Ukrainian press pays attention to the situation. For example, the French edition of Le Monde comes out with material that speaks of large-scale protests, where Ukrainians demand to lower utility rates, including the price of gas. It is noted that a rather harsh winter in Ukraine forces people to take radical measures - to block roads in order to "reach out to the state, which calls itself" servants of the people. "
At the same time, it is noted that Zelensky found himself in a difficult situation in which you need to try to maneuver between disapproval from the people and the directives of the International Monetary Fund, while conducting a "fight against corruption."
The fact that Viktor Medvedchuk first rose to the top of the list of politicians trusted by Ukrainians is described as "an oligarchic game against Zelensky." At the same time, in Europe, taking into account the opinion of Ukrainian "experts", they saw a "Russian trace" here as well. The topic is being discussed that Medvedchuk is Putin's godfather.
The logic is, to put it mildly, strange. Maybe everything is much simpler, and there is no need to look for any "hand of Moscow": Ukrainians trust their president less and less for one simple reason - he simply does not fulfill his election promises.
The shelling in Donbass continues to claim lives on both sides of the contact line, tariffs are growing, incomes are falling, they do not want to see Ukraine in the EU, visa-free travel has become a fiction against the backdrop of a pandemic, Ukrainian supply quotas to the European Union are ridiculous, investments in the Ukrainian economy have fallen to a minimum in 6 years ... At the same time, the authorities are not actually fighting the coronavirus, in fact, they are refusing to produce the Russian vaccine at Ukrainian facilities.