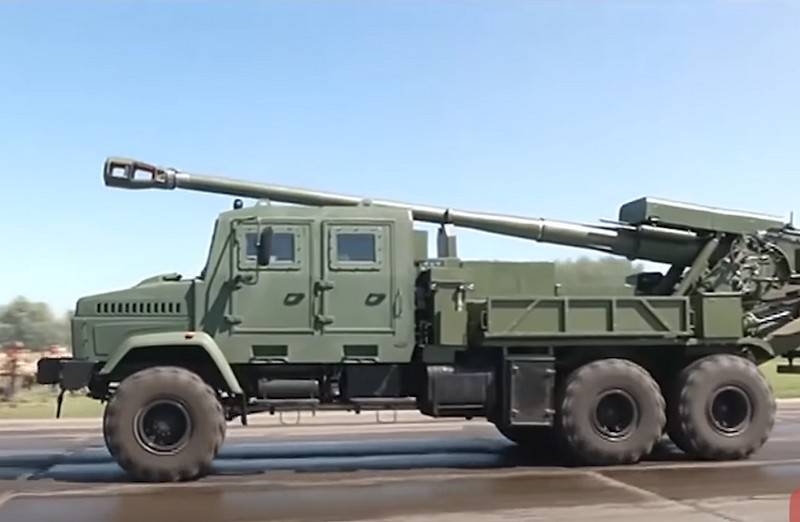 The Ministry of Defense of Ukraine intends in the near future to start testing the wheeled ACS "Bogdana", created in a single copy. According to Defense Express, the military department has approached the management of the Kramatorsk Heavy Machine-Tool Building Plant where the howitzer is located.
The Ministry of Defense of Ukraine plans to carry out the preliminary tests of the Bogdana as soon as possible in order to determine the real capabilities of the ACS and its compliance with certain requirements. After this stage, it is already planned to conduct state tests and take the howitzer into service, launching mass production.
It is emphasized that the Ukrainian military intends to receive the Bogdan self-propelled guns into service "in the near future."
As previously reported, Ukraine found ammunition for state tests of the Bogdana self-propelled artillery mount, 155-mm shells were supplied by the Czech company Excalibur Army at the end of December 2020. The delivery included practical and high-explosive fragmentation ammunition.
Note that the ACS has not been tested for more than a year due to the lack of NATO-caliber ammunition, for which the Bogdan was developed. The last shooting was reported at the end of 2019. The howitzer was tested at a training ground in the Dnepropetrovsk region. At the "zero" stage of testing self-propelled
weapon
checked by hydroshot (hydro-firing), then the so-called inert ammunition was used. The matter did not come to live shooting, the reason was not named.
It is alleged that the tests confirmed the ability of the ACS to fire at a rate of up to 6 rounds per minute. According to early statements from the developers, the maximum range when firing an active-rocket projectile is 60 km.