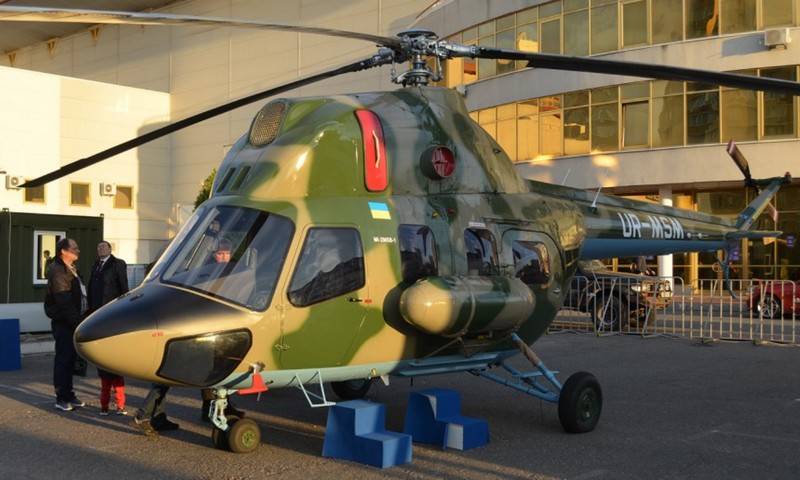 Ukrainian Ministry of Defense ordered the development of a marine helicopter
aviation
... According to Defense Express, the new helicopter will have to go into service with the corvettes built for the Ukrainian Navy according to the Turkish project.
The helicopter will be developed by Motor Sich, the Mi-2 is considered as the base model. For use as a naval helicopter, the helicopter will undergo remotorization and renovation, and will also receive additional equipment and mechanisms. "Total digitalization" of all systems is assumed.
The development of a helicopter based on the deep modernization of the Mi-2 will be divided into several stages. According to the plans of the Ministry of Defense of Ukraine, the first new helicopter in the form of a coastal-based vehicle should arrive at the Ukrainian Navy this year. The helicopter in the deck version should be created by 2023, this is due to the receipt of the Ukrainian
fleet
the first corvette.
Until 2023 - the creation of a helicopter for the corvette, which provides for the installation of a folding mechanism for the blades so that it can be accommodated in the ship's hangar
- said the Deputy Minister of Defense of Ukraine Alexander Mironyuk.
It is specified that the helicopter will be created in two versions - search and rescue and anti-ship. There are no other details about the project.
The newspaper itself admits that it is "rather difficult" to create an anti-ship version of the helicopter based on the Mi-2 and, as an alternative, they propose to purchase specialized Western-made helicopters or arm UAV corvettes.