The withdrawal of "foreign mercenaries" from Libya was supposed to be completed by January 23, but the ceasefire agreement was completely ignored. "Specialists of a narrow profile" continue to operate in the country: on the one hand, Turks and anti-government Syrian militias, on the other, Russian "contractors", Sudanese, Chadian and Syrian mercenaries. In total, according to UN estimates, about 20 thousand foreigners are taking part in the Libyan conflict, who occupy 10 military bases.
"Russian line Maginot"
This is written on the pages of the Italian edition of Analisi Difesa. As indicated, up to 10 Syrians under the command of Turkish officers are mainly based in Misrata and Al-Watya; Russians, as well as African and Syrian mercenaries are stationed mainly between Sirte and the Al-Jufra base, that is, they are located on the front line of a possible resumption of hostilities.
About 3000 Russian mercenaries have built a fortified defensive line in recent weeks, covering a 120-km front from the Mediterranean coast west of Sirte to the airbase in the Al-Jufra oasis, where the MiG-29 and Su-24 are based.
- noted in the Western press.
The Russian Maginot Line, which is said to have begun in January, is an extended anti-tank ditch visible from satellites at the forefront, equipped with bunkers and deeply echeloned, with artillery positions, passages and possible minefields. This defensive line runs along the main road; about 30 fortifications are located in the desert and on hills, a network of bunkers is located at the air base, to the south, in protected positions, there are air defense systems, including the Pantsir air defense missile system.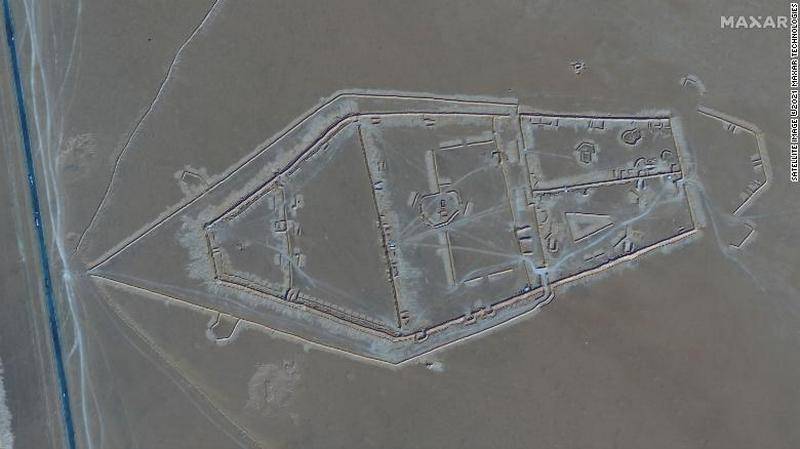 Source: MAXAR
New battles are coming
The strategic value of Sirte and Al-Jufra is clear. Their control by the LNA allows Haftar to have a foothold to strike at Misrata and then Tripoli.
- indicated in the publication.
According to a spokesman for American intelligence, the line of fortifications indicates that PMC Wagner (and, therefore, Russia) is preparing to "stay in Libya for a long time":
It will be a really tough year.
CNN said it tried to contact the Russian government for comment, but no response.
The lack of withdrawal of foreign mercenaries deployed on both front lines demonstrates at the political level that both Libyan administrations no longer hold the reins of government in their hands, which have been given to their main international sponsors.
- concludes Analisi Difesa.
There is no official confirmation that the fortifications were really created by the Russians, as well as the fact that some "PMCs" from Russia are present in Libya.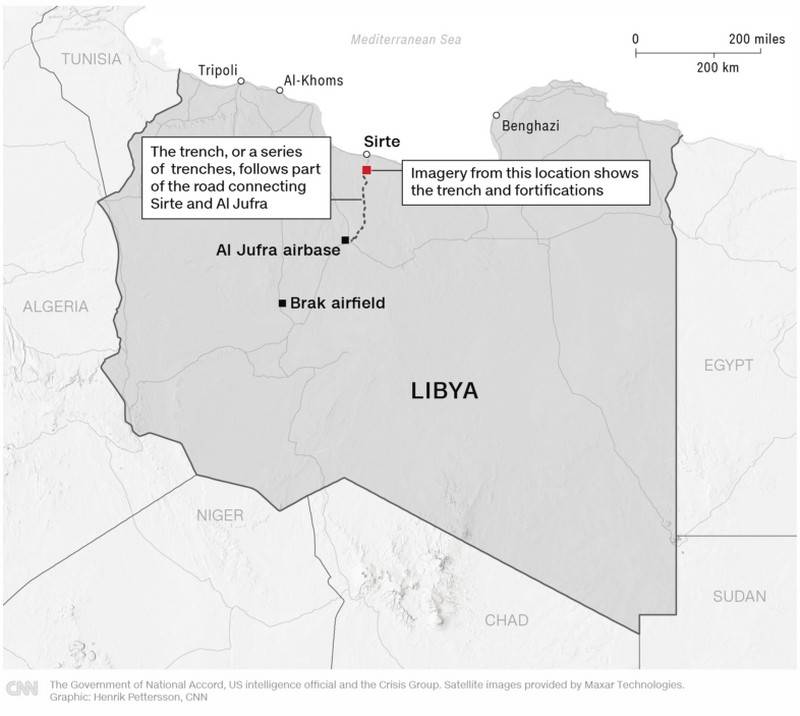 Source: CNN