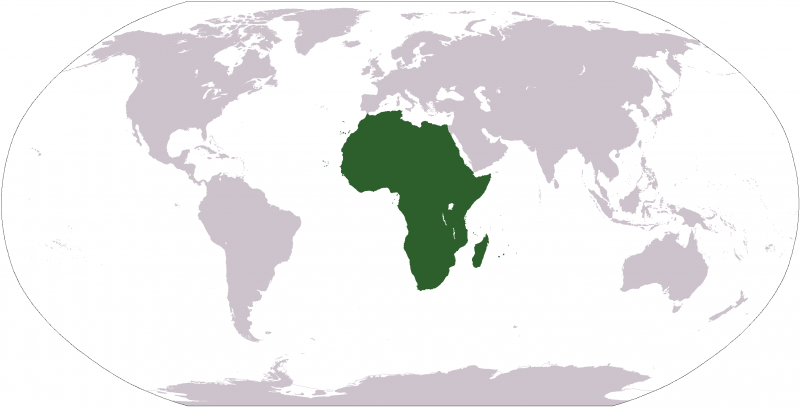 After the first, rather tough (by Chinese standards), but short (just one line) reaction of the Xinhua Agency to Ms. Clinton's speech in Dakar was followed by a long pause, which yesterday ended with something like a growl: "Let Washington not hope that he will succeed in driving a wedge between China and Africa, "to which the US Department of State, immediately catching a pass, retorted:" It's difficult for us to understand what China means and what are the reasons for its irritation. " That, as Vladimir Ilyich said in such cases, is formally correct, but in essence, mockery.
In fact, China's penetration of the Black Continent to American politicians is more than annoying. In the opinion of almost all specialists, having taken a great interest in "advancing democracy" at the end of the 20th and the beginning of the 21st century with the goal of "taking the leash" first on Eastern Europe, then Afghanistan, Iraq and finally the Middle East with Maghreb, the Yankees didn't pay much attention to that the fact that Beijing is gradually strengthening its "African" position. And not just like that, but rationally. Focusing on the penetration of countries rich in natural resources - primarily (like Equatorial Guinea, Libya and Sudan) with oil and gas.
According to the Financial Times, "this strategic decision was made by the leadership of the People's Republic of China back in the early 1990s, when Soviet influence in Africa was shaken and it became possible to penetrate regions formerly under Russian control." Especially since "according to the USA, these countries were already in their pocket". As a result, already in 2006, the volume of trade between the PRC and Africa amounted to record 40 billions of dollars, and five years later, by 2011, it grew fourfold, and only the volume of direct investments of the PRC in African 50 reached 2011 of the year 15 green billions . Moreover, already in 2007, China, overtaking the US, became Africa's largest trading partner, and black leaders can be understood: in exchange for access to resources — oil, gas, ferrous and ferrous metals, wood and fertile land — Beijing offers huge, very cheap (much cheaper than American and IMF) and long-term loans.
Not surprisingly, about five years ago, Washington's relations with Beijing began to heat up a little. Outwardly, everything looked like a type-top, but the "Arab Spring" plus the attendant moments of the type of its rehearsal in Côte d'Ivoire, as well as the "voluntary" divorce of Northern Sudan with South gave an interesting side effect: wherever the "democracy" came , the victorious heroes freed the people, among other things, from treaties with the Chinese. By a strange coincidence passing all the goodies to new transatlantic partners. And at some point - after Sudan, but especially after Libya - it became quite painful. In Zhongnanhai, they understood that they had begun to seriously deprive the Celestial world of its vital resources seriously and forever, and snapped.
First of all, the bilateral trade curve began to decline - which caused (according to the ancient principle of "What for us for what?") Offended bewilderment in Washington. Then, Chinese diplomats rushed to the capitals of small but rich countries like Equatorial Guinea, offering, in addition to new, even better conditions of loans, some (no press details were reported) "guarantees of stable development." And there is little doubt that the huge, without relying warnings, Ms. Clinton's Africa tour — Senegal, Uganda, South Sudan, Kenya, Malawi, South Africa, Nigeria, Ghana, and Benin — was a response to China.
That is, it was officially declared - and abundantly discussed in the American press. - that the cause of the "big flight" was "Washington's concern over the strengthening of the positions of Islamic extremists in Africa", but it could not deceive anyone. For a variety of reasons. First, it is no secret that these very Islamists, awakened by the "Arab spring", act in a wondrous symphony with zaoceanie, obligingly performing all the whims of House and Hill. Secondly, the small number of "disobedient", which is still there, have nothing to do with the countries where the old lady rushed: where it was more logical to visit the "infected" areas (Libya, Mali) for this purpose, but just she was not interested this time. And most importantly, after the first public appearance of the old Hilli in Dakar, it became clear that Washington was not afraid of any Islamists, but it was very afraid of the Chinese.
Without directly naming anyone — but this was not required, everything was clear to everyone — she attacked "some countries that are seeking to bring neocolonialism back to your continent." That is, behave badly. Unlike the United States, which offers Africa an "honest partnership, not patronage." That is, behave well. Moreover, she said, "we want to create a model that will bring you added value, and not withdraw it. The days when strangers came to Africa and benefited without leaving anything behind should end. " However, a question posed by one of the journalists: "China already in August intends to transfer South Africa, Kenya, Equatorial Guinea and Niger preferential loans to a record 20 billion. Is America ready to show the same generosity? "- a noble guest chose not to hear, and when the same question was asked a second time, and the third, she allowed herself to flare up.
"In a somewhat irritated tone," as African journalists noted, she stated that "the civilized world regards the behavior of some countries that give money to Africa without thinking that these funds fall into the hands of authoritarian rulers." And then summed up: "Democracy and the rights of minorities must be protected everywhere, it is the duty and responsibility of the world community, and America does not intend to neglect this duty."
In other words, the leadership of all countries of interest to the United States must take into account that cooperation with China, and not with America, is a sign of dictatorship, and dictatorship will in one way or another be biased and replaced by democracy, chosen according to all the rules of the "civilized world."
Judging by the storm of indignation in the African press, Africa understood everything correctly. Judging by Beijing's unseenly tough rebuke, they all understood it right there. But, in my opinion, it would not hurt to think and the authorities of Russia.