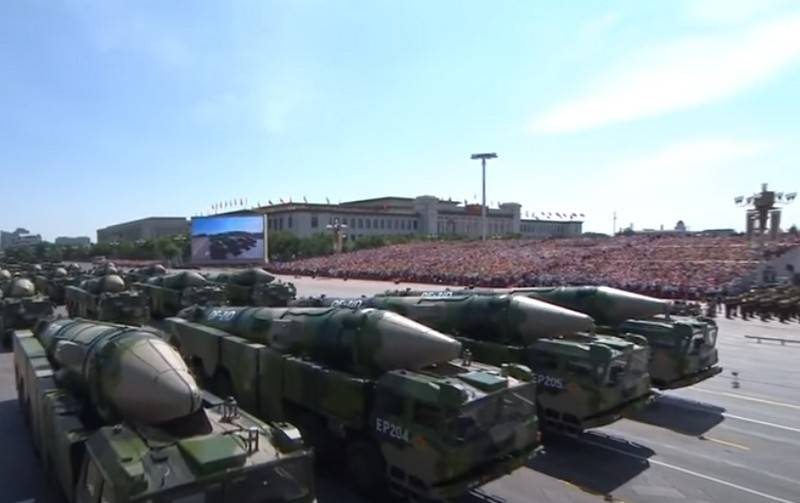 China has tested anti-ship ballistic missiles, hitting a moving target in the South China Sea with two missiles at once. However, Japan doubts that Chinese missiles are capable of hitting a ship at a great distance. Writes about this Japanese edition of JB Press.
On August 26, 2020, the Chinese military tested two anti-ship ballistic missiles at once. First, a DF-26B rocket was launched from Qinghai province, a few minutes later a second DF-21D rocket was launched from Zhejiang province. The target was an old ship, controlled from a distance. The missiles hit the ship almost simultaneously, sinking it.
The author of the article doubts the ability of Chinese missiles to hit moving targets. According to him, the ability of the DF-21D missiles to hit moving targets was not confirmed, but there were only unfounded statements about this as part of an information war in order to put pressure on the US Navy.
most experts have doubts that the so-called DF-21D and DF-26B anti-ship ballistic missiles can accurately hit a moving aircraft carrier from a distance of more than a thousand kilometers
- the author writes.
He stresses that China has not conducted long range trials against moving sea targets, so the claim that the DF-21D and DF-26B are anti-ship ballistic missiles is propaganda in information warfare.
There is information that the DF-21D and DF-26B missiles were tested in the Gobi Desert against fixed targets imitating aircraft carriers, but there is no confirmation of these missiles being tested at sea against moving targets.
he adds.
However, if the information about the tests carried out is reliable, then it can be stated that China has anti-ship ballistic missiles. But one should not be afraid of them, in order to hit a ship or an aircraft carrier, they must be launched in favorable conditions, i.e. by predetermined coordinates. China does not have the necessary infrastructure and training to guide missiles to aircraft carriers in real combat.
But there is still one danger, the author sums up: over time, China can improve these missiles and they can pose a threat to both the US Navy and Japan's self-defense forces.