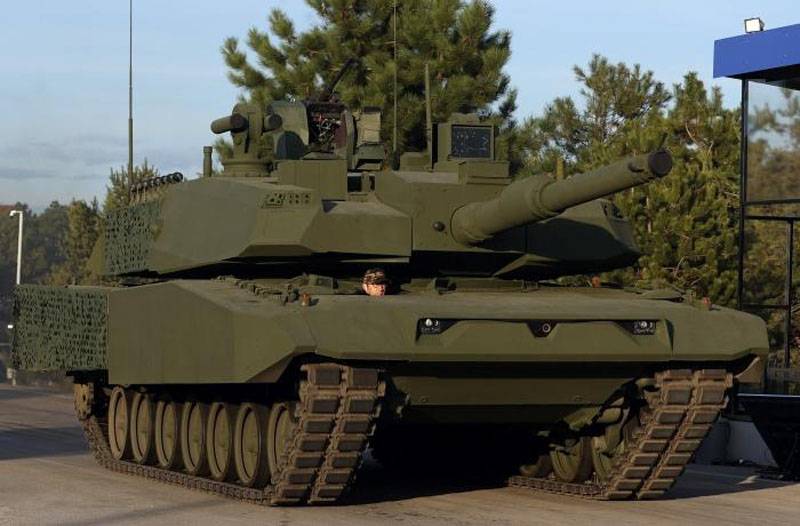 Turkey is having problems completing work on the creation of its main combat
tank
(MBT) Altay. These problems are connected with the fact that a number of foreign countries support an embargo on the supply of military components to Turkey. There are several reasons for the embargo. One of them is Turkey's actions in the Eastern Mediterranean (for offshore surveys) and in Libya (military operations and the transfer of militants to Tripoli).
Some time ago Turkey demonstrated its own version of trying to get out of the current situation. A tank was presented, which experts called a "hybrid" of the German "Leopard" and the Turkish "Altai".
It is noted that the combat vehicle is a "hybrid", a "mixture" of these tanks, since the chassis of the combat vehicle is from a Leopard 2A4, and the turret is from the original project of the Altay tank with a 120 mm gun, not manufactured by Rheinmetall.
The tank was presented to Turkish Defense Minister Hulusi Akar during his visit to one of the enterprises of the country's military-industrial complex.
It is reported that the "hybrid" tank is equipped with a Turkish active protection complex (KAZ), laser sensors for warning of an attack on a tank (warning systems).
Earlier it was reported that Turkey has entered into a series of agreements with Korean manufacturers for the supply of engines and transmissions for tanks for the needs of the tank building industry. It was also known about the problems with the armor due to the fact that the German companies are forced to comply with the embargo.
Representatives of the Ministry of Defense call this tank "the first version" of the Altay tank.
ALTAY TANKI İLK ÜRETİM ... pic.twitter.com/H2Q5Evw2tK

- İbrahim Melih Gökçek (@ 06melihgokcek) January 24, 2021