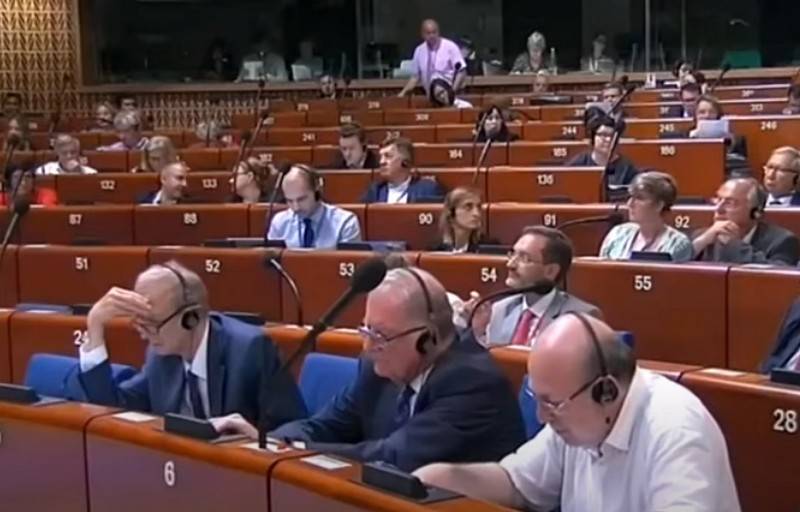 The winter session of the Parliamentary Assembly of the Council of Europe (PACE) began again with a proposal to remove the powers of the members of the Russian delegation. The Ukrainian delegation made a corresponding statement.
The head of the Ukrainian delegation to PACE, deputy of the presidential party "Servant of the People" Maria Mezentseva proposed to challenge the rights of the Russian delegation. According to the procedure, after Mezentseva's statement, a vote was held in which 38 parliamentarians from five national delegations spoke in favor of depriving the Russians of their powers, 61 parliamentarians opposed, and another 51 abstained.
The situation was commented on by the head of the State Duma Committee on International Affairs Leonid Slutsky, who said that the decision of the PACE delegates was predictable, the proposal of Ukraine once again failed.
We hope that the attempt of the Ukrainian delegation to challenge Russia's credentials in PACE will suffer the same fate as in January 2020. Our position remains: we do not accept any restrictions and sanctions. The credentials were contested predictably and received only 38 votes in the vote
- he said.
Note that Ukraine is categorically against the participation of the Russian delegation in PACE after the events of 2014 and the return of Crimea. The Russian delegation has already refused to participate in meetings after the restriction of its rights, at the same time Russia stopped making contributions to PACE, which led to the suspension of many programs of the Council of Europe.
After the Russians returned to PACE in 2019, Ukraine defiantly recalled its delegation and ambassador to the Council of Europe.