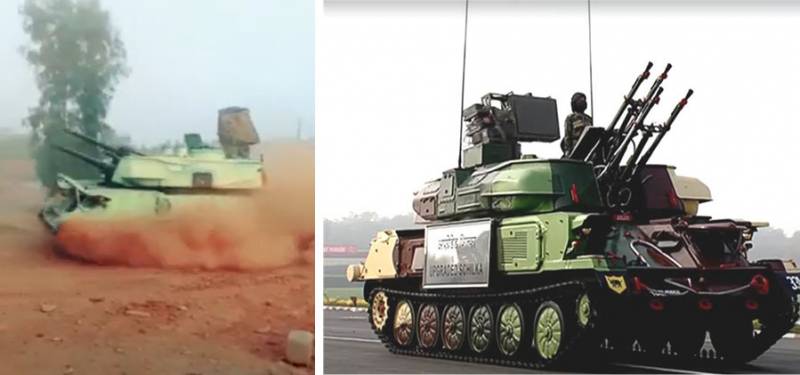 Recently, another version of the modernization of the ZSU-23-4 Shilka self-propelled anti-aircraft gun was presented in India. The show took place as part of a military parade rehearsal. In the USSR, this version of the air defense means was produced from 1964 to 1982. India is one of the countries in the world in whose armies Shilka is used.
Today, the Indian armed forces have 75 ZSU-23-4. How many of them have been modernized has not yet been reported.
According to recent reports, an Indian defense industry plant installed an active phased array radar on the rear of the Shilki tower instead of the RPK-2 radar. It allows you to search and track targets at distances that are about a third higher than the previous version of the radar.
The Indian press writes that now the efficiency of using the ZSU-23-4 "Shilka" is increasing at night, as well as in bad weather.
From the report:
The Bharat Electronics company, as a result of the modernization of the ZSU, provided the ability to identify, capture and track the target when working in an ECM (Electronic Counter-Measure) environment.
It is reported that the "Indian" "Shilka" is equipped with an electronic control system for cannon armament, displays of a driver.
Also upgraded by an Indian company, the Soviet Shilka received a new engine, which is said to reduce fuel consumption by 20%.
Additionally, Shilka of the Indian Armed Forces received an updated RCB control system.
The official demonstration of the next modernization of the Soviet SPAAG "Shilka" will take place in New Delhi at the military parade in honor of the Republic Day.