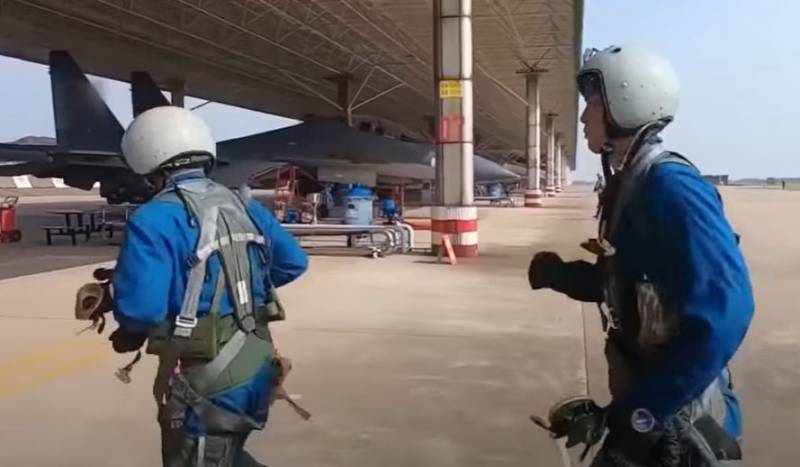 The Japanese edition of Nikkei AR published material authored by Western observer Dmitry Simes, dedicated to the issues of modern weapons in Russia and China. The material begins with a mention of how "Chinese fifth-generation J-20 fighters soar into the sky, maneuvering between flashes of lightning." It is indicated that now these aircraft have Chinese-made engines, although they previously used versions of the Russian Al-31F.
The material stated that earlier China relied primarily on the purchase of weapons and military equipment from Russia, but for some time now the situation has changed dramatically. The article points out that China is now creating its own defense industry and preparing to challenge Russia in the global arms market.
Simes cites data from the Stockholm Peace Research Institute (SIPRI). The 2019 report indicated that for the first time, four Chinese companies were included in the 25 largest manufacturers of weapons and military equipment in the world. Moreover, three of them were in the top ten in terms of sales. At the same time, only two companies were reportedly included in the Top 10 of the Russian companies. A comparison is also made in percentage terms - the share of Russian companies from the Top 25 accounted for 4% of the global market volume
weapons
, the share of Chinese from the same list is already 16%.
For obvious reasons, first of all, Chinese companies are increasing sales through domestic orders - the supply of weapons and equipment for the needs of the PLA (People's Liberation Army of China).
A comparison is also made in terms of the volumes of the military budgets of Russia and China. Today, Chinese is about 6 times larger and amounts to at least $ 260 billion.
The article cites the opinion of SIPRI Senior Researcher Simon Weseman, who believes that "Russia is far behind in terms of military development in order to be able to interest Beijing in them."
Wesemann also stated the following:
I believe that in 5-10 years Russia will finally "drop out" from the interests of China as a supplier of weapons and military technologies.
It is worth recalling that such forecasts, including those on the "complete decline of the Russian defense-industrial complex," were given by foreign experts in the 1990s as well. However, with all the difficulties in the defense industry in our country, the forecasts (which are more similar not so much to forecasts as to attempts to pass off the wishful thinking) of such experts were not destined to come true. At the same time, Russia has not only created and is creating the latest weapons, but also finds new markets for the sale of weapons and military equipment abroad.