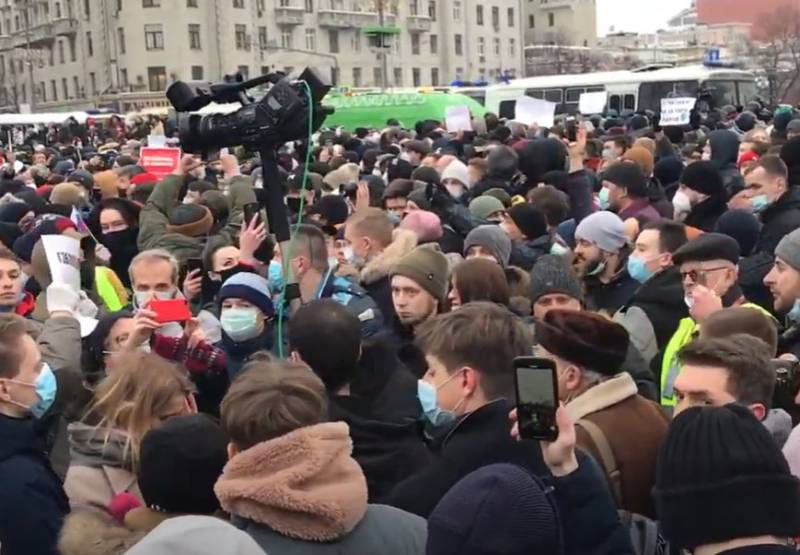 Foreign media continue to comment on the protest actions that took place with varying degrees of mass and activity in different regions of Russia. At the same time, comments on the "protests in support of Navalny" are often diametrically opposed in meaning, based on whether the publication or expert of which particular country publishes a particular assessment.
In the Chinese media, overwhelmingly negative assessments have been voiced against those who were involved in inciting people to take to the streets. China News associates the January 23 protests in Russia with the Hong Kong protests. In particular, it recalls how the Chairman of the State Duma of the Russian Federation from the parliamentary rostrum delivered a speech about Western interference in the affairs of foreign states, citing as an example the American support for the Hong Kong protests. The aforementioned Chinese newspaper writes that the American embassy has in fact openly supported the protests in Russian cities. It is difficult to imagine what would have happened if the protests in the United States had been supported by Russian and Chinese diplomatic missions.
The Chinese portal Sohu publishes an article stating that the liberal opposition to Russia has shown both its failure and its lack of independence.
Sohu:
If you've seen these protests, even on the screen, you will easily notice that the violent methods were primarily used by the protesters themselves. They attacked the traffic police (DPS), sprinkled pepper gas in the eyes of law enforcement officers, beat them with sticks, and even ran into policemen in cars. There were also smoke bombs. At first they attacked the police, now they say that they themselves were hurt.
But the Ukrainian authorities see in the protesters on the eve in Russia "freedom fighters". The statement of the Ministry of Foreign Affairs of Ukraine is cited, which in fact openly supported Navalny and the protests.
MFA of Ukraine:
Ukraine strongly condemns the violence against peaceful protesters and the detention of members of the Russian opposition.
However, not all Ukrainians are unanimous in this regard. A considerable number of those commenting on the protest actions in the Russian Federation note that "apparently, in Russia someone really wants to get freedom in Ukrainian - with European tariffs and Bangladeshi salaries."
One of the users:
They shouted "Russia without Putin". Then they'll go straight to us - to Kiev. After all, Ukraine today is Russia without Putin. And these oppositionists also do not have any intelligible program, like our authorities. There is only one program - to shout, make some noise ... But "think" - no, it's not for them.