"In my soul I am with you, in hard labor in Siberia.
And my body, fortunately, is lying in Zurich!
And if someone asks in an interview on the air
I will say that I am suffering lying here. " (from)
Leonid Gozman urged to sign
petition on the American website
, the authors of which drew analogies of the actions of the security forces at the unauthorized action with "Bloody Sunday", collected (at midnight on January 24) less than 400 signatures.
Forward, we are far away, but with you!
The action, by the way, takes place on Saturday (not Sunday). Leonid Gozman certainly supports these provocations. But why he himself is not with the "protesters" these days is a mystery.
And as usual
it is on this day that he is very busy
despite the fact that he did not leave Moscow.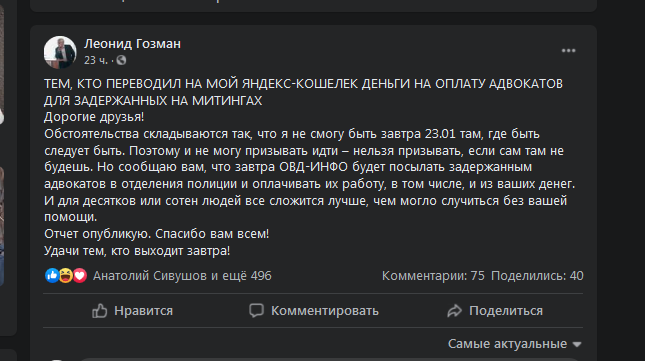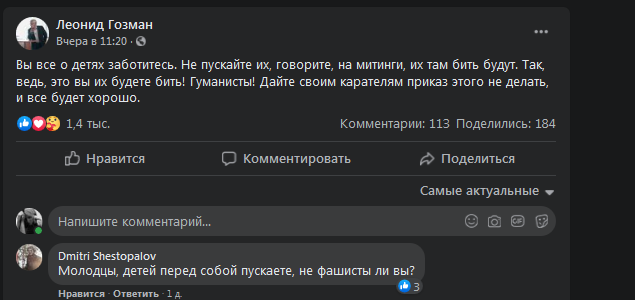 Lev Rubinstein was also very busy
and poor health. And the mood, as luck would have it, is not that.
The infamous "Yablokoy" "human rights activist"
Boris Vishnevsky, who also suddenly became ill that day with health
, notified his supporters about this. And regarding the use of underage children in unauthorized political rallies, instead of reasonably preventing the inevitable consequences of the negative impact on children, he calls for ensuring uninterrupted communication and providing children at rallies with wireless chargers.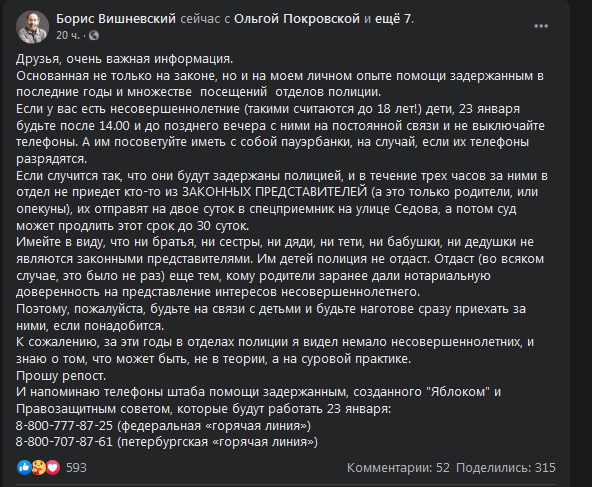 But later, Vishnevsky suddenly recovered and with the courage of a superhero arrived at the police station. From that moment on, he publicly records his every step on his Facebook page.
An equally infamous professor
Andrey Zubov
, who received his titles in the tragic 90s, convicted of many falsifications, publicly regretting Hitler's defeat in the Great Patriotic War and expelled from the scientific community, also suddenly could not participate in what he always calls for. He decided to maintain isolation due to the pandemic.
He probably knows about the unprincipledness of his associates,
who, being infected with Covid-19
with laboratory confirmation, took part in an illegal action, deliberately infecting others.
The number of such people who became infected at an unauthorized meeting has not yet been precisely established. And given a variety of factors, it can hardly be calculated. And the consequences will soon be obvious as a result of a sharp increase in cases.
But it is not clear why Zubov, according to the old "manual"
"Hysteria and panic of the authorities",
if it is from this side that confidence and calmness is shown, and the security forces show an amazing restraint, not characteristic, for example, of European or American police officers in such situations.
Mikhail Khodorkovsky on his Facebook page demonstrates a video where
Masked Teens Walking With USA Flag
.
True, and
this "hero" was not at the scene
... This is not surprising, because the leaders of the gathering were in all directions: at their country cottages, in England, in the USA or in Germany.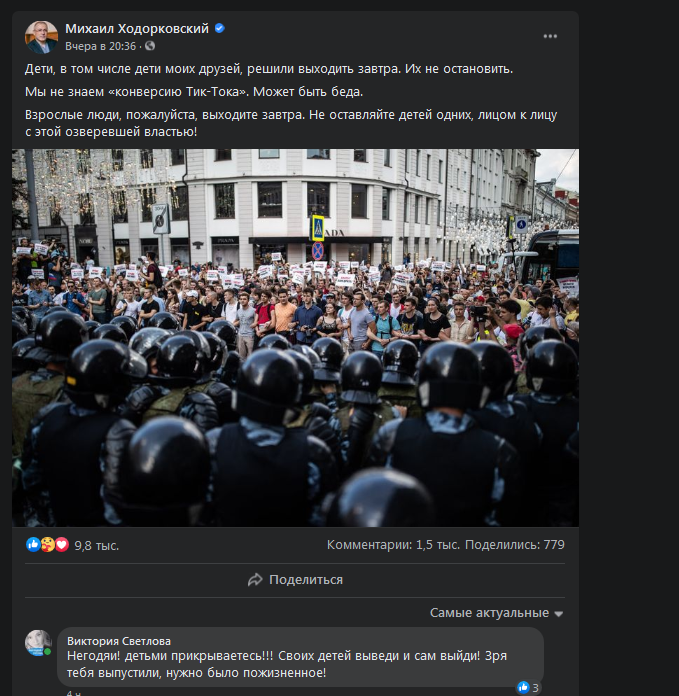 From there, it is so comfortable and safe to call for chaos in a hated country. Yes, they hate it. Because some openly express precisely this feeling for Russia, openly wishing her collapse and destruction. Others, hiding behind false patriotic statements, call on the West to regularly introduce and tighten sanctions against the Russian Federation, and also encourage them to interfere in the country's internal affairs.
Change for the sake of change. We are bored!
There are very different opinions in the comments on the provocative publications of liberal leaders.
Most often there are those who yearn for change for the sake of change. They are tired of the difficult but stable environment.
It is tragic that many famous people, such as Elena Chekalova, who worked some time ago on Channel One (the culinary section of the Good Morning program), are also among the active supporters of the pro-Western opposition. Last summer, she objected to opponents on her Facebook page with arguments:
"It doesn't matter who comes to power, as long as the government is replaceable and changes constantly!"
She was logically opposed by those who remember what people like today's "liberals" have done to our country, thanks to the betrayal of MS. Gorbachev.
And what did B.N. Yeltsin, who came to power through a coup d'état, destroying the country, "burying" the Constitution, and sovereignty, and statehood.
Now she publishes shots of riot police from the field and accompanies the publication with the text:
It is possible that she will be upset when she learns that these actions of our police are regarded as "bad" only by her and her supervisors. For the majority of Russian citizens, this is proof of the ability of the law enforcement agencies of our country to control the situation and show rare patience at facilities where boulders, firecrackers and glass are flying in their direction.
But, by the way, if you look closely at America, then in part this can even be regarded as insufficient toughness: the United States can declare as much as it wants about democratic principles, but the Americans themselves are well aware of how their own police operate in such cases and even in much more harmless ones.
Returning to the Russian "fighters". Judging by their rhetoric, they, unlike the truly patriotic citizens of the country, call that shameful time "the holy 90s" and yearn for their repetition. It is not surprising, because they supported Yeltsin's criminal actions in October 1993 against their own people, only they were on the same side with him.
Periodically, such reformers as Konstantin Borovoy (fortunately, has long been a political corpse, but unfortunately - with a mass of ideological followers), publish illustrations with the disfigured coat of arms of the USSR, tied with a mourning ribbon, which he accompanies with the text:
"We remember. We hate. Let's finish off the remnants. "
Now the "democrat" lives under the wing of curators, in the USA, in the state of California. There he publishes cartoons, wrote and published the book "Russia against the United States."
Even his associates do not want to buy this little book. Which he complained more than once in his own blog.
Now he is not publishing or making any appeals just because Navalny is not the force that deserves his respect. A significant part of the "Westerners" heroes are notorious non-humans like
Boris Stomakhin
, who was zealously defended by the "human rights activist" Lyudmila Alekseeva, who had gone into another world. But the current "fighters" were in solidarity with her, and to this day, knowing everything about Stomakhin's deeds, they still call him "the political victim of the Putin regime." Familiar and characteristic of them.
They have worse heroes, for example,
policemen, SS men and other accomplices of the Nazis
.
I would like to know what the real percentage of those who go out with such people to illegal actions "just for the sake of change": do they consider themselves traitors?
This is not pathos, it is a fact: either fools or scoundrels can become under the same slogans and common "divorces" with Russophobes.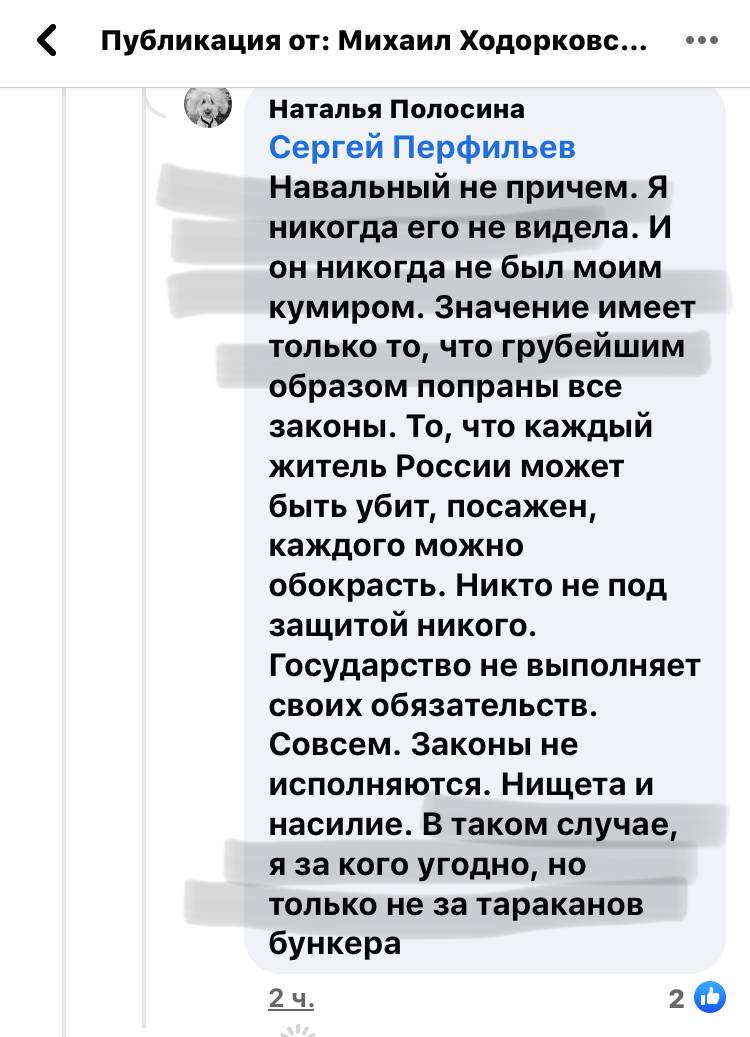 They are encouraged to commit criminal acts from the "square", from the very territory that acquired colonial status in this very way - "color revolutions".
Ukrainian "patriots", being in a poor, plundered country, deprived of statehood and the remnants of sovereignty, urged both summer and now to burn tires, break paving stones, etc.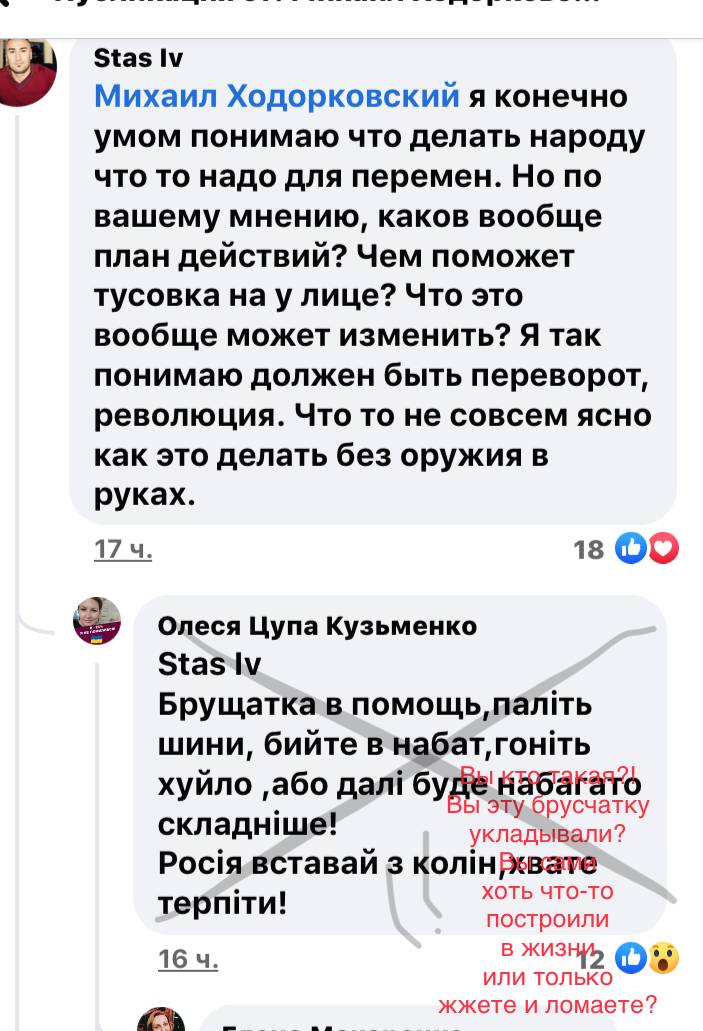 Of course, they still have not realized what they have done to their own country.
Now Ukrainians are trying to support those who want to do the same with Russia and Belarus. They had previously clicked to break tiles and paving stones that were not laid, and to smash buildings that they did not build. In their lives, these people did not create, did not build, did not work for real, did not read anything except propaganda and collections of liberal pseudo-historical mythology. And it is just such people that it is easy to control those who lead them to the "barricades", while remaining in the shadows and relative safety.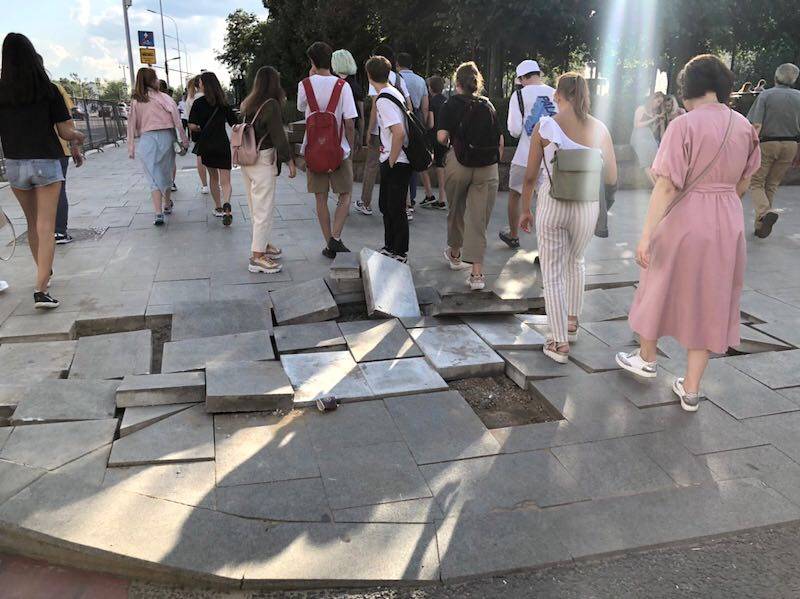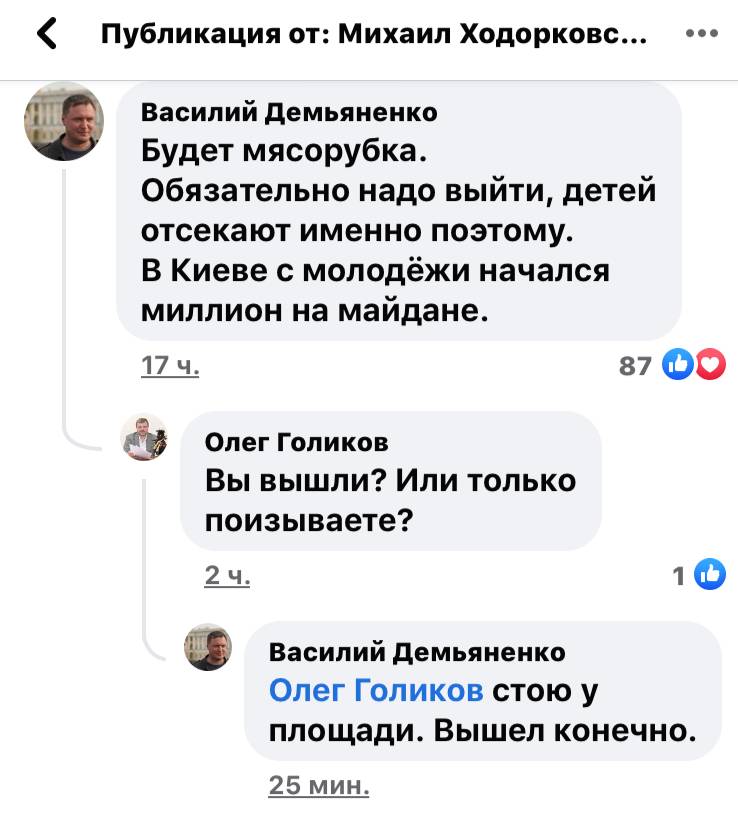 Few supporters - we'll think of it. Maybe they won't check
The liberal edition "Dozhd" is probably experiencing serious difficulties with support. And it is far from always able to control the quality of content if it allows far-fetched information, as if indicating the support of its idol. But in fact, this is the most primitive falsification, due to which the next troubles can arise. Not from the authorities, but from the one about whom they write like that.
A fresh example: unauthorized actions in support of the justly detained and defendant A. Navalny on January 23, 2021
liberal media
used F. Kirkorov's post on Instagram. And (for some unknown reason) they interpreted it both in their headlines and in the materials as a position in support of Navalny.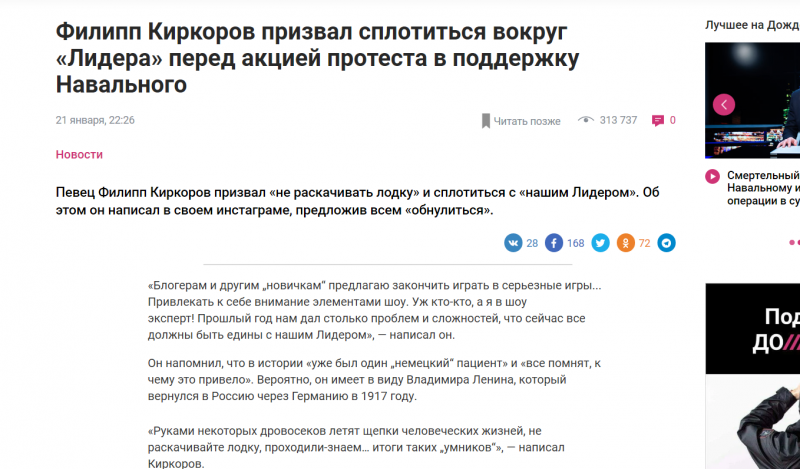 But everyone knows Kirkorov's political and social position: he is a staunch opponent of the liberals and
supporter of V.V. Putin
.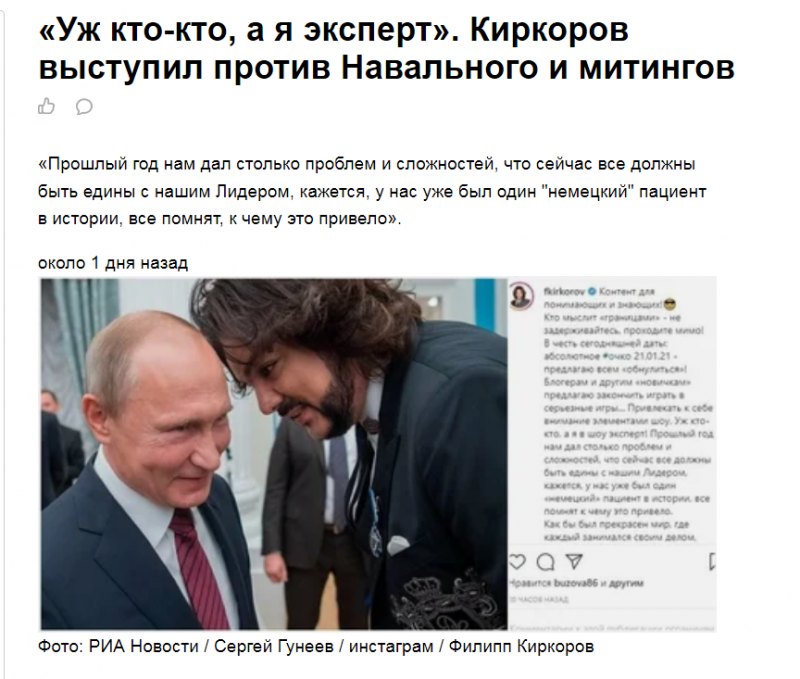 And surprisingly, Ksenia Sobchak, who is probably struggling to control her emotions again, passed on wishful thinking. In her telegram channel, she emotionally informed the subscribers that Alla Pugacheva "unsubscribed" from her ex-husband F. Kirkorov and subscribed to Navalny.
A strange opinion for a person who positions himself as a journalist. Indeed, for any politician, writer, director, screenwriter, actor, etc. all kinds of people are signed. Subscriptions do not mean support or expressions of solidarity. The anti-liberals with an active civil position are subscribed to the activists of the liberals and vice versa. All this was and is being done with the aim of monitoring publications and operational analytics.
Why do liberals need such disinformation? It is quite understandable. In fact, they actually have no support. They write about it themselves in the comments on social networks. And in the manner of neighboring Euromaidan colonists, they complain about 86% of the "quilted jackets" in the country.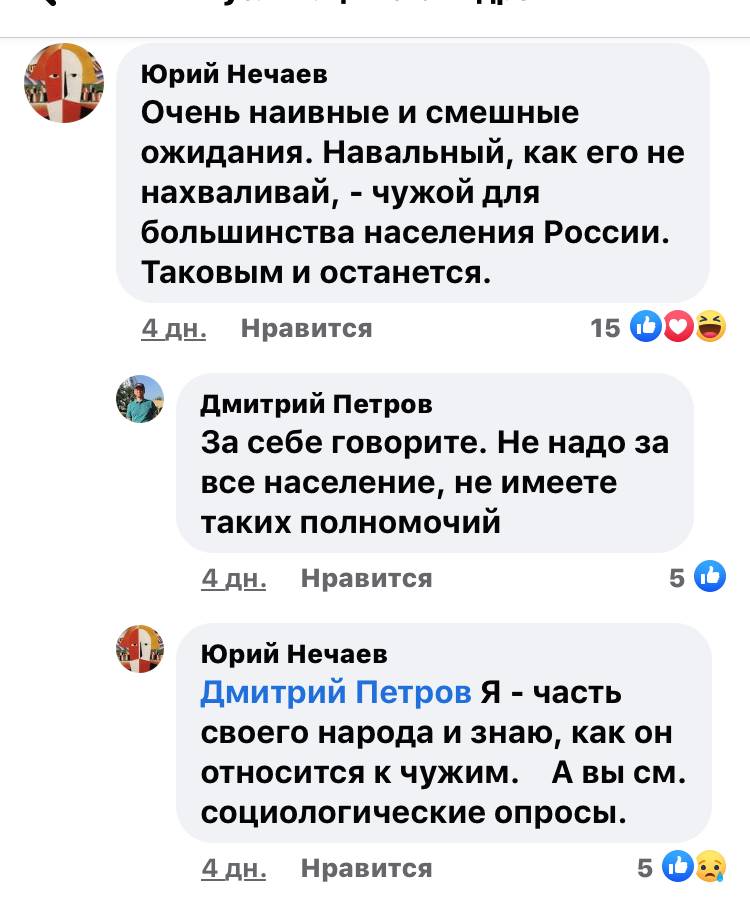 [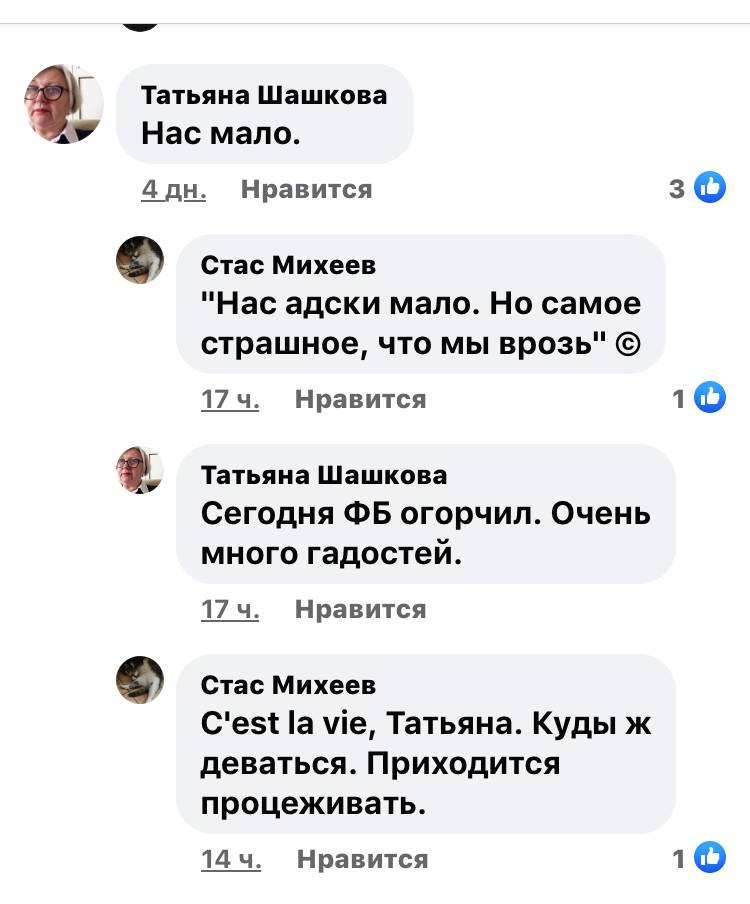 And herself
publication
Kirkorov is quite simple and understandable in his personal position: he supported
not Navalny
... There are no obstacles for someone to go to his page and check it personally, and at the same time read the comments to it. Philip, it should be noted, was greatly angered there, and before limiting comments, he did not stand on ceremony with some in vocabulary and tactics, answered obscenely. But it is clear to whom - namely, Navalny's supporters.
At the end of the day, it was reported that about 300 teenagers were detained and taken to police stations at illegal actions. Judging by the footage from the reports (the author
a photo
Anton Koval) some of them are barely 12 years old. These are kids. Some ended up there out of curiosity, by accident.
There are separate questions to the instigators and organizers, but parents or their legal representatives are still responsible for the children. As well as school teachers.
For the sake of objectivity, one should not discount the forces curated and sponsored from the United States and Great Britain. In the neighboring country, the once successful and prosperous Ukrainian Soviet Socialist Republic, in just three decades everything that had been profited and built by the people for a century was destroyed. And this was done by the forces of the victorious minority who seized power.
Yes, Putin is not Yanukovych. But he is not eternal, and should not be an uncontested figure. Serious work is needed in the country in matters of economy, science, education, health care, culture and education of children and youth. On the example of many things happening, we see the shaking foundations, and certain forces take advantage of this.
In 2010, on the recommendation of the notorious "figures" Garry Kasparov, Yevgenia Albats, Sergei Guriev and Oleg Tsyvinsky, A. Navalny studied at Yale University under the Yale World Fellows program. The objectives of the program are available to those who wish, are in the public domain. It is useful for the uninformed and "apolitical" to get acquainted. Nowadays, Navalny's daughter is studying in the United States for free, despite the many years of statements by the "fighter" himself:
"If you want to change Russia, your children must study here."
Now doubts arose as to where exactly he first said it. And is it about Russia ...
Therefore, it is worth remembering the famous phrase of the great Russian commander A.V. Suvorov about Napoleon in the 1940 film "Suvorov":
"Oh, how he walks, this boy! It's time to calm him down. "
The analogy should be drawn not with Navalny as a separate figure, but with collective "navalism" as a phenomenon as a whole.
The opposition must be healthy and honest.
The above is not by definition.