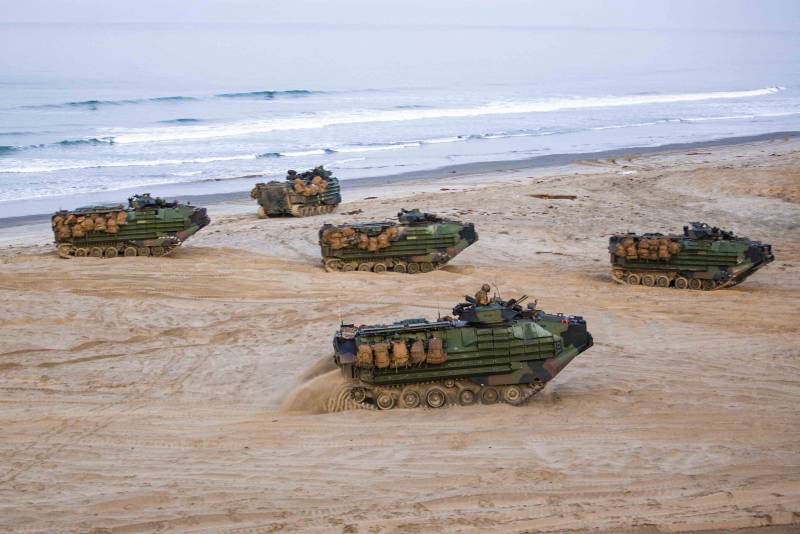 For many years, the American Marines have been busy conducting combined arms operations in the numerous land theaters in which the US Army is bogged down. In an attempt to return the Marine Corps to its former functions, the command has begun to form the first unit of a new look, its official readiness is expected by the beginning of the 2022th fiscal year.
In this regard, as an experiment, the reorganization of the 3rd ILC Regiment, stationed in Hawaii, began. The new combat unit will be called MLR - Marine Littoral Regiment, "Marine Littoral Regiment". It will consist of a coastal battle group, a coastal logistics battalion, and a coastal anti-aircraft battalion. The number of the regiment will be 1,8-2 thousand people. instead of the current 3,4 thousand
That is, MLR is roughly an analogue of battalion tactical groups widely used in the ground forces on a temporary basis. However, the MLR will be a permanent unit, support and reinforcement will be firmly assigned to the strike units of the coastal regiment.
According to USNI News, the military expects that in this form the MLR will be able to effectively fight for islands in the Indo-Pacific region, making "frog jumps" between them. This term means the rapid movement of amphibious assault forces across the numerous islands of the Pacific, observed during WW2 on both sides.
According to the ILC, within the framework of the concept of "scattered war" to capture the Pacific Ocean, not large forces of massive invasion are needed, but small maneuvering units, the creation of which should be completed by 2030.
We are focused on the Pacific Ocean. And this is where you will see our first Coastal Marine Regiment
- explained in the KMP.