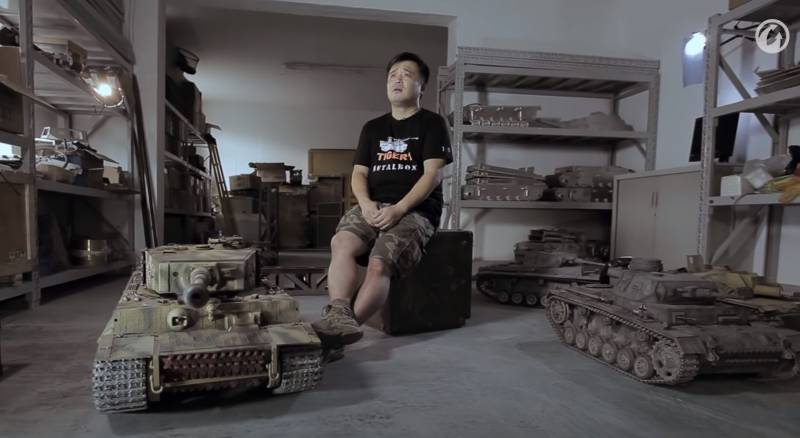 The team consists of a little more than ten people, led by former advertiser Jason. It was he who discovered that the market for exact replicas
tanks
quite small and offers mainly large sizes.
They decided to create smaller models entirely of metal. According to the team, only this material can give the machines that warlike look. The technique differs from the original only in size. When creating combat vehicles, the team does not use welding, all parts are connected to each other just like in real tanks. Nobody else produces anything like this in the world.
The hardest part was getting started. None of the team had any idea how complex machines are built. Drawings and manufacturing of the hull of the debut Pz.Kpfw. III took three months, but the first tests ended unsuccessfully. Outside the tank, everything was perfect, but as soon as it started moving, the internal mechanisms immediately failed. It took a whole day to fix the model. However, five minutes after the start, the technique stopped working again. After each test, engineers had to repair and modernize something. In the end, it took three years to bring the tank to mind.
Even before the start of work on the first project, the team faced a huge problem - the purchased machines turned out to be faulty. A familiar master helped to find new equipment. From that moment on, the employees moved to a kind of tank manufacturing plant and, despite the lack of heating, worked day and night on their brainchild.
Each copy of the company is a work of art. Everything is done by hand. Each module is checked several times, because in case of an error in the calculations, it will no longer be possible to modify it. Some parts cannot be processed due to lack of equipment. Therefore, it is not uncommon for a team to seek help from a higher-level organization.
For more information on the production process of radio-controlled tanks, the atmosphere in the team, and the big dream of the head of the company, see the documentary "Made in China" from the creators of the famous game World of Tanks.