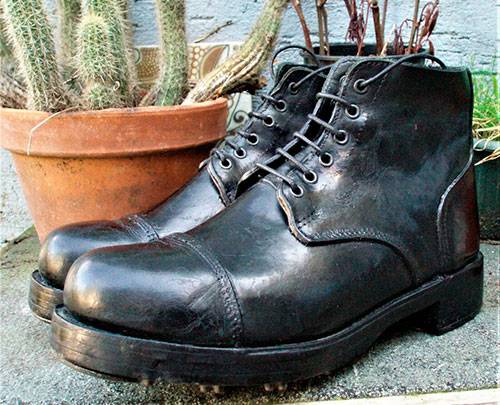 Before the outbreak of World War II, the soldiers of the Queen of England wore several types of uniform shoes, among which were various boots, high boots with lacing (almost the same boots), boots and special shoes.
Ammunition
But with the outbreak of hostilities, all this diversity came to naught. And for soldiers and officers, a single sample was adopted - army boots (ammunition boots). Yes, that's it.
Sometimes controversy arises, which is better: a boot or a boot with windings? And for the British soldiers this did not exist.
Depending on the type of troops, either short khaki windings (nine feet long) or gaiters.
The skin color for the rank and file was made black. Both black and brown were allowed for officers.
The lacing is open.
Sole
The outsole is reinforced with heavy-toothed nails. Initially, there were 25, in April 1942 the number was reduced to 15, and in August - in general, to 12. All because of her - savings.
Metal plates and horseshoes were present. But not for everyone - more on that later.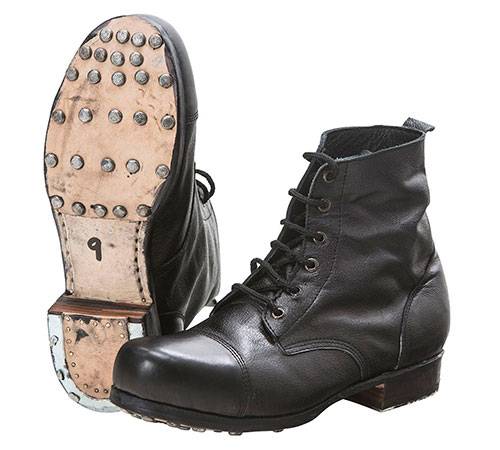 There are also interesting differences.
For the infantry, artillery, signalmen, and so on, the cape (nose in a simple way) was cut-off. That is, there was a seam. But for the Canadian Army, Air Force and
fleet
the socks were simple.
For drivers and members
tank
For crews, boots were produced without nails - the spikes spoiled the lining on the pedals of cars and increased injuries during boarding the armored vehicles.
Well, for parachutists, saboteurs and especially those in charge of ammunition and explosives, boots with rubber soles were produced. In the latter case, so as not to create sparks on the stone floors of the arsenals. Here they are.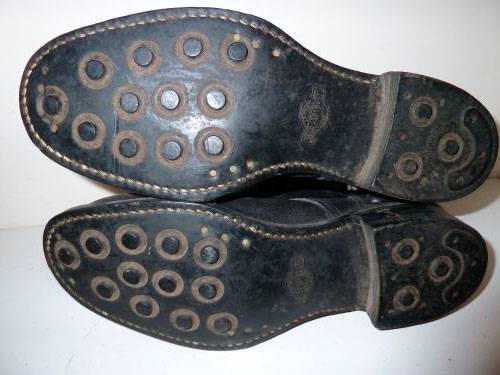 IN USSR
This could have ended, but ... According to Lend-Lease, this shoe appeared in the vast expanses of the USSR.
If you believe the quotes from the book "Lend-Lease.
Weapon
victory "by Edward Stettinius (at that time he was the head of the department for compliance with the law on lend-lease), then 3 pairs of English boots were sent to us.
According to the recollections of Soviet soldiers, the boots were durable, but they often rubbed their feet. And it was cold in them in winter in the cold.
Therefore, on a suitable occasion, they changed into the usual tarpaulin boots.